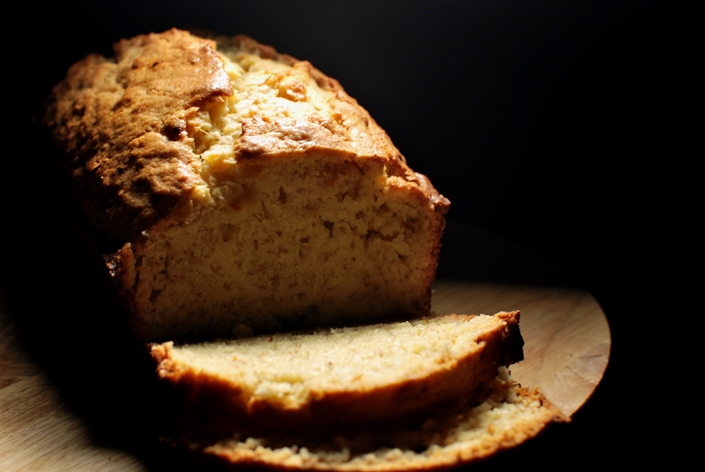 Banana bread. Image source: Michael W. May/Flickr
A slice of cake with your cupa tea or coffee is a perfect match. Sponge cake would be an ideal choice for those who like it simple. Banana bread is another favourite – the moist, soft cake brings in a hint of extra flavour to your snack-time. For most of us who bake, the recipe remains pretty standard, with the occasional addition of nuts like almonds, walnuts or pecans (when they're available). Spiking cakes with alcohol is a common practice, especially during Christmas festivities and banana breads need not be an exception. Unlike the traditional rum cake, this version of the banana bread doesn't need a month's soaking in liquor. You'll need a small amount of good quality whiskey to give your humble banana bread a boozy, delicious makeover. A simple bourbon-laced frosting adds a whole lot of flavour to this baked treat. If you're making this around Christmas, make sure to add a bit of red and green sprinklers for an even more festive touch.
Ingredients:
115g unsalted butter at room temperature
200g sugar
2 large eggs
1 tbsp bourbon
½ tsp vanilla extract
180g all purpose flour
120ml sour cream
2 ripe bananas, well mashed
1 ½ tsp baking soda
½ tsp salt
Bourbon glaze
200g confectioner's sugar
4 tbsp bourbon
milk or water for mixing
Directions:
Pre-heat oven to 180C
Line a standard loaf pan with parchment paper that has long ends, as it will make it easier to lift out the bread after baking
Mix butter and sugar together and cream the mixture well using a beater until it becomes fluffy. Add in the eggs, one by one followed by the bourbon and vanilla extract
Sift flour, baking soda and salt together
Blend sour cream and mashed bananas to form a smooth paste
Combine dry ingredients with the butter-sugar mixture, alternating with the sour cream-banana mixture. Add in parts, beginning and ending with the dry ingredients. Mix lightly after each addition, take care not to over mix the batter
Add batter to the bread pan and bake for approximately 50 minutes or until the batter has fully risen. Insert a toothpick to check for doneness – it should come out clean, devoid of any wet batter sticking on it
Once cake is done, carefully lift out using the parchment paper and allow to cool on a wire rack
To make the glaze, mix sugar and bourbon together, add a small amount of milk or water to thin the mixture to a glaze consistency
Pour or spread the glaze on the cooled cake.
Note:
The final baking time will depend on the size of your baking pan. A standard 9×5 pan will take approximately 50 minutes to bake. In case your baking pan is bigger or smaller, adjust time accordingly and check in between.
You can also poke holes in the top of the cake while it is still warm and pour in the glaze, allowing it to get soaked as the cake cools.
Recipe source: theviewfromgreatisland.com