After a revamp of the Bandra outpost, the fare at the Nariman Point outlet of The Sassy Spoon has undergone a major overhaul. The dishes feature a bit of this and that, in true Sassy Spoon style, giving ample options to meat eaters, vegetarians and seafood lovers alike.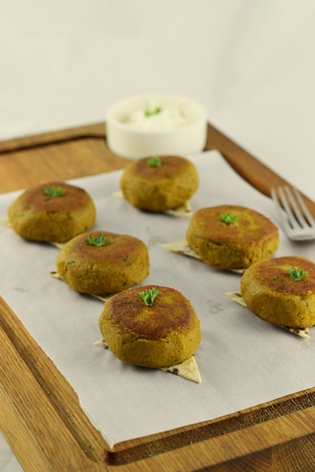 Tenderloin Shikampuri Kebabs are tender and delicately spiced
The crisp, golden rawa crusted Bombil Fry, served home style with a deliciously tangy mango-cucumber salad, is a fine way to start. Ditto for the Grilled Mango Pickled Prawns, loaded with the interplay of flavours from tangy spices and juicy sweetness of the crustacean. Those with a fondness for meats will enjoy the Spiced Tenderloin Shikampuri Kebabs which has its "belly" stuffed with a dab of Greek yoghurt instead of the usual hung curd. Lamb kebabs were mildly spiced and smokey but we didn't quite enjoy the "meaty" after-taste.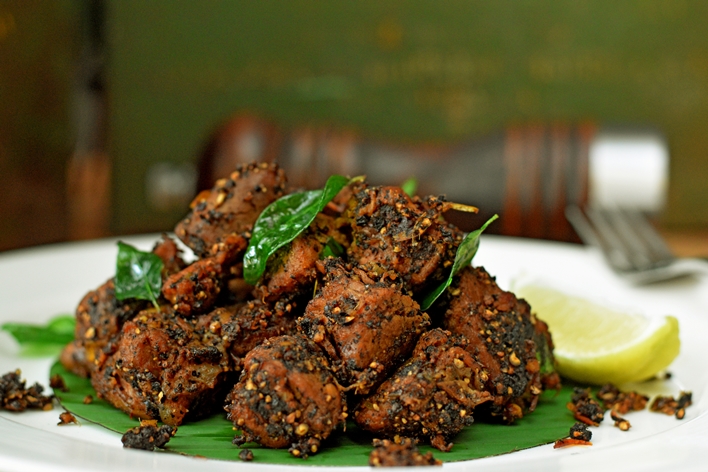 Punchy Mutton Pepper Fry comes highly recommended – a solid 8/10 for us
Special mention for the tender, curry-leaf tempered Mutton Pepper Fry spiced with freshly ground black pepper (from Yercaud in Tamil Nadu), finished with a hint of lemon – the dish was the highlight of our appetisers. Vegetarians ought to try the Paniyarram (steamed black lentil and rice batter balls) in a chilli and coconut masala, with the customary curry leaf tadka. Mushroom and water chestnut stuffed arancini was hearty goodness (a touch oily, though), made better with the spicy Sriracha mayo. The Shitake and Tofu Gyoza in Miso broth had us on the fence, but that's mostly because we aren't big fans of the salty miso paste.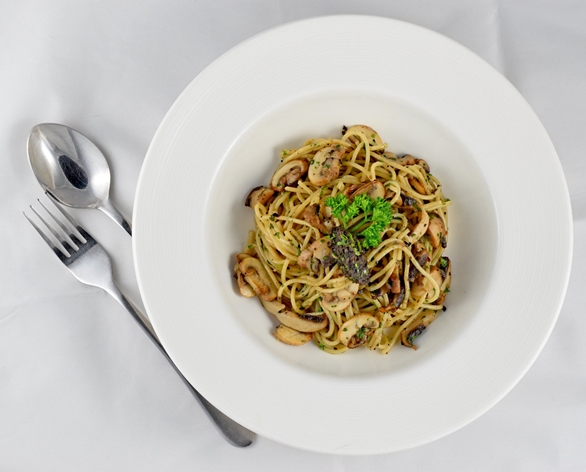 Spaghetti with black truffle butter and mushrooms was as scrumptious as it was comforting
Pasta lovers have ample options to pick from the Mains. A comforting serving of Spaghetti with Button Mushrooms was made luxuriant with black truffle butter, even if it was a bit salty for our liking. Health nuts looking for a cheat meal can find solace in spoonfuls of the fenugreek risotto with pesto sauce, grilled veggies, olives and creamy Bocconcini bits. If it's something local that you crave, the Mushroom Bhurji would make an ideal pick. Served with ghavan (Mahastrian-style dosa), the moreish bhurji has tangy, spicy and earthy flavours, wrapped neatly with a simple mustard seed-curry leaf tempering. Their dessert menu remains unchanged, and a meal as pleasing as this one deserves an indulgent end, calorie-induced guilt be damned.
Where: Ground Floor, Express Towers, Ramnath Goenka Marg, Nariman Point, Mumbai
When: 7pm to 12pm
Call: 9920003500
Cost: Rs 2100 for two (approx.)
Featured image: Mushroom bhurji with Maharastrian-style Ghavan