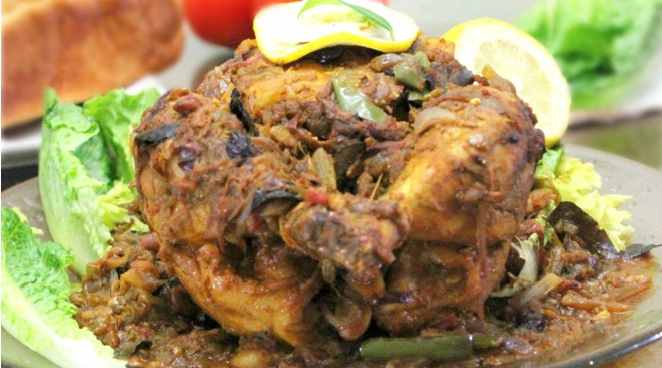 Kozhi Nirachathu (Stuffed Chicken with Gravy). Kothiyavunu.com/Flickr
At 85, Ummi Abdulla has enough joie de vivre to put most 16-year olds to shame. Abdulla is one of the foremost experts in Moplah cuisine – the cuisine of the Muslims of Northern Kerala. The Malabari Muslims trace their roots back to the Arab traders, who started visiting the region centuries ago, lured by the tantalising prospects of furthering the spice trade. They settled down in the region and intermarried, and what developed was a unique Malayalam speaking Muslim community called Moplah.
One of the areas where this blend is at its richest is in Moplah cuisine. The food of the Moplahs has deep-rooted Arabic influences, best seen in the popular festive dish Aleesa, which has strong Yemeni roots. Similar to the Hyderabadi dish Haleem, Aleesa is a rich porridge made of broken wheat and meat, which is first boiled and then mashed together with dollops of ghee, onion and coconut.  It can be had with sugar and ghee, or pickle as an accompaniment, but Kozhikode-based Abdulla says dollops of ghee and sugar make for a great combination.
Abdulla grew up in a joint family with 10 children, which meant her mother hardly had time to set foot in the kitchen. Abdulla would spend a lot of time watching her grandmother cook – cutting the vegetables and meat, organising the ingredients, making pastes.  "We use a lot of fennel," says Abdullah, "along with coconut, red chillies, coriander, cardamom. Our food does not seem heavy or rich at all." However her actual initiation into cooking happened after she got married to V. Abdulla, who was an avid foodie. "He would take me out to restaurants, I would eat something that I hadn't eaten before and then I would try that out at home," she reminisces. Her husband began to ask her to cook dishes like fish biryani, and with the help of a cook and tips from her grandmother, Abdulla's foray into Moplah cuisine began. "I learnt how to cook based on andaz  from my grandmother. Armed with the knowledge of traditional Moplah dishes from her grandmother, Abdullah wrote her first cookery book, Malabar Muslim Cookery, in 1981. (Since then, she has written five more books and has her own Youtube channel.)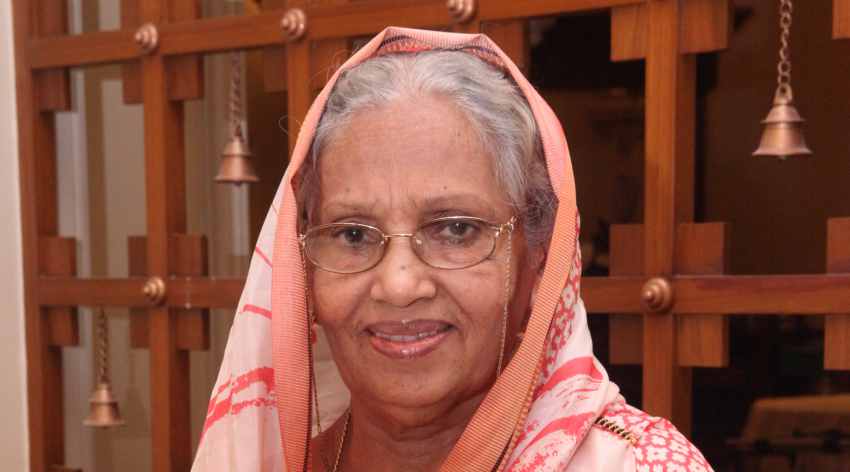 Abdulla, who is based in Kozhikode, has written six books on Moplah cuisine
Abdulla started her own pickle factory and started supplying pickles in bulk. So popular was Abdulla's cooking that she soon started a catering service. Chefs from far and wide started coming to her to learn the finer nuances of Moplah cuisine. "One of my friends sent their cook, who was to manage their restaurant in London. I taught him about eight dishes in three hours," she says.
While Moplah cuisine is meat heavy, Abdullah began to make tweaks to suit the vegetarian palate. One such dish is the Uliyada, which was part of the recent  'Moplahs of Malabar' food festival at Dakshin at the ITC Windsor, in Bangalore. While the non-vegetarian original, Kozhi Ada, a popular snack, is a deep-fried chicken pocket, the vegetarian version is a deep fried pocket shaped like a samosa, stuffed with a mildly spiced onion and coconut mix. Another personal favourite was the Vendekka Mulakitthatu: ladies finger cooked in a tangy gravy that was spiced with green chillies, garlic, tomatoes, and tamarind. The Thakkali Vattichathu is an intriguing preparation – tomatoes with onion and coconut, halfway between a chutney and vegetable dish, the rough texture  result of coarsely ground coconuts used.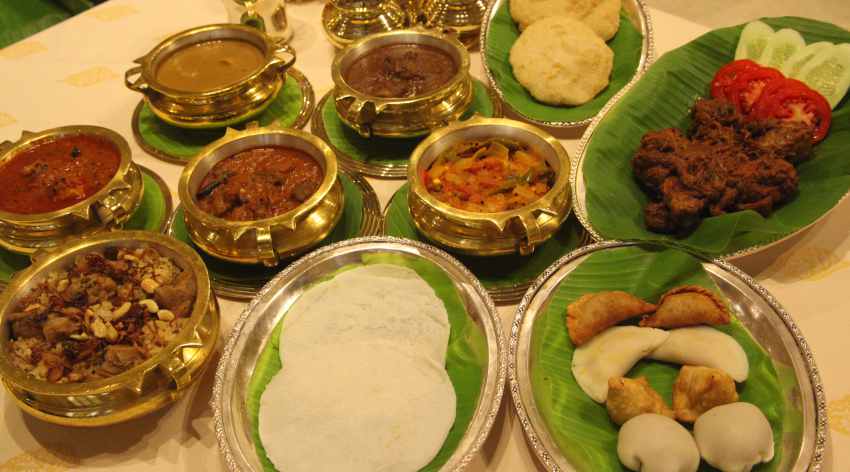 Moplah cuisine has deep-rooted Arabic influences
But it is the curries that reveal the depth and intensity of Moplah cuisine. The Mutton Vartharacha Curry is  a combination of melt-in-in-your-mouth mutton in a lightly spiced coconut gravy, with a wonderful hit of fennel, while the Kozhi Varattiyathu is a traditional dish of Chicken drumsticks tossed with classic North Malabar spices. Both these dishes combine perfectly with the Pathiri, a thinly rolled traditional Malabar steamed rice bread.
Unlike Hyderabadi biryanis which use Basmati rice, Moplah biryanis are made from kaima rice, similar to the short-grained seeraga samba rice. "The shorter the grain, the better," explains Abdulla. The rice is cooked with spices like green chillies, fennel, ginger, garlic, garam masala, and the meat is cooked dum style. Minimal spices and low fat make for an usually light biryani.
Moplah desserts use a lot of egg and banana, quite unlike typical South Indian desserts, and the most intriguing one is the 'Mutta Mala' or Egg Garland. This dish is very similar to the Portuguese 'Fios de Ovos'. Egg yolk is laid out like a jalebi and cooked in sugar syrup. These strands of yellow are laid around like a garland, around the egg white, which is steamed with sugar and a touch or cardamom, and cut like a diamond. The taste is quite 'eggy', which may not be palatable to all, but it's an Indian dessert, quite unlike others.
Check out Abdulla's tips on making a great biryani below