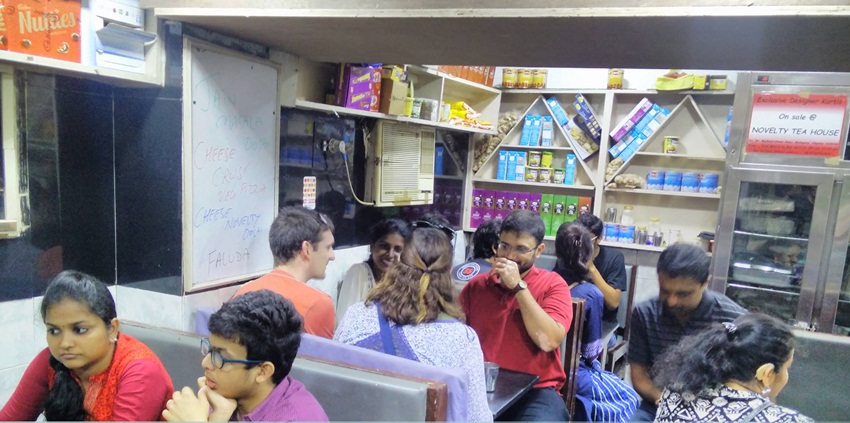 Photograph via blaffer.in
Sowcarpet, an area in North Chennai, better known as Mint Street, is the equivalent of Indore's Sarafa Bazaar. It is where both lovers of diamonds and dhoklas congregate. One of the oldest areas in the city, Sowcarpet is known for its Rajasthani trading community, commonly known as Marwaris in Chennai. Naturally, the food in the area, caters to this community – it's moreish, it's snacky, it's spicy and everything that a good Chennai-ite craves for when she want a taste of food from the north of the Vindhyas.
This is exactly why blaffer.in,  a startup launched earlier this year by a group of engineers from IIT-Madras, organises food walks such as the Street 101 Sowcarpet Chaat Crawl. The idea of the food crawl is to get a sense of this part of the city even as the participants sample some of the best food from snack stops in Sowcarpet. On the menu are treats such as piping hot jalebis, fluffy dhoklas, chilled lassi as a respite from the torrid Chennai heat and all kinds of chaats such as dahi papdi chaat and sev puri.
The enterprising Marwari chefs at most of these restaurants have also added a spin to snacks that Chennai-ites are familiar with, the most famous one being the murruku sandwich. A traditional South Indian snack, the deep-fried chick pea flour snack is topped with cheese and chutneys for a crunchy tea-time favourite, which draws locals from all parts of the city to Sowcarpet.
Seena Bhai Chaat and Juice Centre, which is one of the stops on blaffer's Street 101 food crawl serves the murruku sandwich and also another special: The Khakra Cheese Sandwich, which is a take on a classic Gujarati snack. Some cheese, chutney and chopped veggies stuffed between two crisp khakras makes for this snack. Other stops in the three-hour food walk include Kakada Ramprasad, known for its jalebis, Saravannan's Sandwich, Novelty Tea House famous for its chaats, Seena Bhai, Kamal Lassi and Pandey Pan. Wear sensible shoes and be prepared for the chaos that is Sowcarpet when you set out on this gastronomical journey.
Where: Assembling point is at Kakada Ramprasad's, Ground Floor, 348/343, Mint Street,Sowcarpet, Chennai
When: October 16 onwards, 5 pm.
Phone: Call 9003222077 or email contact@blaffer.in for bookings
Cost: Rs 149 (excluding cost of the food)