A jewellery hub by day, Sarafa Bazaar transforms into a street food souk at sunset. By 9 pm, street food vendors wheel in their carts and set up shop and don't wind up until 2 am. From the jaleba, which looks like the fat cousin of the fried, swirly funneled delicacy that is the jalebi, to pani puris in 20 flavours, Sarafa Bazaar offers an all-vegetarian fare. For meat eaters there's Chappan Dukan, which translates to 56 shops and had definitely crossed that number when we visited last year, is another famous street food stop in Indore. Unlike Sarafa Bazaar, Chappan Dukan opens up at noon and shuts at midnight. Here's what you must try when you visit Indore:
Garadu Fry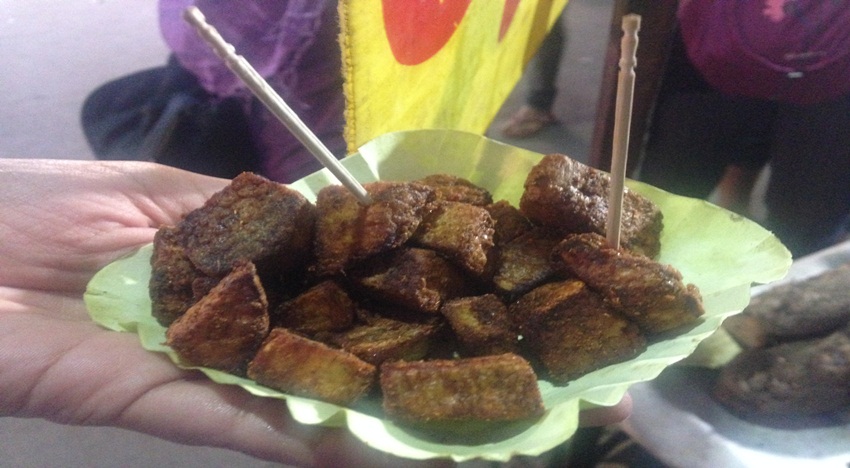 A perfect winter snack, Garadu Fry is deep fried cubes of yam sprinkled with chaat masala, chilli powder, jeera powder, salt and finished off with generous squirts of lemon juice. It's a light snack and a perfect start to your Sarafa Bazaar trail.
Shikanji

The original Shikanji is a cooling lemonade, spiced with black salt and roasted cumin powder. If you were looking for the opposite of a refreshing summer drink, you'll find it in Sarafa Bazaar. Indore's Shikanji is an embarrassingly rich drink made with every imaginable dairy-based concoction. It includes milk, yogurt, slow-cooked thickened sweetened milk that is rabdi, another variety of dessert called basundi with the difference being that this one includes more cream than rabdi, and shrikhand, which is yet another dessert made from sweetened yogurt. It could be a meal in itself but we watched Sarafa regulars down shikanji as if it were water.
Sabudana Khichdi
For Rs 20 a pop, the sabudana khichdi at the Jai Ambe stall is just the right snack to begin your food crawl. The khichdi is prepared especially for those who are on a religious fast and therefore abstain from meat, but a spoonful of it and you know that it's far removed from the idea of sin. Velvety pearls of sago cooked with cubes of potato, tempered with a pinch of sugar, green chillies, peanuts, with some lemon juice squeezed onto it, finishing off with generous garnishing that included grilled potato chips and fresh coriander leaves, this khichdi is at once crunchy and soft.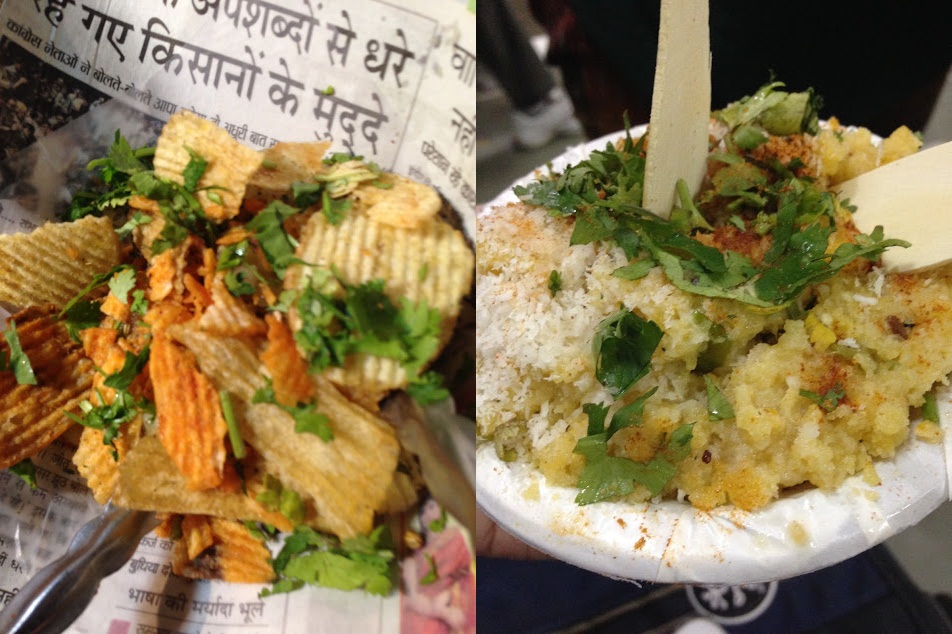 The sabudana khichdi that is more crunch than sago (left) and the soft as cotton candy bhutte ki kees
Bhutte ki kees
Made from boiled corn mash, flavoured with lemon juice ginger and coriander powder and tempered with mustard seeds, curry leaves and asafoetida, Bhutte ki kees is one of . By itself the corn mash could turn out bland despite the seasoning, so there's grated coconut, sugar and an assortment of spices including chaat masala, cumin seed powder, coriander powder red chilli powder adding kick and texture.
Dahi Bhalla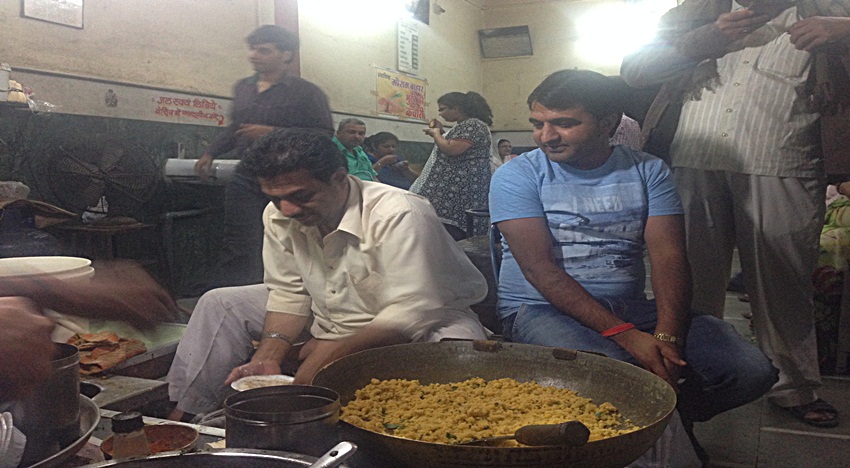 Joshiji of Sarafa sure knows how to toss up a great dahi bhalla, literally. He says he's been "udaoing" (flying) dahi bhallas since he turned 14. Originally from Jodhpur, the Indore-born Joshi, 52, began work at his family-owned restaurant in Indore's Sarafa Bazaar in 1977. The dahi bhalla is a vada, a fried snack made using black gram lentil and yellow moong dal, dunked in whipped dahi (yogurt). When he's in the mood to play, Joshi takes a bowl of dahi bhalla and tosses it in the air a couple of times. Most often, there's a crowd gathered to witness this spectacle. Once the bowl is back in his hand, Joshi sprinkles red chilli powder, coriander powder and cumin powder and serves it to his awe-struck customers. Awe because not a single drop of dahi has been spilt and the dahi bhalla is none the worse after all this tossing.
Jaleba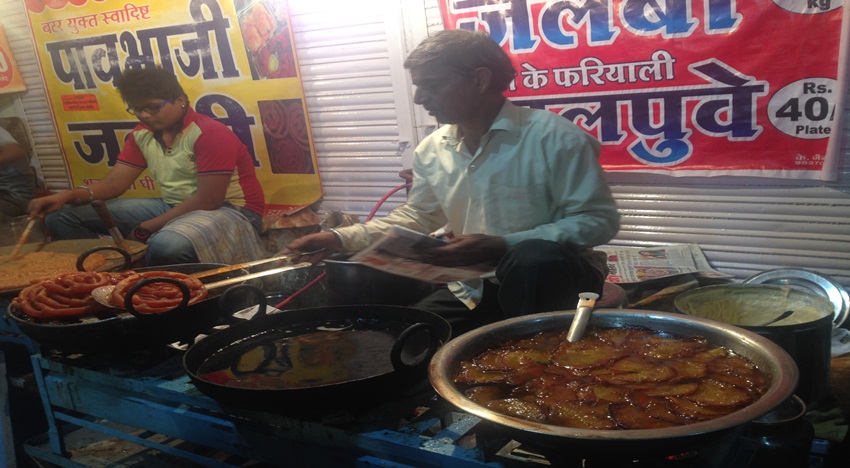 Jaleba is literally the big brother of the jalebi, the more delicately shaped dessert made of sugar syrup and refined flour. Jalebis are a favourite across North and West India and Gujaratis begin their day with a sweet and savoury breakfast of jalebi and fafda (deep fried chickpea chips). But jaleba is an acquired taste – it's impossible to finish an entire jaleba at one go. While the jaleba stall vendor we went to insisted that the jaleba has its roots in Jodhpur, his hometown, and that he was among the first to introduce it to Indore, chef Sanjeev Kapoor has credited jalebas' origins to Hyderabad. We'll go with the expert take on this one.
Pani puri
The pani puris of Indore do not compare to the gol guppas of Delhi, the puchkas of Kolkata or their namesake from Mumbai. At Sarafa Bazaar, the puris are served in no less than 20 flavours and there is no such thing as excess. Besides the regular tamarind flavor, Sarafa stalls serve flavors such as hing (asafoetida), mango, onion, lasan (garlic), pudina (mint), nimbu (lemon) among others. Our favourites were nimbu and pudina.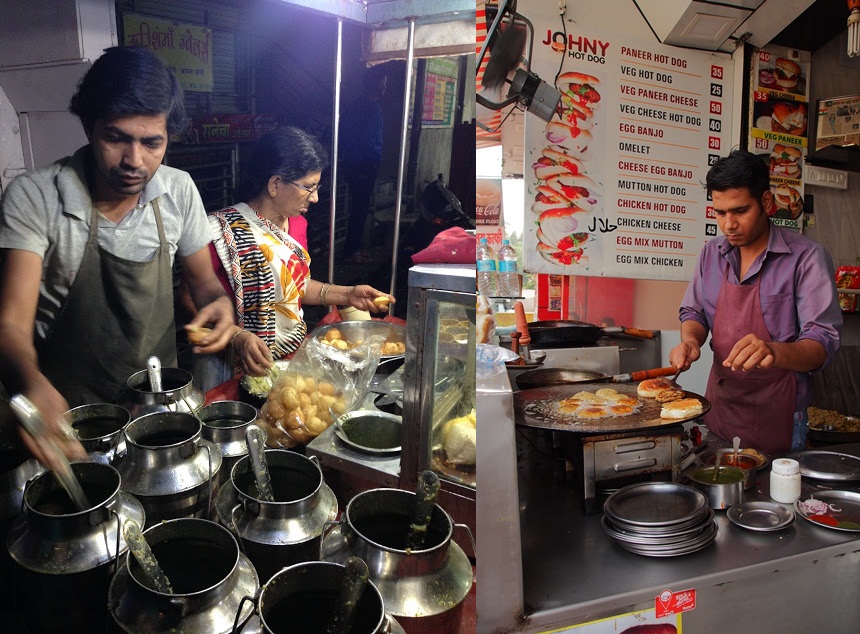 For pani puris done all ways, head to Sarafa Bazaar (left) and there's only Johny Hot Dog at Chappan Dukan for the imaginatively named Egg Banjo
Egg Banjo
Two of the most popular stalls in Chappan Dukan are Johny Hot Dog and Vijay Chaat House. Johny Hot Dog is surprisingly a bigger draw for its burgers than hot dogs. The best seller at this stall, which is a hit with college students and office goers nearby, is the curiously named Egg Banjo: A burger stuffed with a fluffy masala omelette, served with slices of onion, tomato ketchup and coriander-chilli chutney. Our guess is that "banjo" has little to do with the musical instrument and could be a favourite cuss word in these parts, a la the Mumbai restaurant Papa Pancho.
Kopra Pattice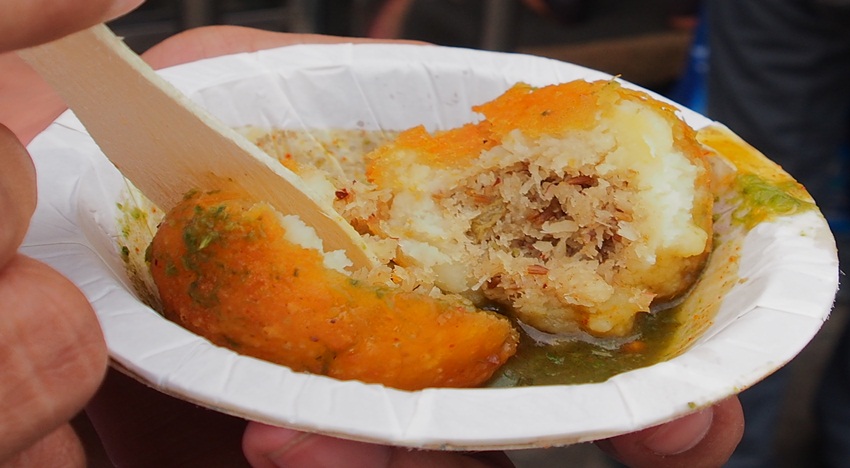 What good is street food if it isn't greasy, messy and has you licking your fingers at the end of it all? Kopra pattice at Vijay Chaat House is just that – a lemon-sized batter fried ball of freshly grated coconut and mashed potatoes, delicately flavoured with lemon juice, chilli and coriander powder. It's straight up calories with no apologies, fried in a humungous kadhai and served straight off the fire. It's gone before you can say kopra.