Raan in Red Masala garnished with Salli wafers and coriander at The Bohri Kitchen. Photo: Isha Shah
Even a year ago, you could find nori strips to pop into your daughter's snack-box, source chipotle at the local Honesty Stores, and order lasagna with a single call. But, unless you managed to wangle an invitation to a "Zainab weds Salim" do, there was little chance that you could sink your teeth into a Bohri-roasted raan, nibble on cream tikka, or scoop up a fiery red mutton with a ghee-laden gakhar.
Of course, the Bohris — a community of Gujarati Muslim traders — are an integral part of the Mumbai cityscape. So a generous neighbour might have occasionally sent across a plateful of Chicken Sheekh Dum Biryani. Or, you might bought a Malai Khaja from Tawakkal, or a gakhar from the garrulous, Sunday-morning vendor during a trip to Chor Bazaar. You might even have managed to find a contact number for Bhol or Dilavar or Ghoga — those monosyllabic caterers with utensils as big as houses — only to be put firmly in your place: "We do a minimum of 20 thaals and we are booked for four months." But, by and large, until recently Bohra food was as difficult to source as reindeer meat.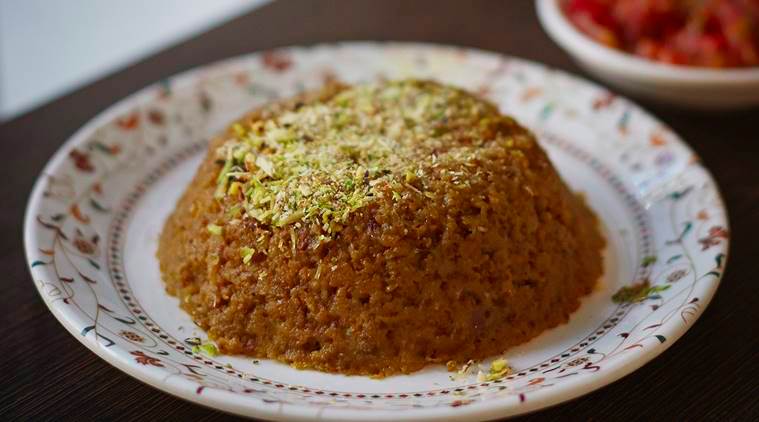 Thulli — cracked wheat and jaggery cooked with ghee. Photograph by Isha Shah
Then along came The Bohri Kitchen last December – and suddenly the sumptuous cuisine was available, not just for love, but also for money. The Bohri food boom began when Munaf Kapadia started serving a traditional feast cooked by his mother in his simple Colaba apartment. The experimental Saturday and Sunday lunches proved so popular that Kapadia quit his job with Google to deal with the drooly demand. "We turned a year old on December 15," says Kapadia, who has now started a home delivery service as well. "My mission is to take Bohri food to non-Bohris and to set up kitchens across the country. I want to make it as well-known as Lebanese or Continental food."
Kapadia is not the only entrepreneur to understand the pull of hand-churned custard apple ice cream. Over the last few months, The Mighty Bohri Thaal, too, has spread its mat. As has The Big Spread in Byculla. And so visible has the cuisine become that the blog Brown Paper Bag felt compelled to wonder, "Is Bohri the new black?"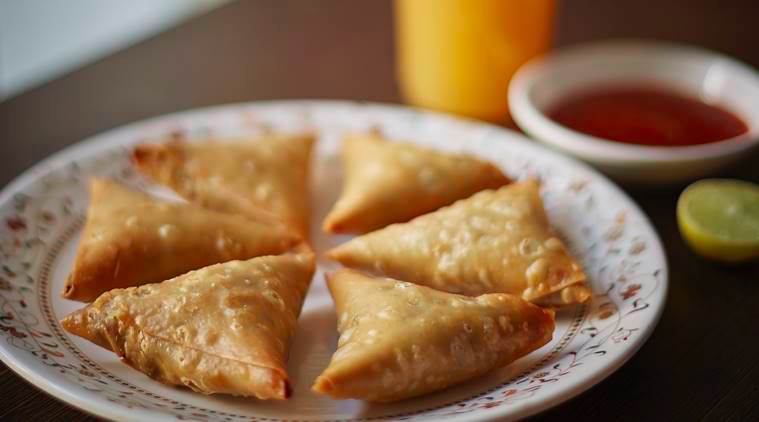 Smoked mutton kheema samosas at the Mighty Bohri Thaal. Photograph by Isha Shah
This firni-flavoured phenomenon was unthinkable, even a decade ago when a cousin and I tried to write a Bohra cookbook. Both of us had Bohra mothers and had sampled our share of nutty chickens and creamy pineapple ice creams, exuberant rainbow pulaos and dainty samosas stuffed with mava and raisins. And we had wondered why this unique cuisine remained such a community secret. Why we rarely encountered rich, sweet ghevar mithai topped with malai in cookbooks. Why we never bumped into a delicious Zaban (tongue) in red gravy, or soft Bheja (brain) Pakoras in restaurants. Strange.
Or maybe, not that strange.
As we started compiling recipes, we realised why Bohra cuisine may not be everybody's glass of sharbat. After all, there are many lily-livered sorts who balk at the thought of tails and tongues and brains and udder. Not to forget the party-poopers who whinge about cholesterol and uric acid. What rattled putative publishers even more was the startling absence of vegetarian options. Admittedly, there are many pretty salads – the sorts that sit in little bowls along the rim of the thaal and provide the happy illusion of a balanced diet. There's also the delicious khuddaal palidu – a dal, rice and drumstick dish eaten with a cold, yogurty baingan bharta. And, there's a strange but addictive bhaji made out of sev and spring onion, and usually eaten alongside aamras. And then…well…a bunch of ho-hum, generic veggie dishes that hardly deserved space in either a cookbook or a feast.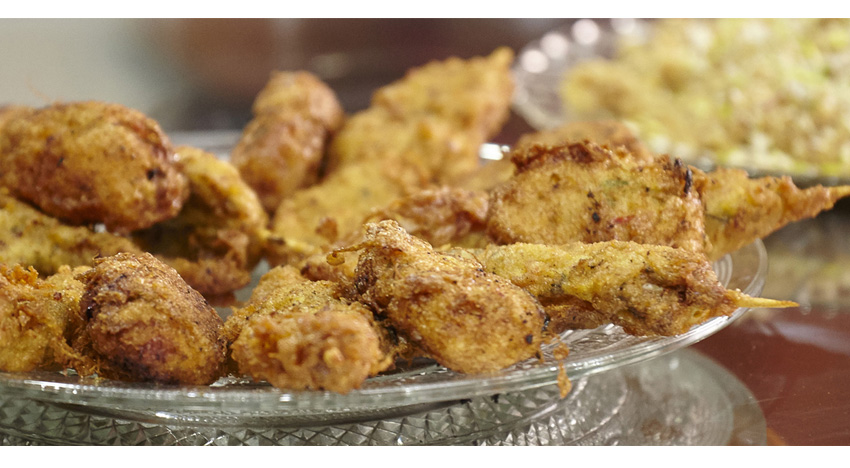 Chicken Kirim Tikka, which is batter-fried boneless chicken, is a
bonafide hit at The Bohri Kitchen's thaal Photo: Isha Shah
The biggest stumbling block in the path of universal approval was, however, the extraordinary way in which Bohra food is served. The traditional feast is eaten on a round metal plate, bigger than a hoola hoop. About 80 hungry souls sit around each thaal. Then the hosts and their army of helpers march into the room with huge bowls of Peaches and Cream or Mango Mousse. Each thaal gets one bowl. And in a tremendous clatter of spoons and enthusiasm, everyone lunges and plunges and critiques."Little too sweet?"
"Peaches this year are not so flavourful…"
"I wonder where she gets her cream from."
Scrape, scrape, scrape. The bowl is wiped clean by eight spoons. Then the bossy boots of the thaal calls out, "Behn Nafisa, Bhai Tyeb, you can get us another half bowl. You can put a little more peach syrup in this bowl."
The first dessert is followed by a starter. Crisp kheema samosas. Or chicken-white sauce cutlets. Or even, on a really lucky day, bheja cutlets. Then comes a halwa glistening with ghee or a warm malai khaja topped with rose petals. Then the kharas or the main dish – a nice golden dabba gosht, or a full tandoori chicken or, of course, a raan that has been marinated overnight and then roasted to tender perfection. After which another dessert – often a fancy confection or sorbet – provides a light interlude before the sumptuous rice dish. Of course, not everyone is comfortable about competing with seven souls for their morsels of kaju chicken. Or, sharing a bowl of soup with a phlegmy, hacking stranger. Or, for that matter, gobbling three cream-filled, ghee-rich desserts before they get to the daal-gosh or biryani.
So, how have the purveyors of patrel biryani and doodhi halwa managed to navigate these obstacles?With clever packaging, editing and a National Geographic-style platter that makes guests feel that they are part of a cultural safari. At The Bohri Kitchen, the thaal is placed on a table rather than on the floor. Individual plates and cutlery are provided and sharing is kept to a minimum. Hosts provide commentaries about why each meal starts with a pinch of salt, how the kheema samosa must be cracked and squirted with lime, and provide a potted history of the Bohra community. Clearly, this strategy works. For the time being, at least, Mutton Soup cooked with Cashews and Milk and crumbly Gol Papri made with jaggery and wheat flour are the flavours of food adventures.