There is more to Bengal's sweet arsenal than the roshogolla and mishti doi. And credit for the astounding variety of ingenious sweets goes to the family-run sweet shops that have held on to tradition and trade secrets with equal fervour. From the famed Shar Bhaja at Adhar sweets in Krishnanagar to the unique Jal Bhara Sandesh at Surjya Kumar Modak in Chandannagore to the Paradise sandesh at Bhim Nag, Kolkata, the Bengali sweet trail runs all over the state, with each destination boasting of at least a hundred year-old legacy and a clutch of signature offerings. Unlike the ubiquitous roshogolla and mishti doi that are now produced on an industrial scale, these unique sweets are delicate, have a limited shelf life and use rare, seasonal ingredients, without any preservatives or artificial colouring. Which is why, a trip to any of these iconic confectioners is no less than a pilgrimage for the discerning kinds. Here's our pick. Photographs by Rana Chakraborty
1. Shar Bhaja or Shar Puriya at Adhar Chandra Das, Krishnanagar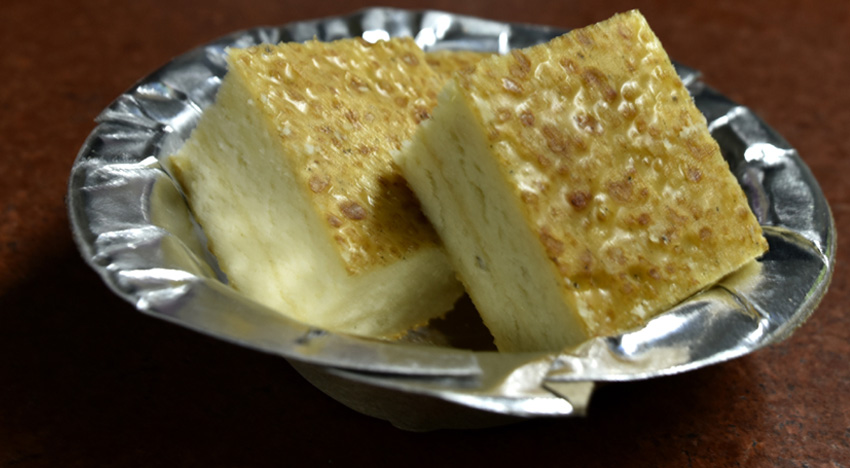 Perhaps the most sinful of desserts to have originated in Bengal, the shar bhaja or shar puriya is not for those who count their  calories while digging into this mishti. These deep fried layers of malai that drip with sugar syrup and are layered with khoya or chhana (cottage cheese) are reserved for festive binges in most households. Krishnanagar's famed Adhar Chandra Das and Sons claim to have invented the sweet in 1902. And, while many shops have since started selling the shar bhaja and shar puriya (baked variant of the shar bhaja), and have quite brazenly appropriated the inventor's first name, Goutam Das, a member of the founder-family, insists the original recipe cannot be duplicated. And purists will concur. Business is good these days for Adhar, with their star products travelling far and wide, courtesy the state government's initiative to preserve and promote the sweet legacy and a new packaging that adds to its shelf life. "There are talks of patenting this recipe," says Das. For those who cannot make the trek to Krishnanagar, look out for Biswa Bangla stalls at trade fairs and at airports where Adhar's shar bhaja now shares shelf space with Murshidabad silk scarves and kasundi.
Adhar Chandra Das and Sons, Nadiar Para, Krishnanagar, Nadia
P: (03472) 252139, 9434057465
2.Joynagarer Mowa of Joynagar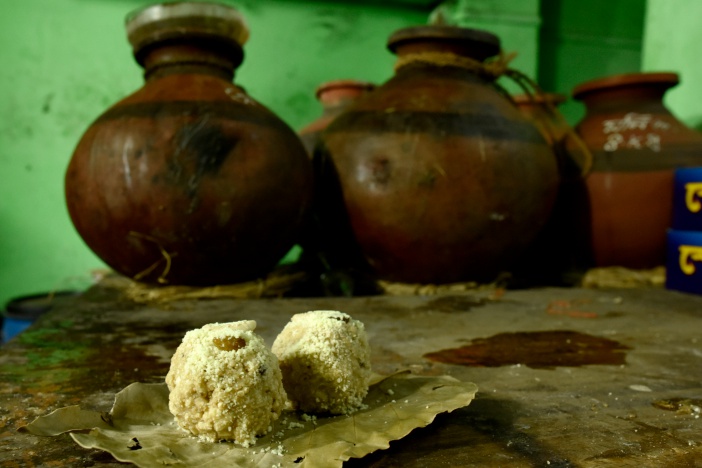 This winter delicacy received a much-needed sweet shot last year when it received its geographical indication tag. Made with puffed rice grains of a rare kind (Kanakchur) and Nolen Gur (seasonal date palm jaggery), poppy seeds (posto) and cardamom, this soft laddoo now enjoys the same status as "Champagne, Cognac and Darjeeling Tea," says Ashoke Kumar Kayal, secretary, Joynagar Mowa Nirman Society (JMNS), and proprietor of Ramkrishna Mistanna Bhandar. The JMNS has been fighting to protect this heritage sweet business from the more aggressive urban confectioners who flood the market annually with cheaper variants of the mowa. But the best places to find this heritage sweet are still in its country of origin – Jayanagar Majilpur in South 24 Parganas.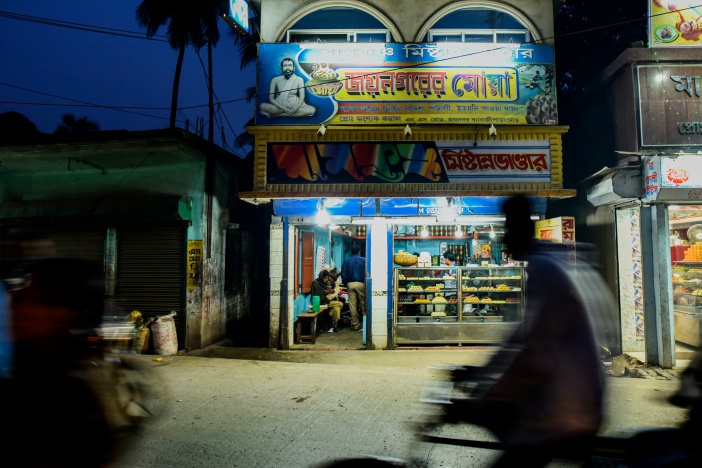 The story goes that in 1929, a certain Bunchki Babu and Nitya Gopal Sarkar came up with this recipe that combined the best of seasonal and regional produce. Their descendants and a few other families in the region have stuck to the original recipe and rigour, at the cost of losing out to ambush marketing. With changing weather patterns, date palm trees are dwindling and good quality Nolen Gur and Kanakchur rice are hard to come by too. So if you want to know what an authentic Joynagarer Mowa tastes like, head to the shops that are holding fort against all odds – Sri Krishna Mistanna Bhandar, Adi Sri Krishna Mistanna Bhandar and Ram Krisha Mistanna Bhandar. 
Adi Sri Kirshna Mistanna Bhandar, Majilpur Station Road, Joynagar Mahilpur
Sri Krishna Mistanna Bhandar, Kulpi Road, Joynagar, P: 9332005416
Ramkrishna Mistanna Bhandar, Joynagar Kulpi Road, P: 9477399667
3. Surjya Kumar Modak's Jalbhara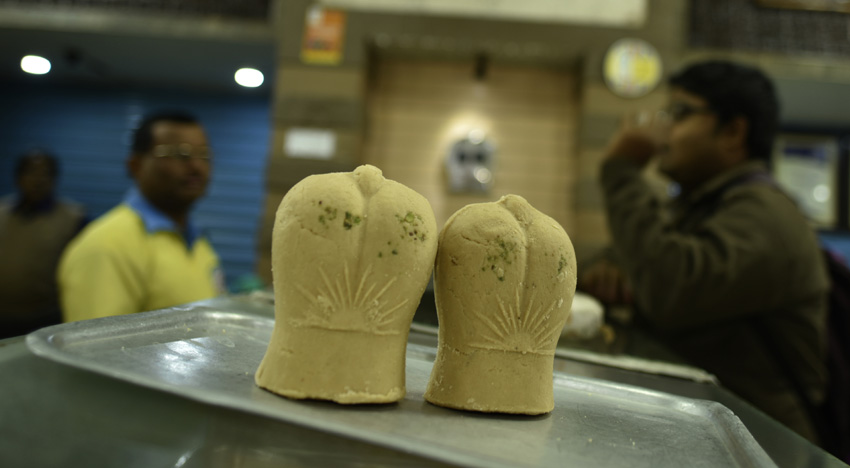 The skilled artisans of Chandannagore are mostly responsible for the artistry of themed lights around Durga Puja Pandals in Kolkata. This former French Colony is fiercely proud of its cultural and culinary heritage. Besides the beautiful promenade and architectural landmarks, the other stars of the city are the Jalbhara Sandesh and Motichur Sandesh. About a hundred years ago, a moira (member of the clan of sweetmeat makers) named Surjya Kumar Modak was commissioned by the local zamindar to prepare something special for a grand feast. After several attempts, Modak came up with the idea of pouring a sweet syrup – rose or nolen gur – into a case/shell of sandesh. Thus was born the 'Jalbhara', a stunning, indigenous variety of a soft-centered Belgian chocolate, if you please, and among whose fans, apparently, was Rabindranath Tagore. The Motichoor Sandesh, tiny pearls of juicy sweet chhana in a laddoo form, wrapped in strips of milky white butter paper, is another Modak family 'invention'. Ferrero Rocher can take a hike. While younger family members have focused on branding with pop ups and food festivals all over Kolkata, given their delicate constitution, they are best had at the Modaks' new outlet in Chandannagar that is fed by a modern 'production' facility.
Surjya Kumar Modak, G T Road, East, Chandannagar; P: (033)26336305 or 26839383
4. Lyangcha from Langcha Mahal, Saktigarh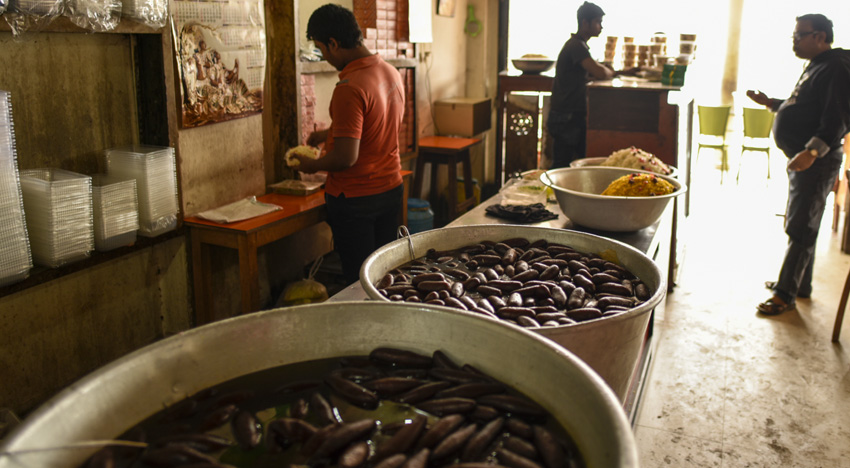 An anonymous British officer is inextricably bound to a sweet that is hugely popular among Bengalis. Lyangcha or Langcha (a colloquial variation of the word Langra or crippled in Bengali), which is named after a crippled, nameless "gora sahib" who fell in love with the sweet at the first bite, was the invention of a certain Khudiram Dutta in Saktigarh, Burdwan, the state's rice bowl. Emboldened by the response to his creation, Dutta went on to establish Langcha Mahal that sold his unique cylindrical, deep fried chhana mishti that swims in sugar syrup. The langcha has spawned hundreds of clones that are now sold in the Langcha belt that lies within a one-km radius of Saktigarh along the NH 2 . Langcha Mahal's other endorsee is Uttam Kumar, the most revered Bengali after Tagore and Satyajit Ray. Langcha Mahal's colourful signboard puts the late actor's name before itself to stand out in the clutter of the bewildering number of shops along the stretch.  
Langcha Mahal,  GT Road, Saktigarh
5. Mihi Dana and Sita Bhog at Ganesh Sweets, Burdwan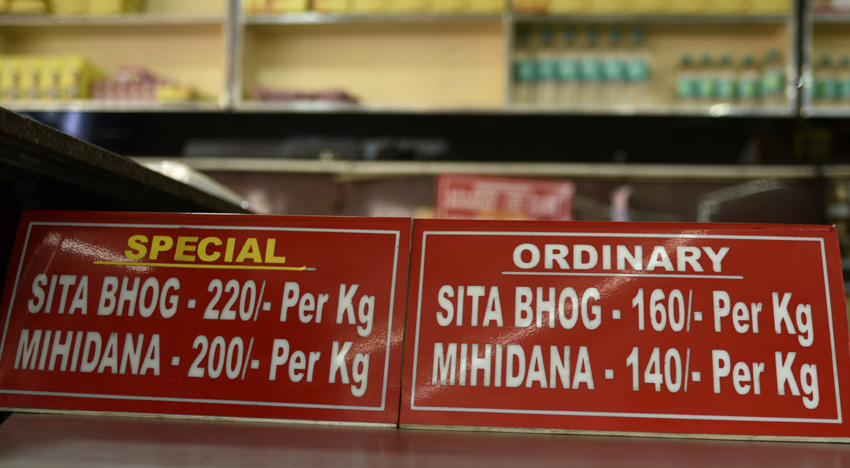 The roshogolla and the mishti doi might be the undisputed stars in Bengal's sweet firmament, but the mihi dana and Sita Bhog, too, sparkle brightly. And, both were first made in Burdwan. The former is a sweet caviar made of besan and moistened with sugar syrup, and Sita Bhog is vermicelli-like strands of rice and pellets of deep-fried chhana. The over 150 shops in Burdwan churn out 60,000 kilos of the sweets daily to cope with perennial demand for the twin treats. Shops in Kolkata do their versions of the same, but gourmands will tell you that the sweet treats are best savoured fresh at Ganesh Sweets. The story goes that Bijay Chand Mahtab, the maharaja of Burdwan, once hosted the infamous Lord Curzon at his palace. The sweet dish prepped by moira Bhairab Nag received an instant endorsement by the royal guest and went on to become a raging favourite among the rest. Indranil Nag of Ganesh Sweets has been working with food technologists to increase the shelf life of this delicacy, which is now favoured by star chefs around the world for innovative desserts.
Ganesh Sweets, Near Municipality Office, GT Road, Burdwan Rajbari; P: 9332929524
6. Nakurer Sandesh at Girish Chandra Dey & Nakur Chandra Dey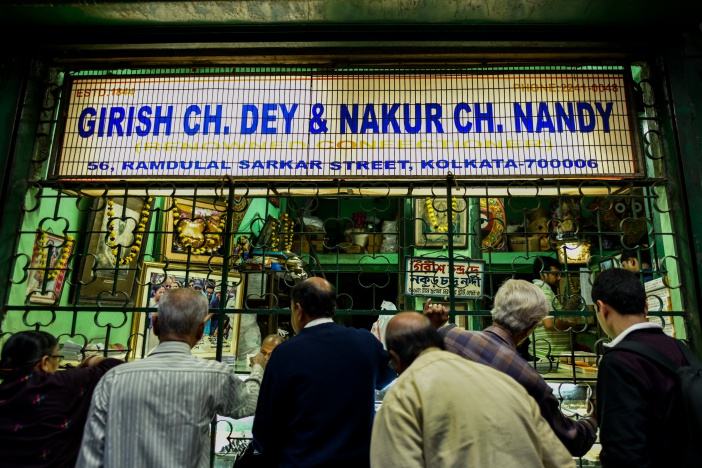 Even as Orissa and Bengal fight a turf war over the roshogolla, it is the sandesh that Bengalis are, probably more proud of.  Set up in 1844 in North Calcutta's Hedua, Girish Chandra Dey and Nakur Chandra Nandy has become synonymous with the finest sandesh that melts in your mouth faster than perhaps an ice-cream.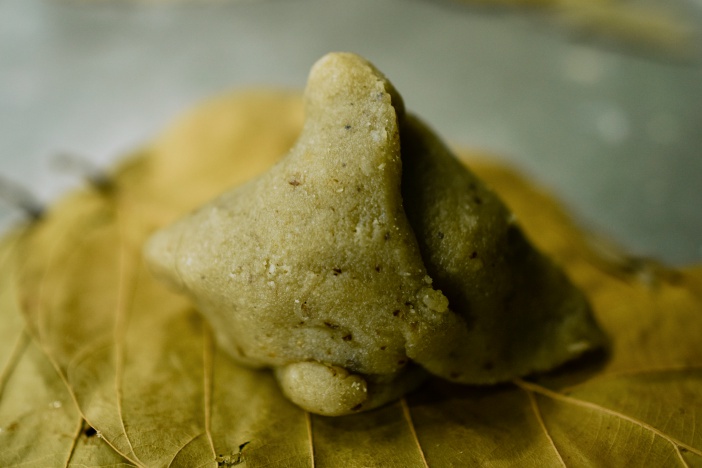 Better known as Nakurer sandesh, these delightfully contoured and flavoured sweets have been endorsed by stars (Bachchans), celebrity chefs (Ranveer Brar) and purveyors of fine foods, and one bite of the bestselling Singara Sandesh (samosa-shaped sandesh filled with dry fruits) and you know why. Serpentine queues outside the shop are common on festive days and Partha Nandy, descendant of the founding father, tells us that the Parijat (a pista-flavoured sandesh) is a star member of the sandesh Hall of Fame alongside inductees like the Ferrero Rocher-inspired chocolate sandesh. The USP of Nakur, says Nandy, is that the family-run establishment has preferred to stay put at the original location even as its legend travels the world over.
Girish Chandra Dey & Nakur Chandra Dey, No.56, Ramdulal Sarkar Street, Near Hedua Park, Kolkata
P: 033 2241 0048
7. Bhim Nag's Paradise, Lady Keni and Mango Sandesh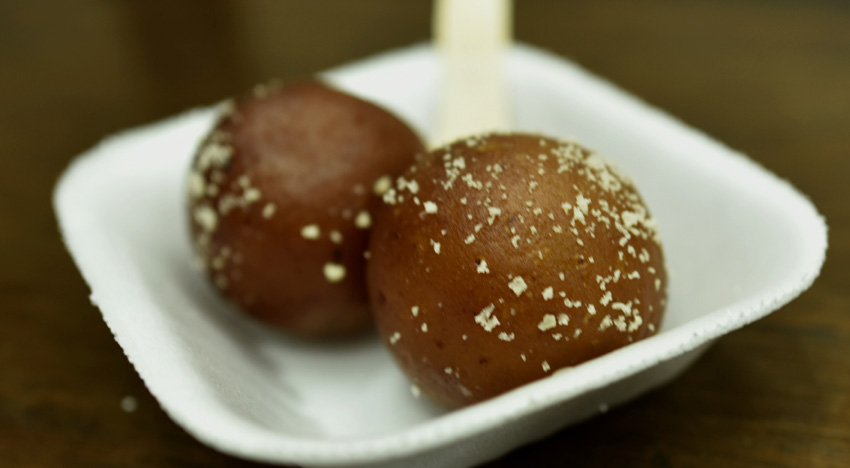 It is said that around 190 years ago Bhim Chandra Nag invented the sandesh at the shop that is a destination in itself for sweet lovers. But over the years, Bhim Nag has also become synonymous with Mishti Doi and Lady Keni (a corruption of 'Lady Canning') first used by Bhim Nag who rechristened the Bengali version of Gulab Jamuns or pantuas specially prepared on the occasion of the birthday of Countess Charlotte Canning wife of Governor General Charles Canning. Pradeep Nag, a descendant of Bhim Nag, says every traditional naram pak (soft) sandesh – at least 25 variants on any given day — is popular, even as they try out contemporary touches with Alphonso mango pulp (not essence) in season. Every sweet here has a secret recipe, says Nag, and no worker is recruited without a rigorous internship to guard trade secrets and keep quality high.
Bhim Chandra Nag, No: 2/2, Nirmal Chandra St, Bowbazar, Kolkata; P: 033 22120465/22697908
 
8. Sponge Roshogolla at Chittaranjan Mistanna Bhandar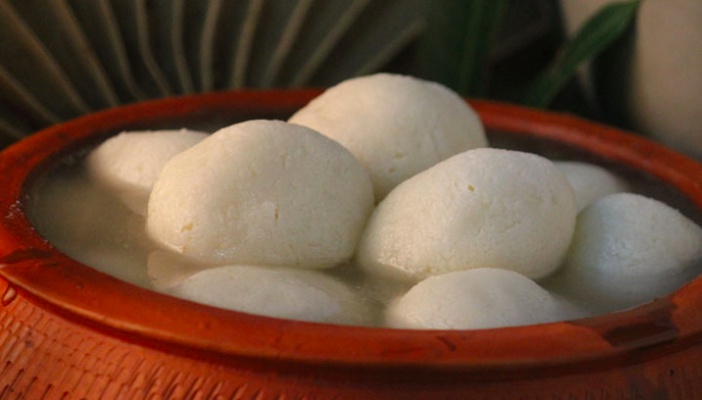 Chittaranjan's signature roshogollas have a huge fan following. Photo: via Chittaranjan Mistanna Bhandar's Facebook page
The good people at Chittaranjan Mistanna Bhandar have been churning out stand-out roshogollas for, they claim, the last 110 years. Chef Vikas Khanna is one of among many fans, who swear by the special texture of their signature roshogolla. The creators say that the USP is a result of their industrious approach to sweetmaking. They have their own dairy and a modern processing unit. While you are at it, also try out their other innovation, the Madhuparka. A variant of the mishti doi, but not quite and everything else beyond it  – flavoured (vanilla, elaichi, orange and chocolate), sweet and chilled. It is nothing like we've tasted elsewhere.
34B, Shyam Bazar Street, Near Lal Mandir, Shyam Bazar, Kolkata; P: 033 30990569
9. Baked Roshogolla at Balaram Mullick Radhraman Mullick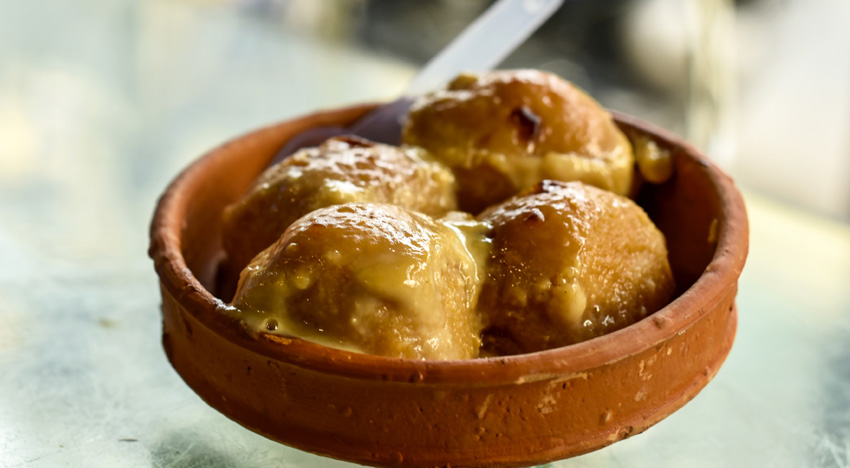 Purists often turn up their noses at sweet shop chains in Kolkata, insisting that expansion always comes at a price. But the star sweet maker from South Kolkata, the 130-year-old Balaram Mullick Radharaman Mullick, would beg to differ. Innovation and tradition go hand in hand here, so you have blackcurrant sandesh and nolen gurer pithe puli, and mihi dana gets baked as a cheese cake.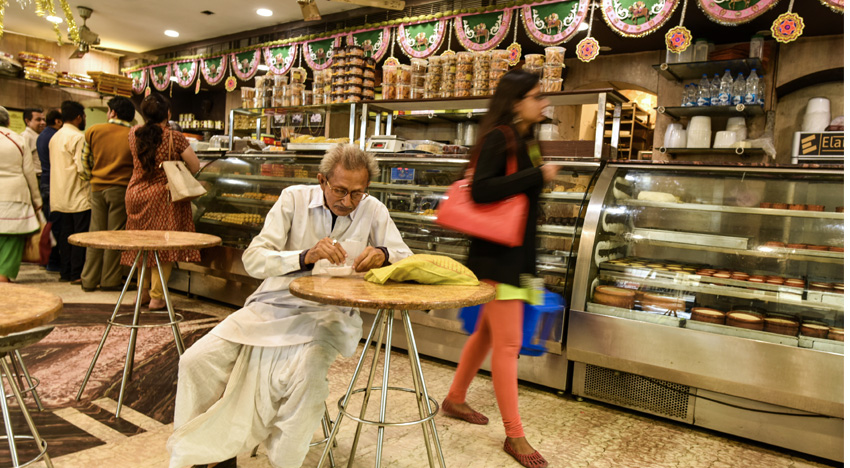 While you will be tempted to try out all the unfamiliar offerings, we can tell you that the guys who claim to have invented the baked roshogolla — roshogollas dunked in nolen gur and baked to a delicious brown – are still the best at it.
Six outlets in the city, but flagship outpost at 2, Paddapukur Road, Bhowanipur, Kolkata; P:033 2454 0281.
10. Monohora at Janai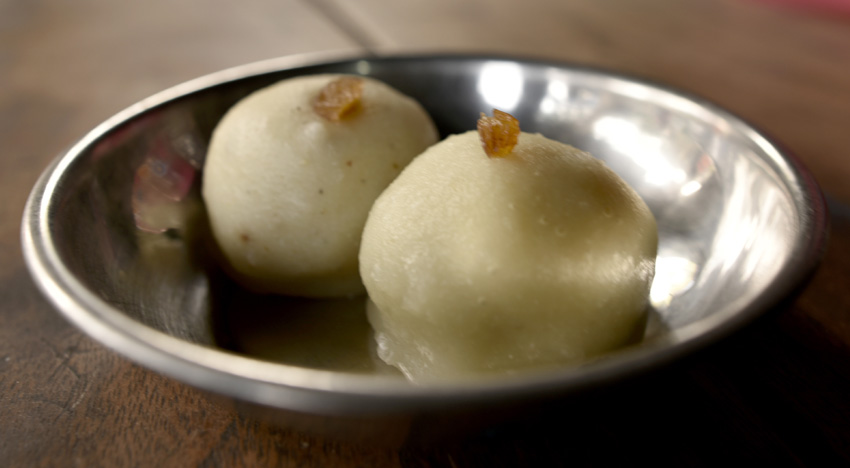 The sleepy town of Janai, in Hoogly, is the birthplace of the lyrically named monohora (Bengali for one who steals the heart). According to Janai-lore, a moira was entrusted with the task of preparing something special for a zamindar family patriarch who was returning home after a long trip.The zamindar got delayed and the moira, worried that the sweet would go bad, dunked the sugar-coated malai-rose-cardamom laddos in sugar syrup to preserve them. The result was the monohora, a name apparently given by the patriarch himself. A handful of family-run establishments sell the sweet today, but look for Kamal Moira near the bazaar. Kamal flavours his monohora with cardamoms. Here's a sweet secret: the best way to appreciate the Monohora is to bite off the crisp sugar coating and go right into the heart of the 'one who steals the heart.'
Kamal Moira, Janai Bazaar, Janai, Hooghly