Chicken Chettinad Samosa at Monkey Bar, Mumbai. Photograph by Kunal Chandra
The flavourful chicken Chettinad is one of the most relished curries in South India, eaten usually with rice or flaky parottas. Now imagine a crisp samosa filled with this spicy chicken to go with your favourite tipple. The Chicken Chettinad Samosa is now on a new menu at Monkey Bar in Mumbai along with other crunchy eats such as Prawn Balchao Kachori, Cajun Chimichanga and Deep Fried Dumplings. The bar menu also has a list of special cocktails such as Green With Imli, a tamarind paste blended with Old Monk and Love to Malibu made with Old Monk and Malibu. The new menu will be gone before you know it, so head there before August 5 to sample it.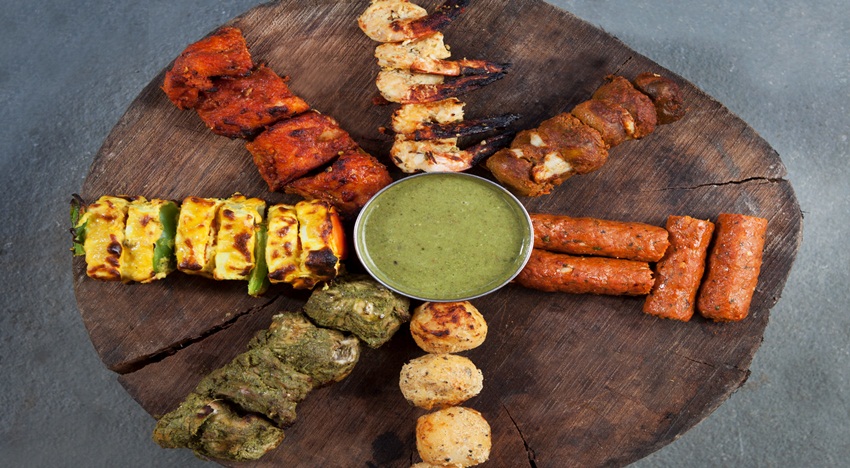 Kebabs at your doorstep from Oye Panjabi
If you'd rather watch the skies come down and order in your munchies to go with hot ginger chai, then get Oye Panjabi on speed dial. Their kebab festival, which is on until September, includes imaginative versions of the good ol skewered meat including Chicken Peeyakad Kebab to be eaten with a drink decidedly more potent than chai, Mutton Basanti Kebab that calls for a Sholay-themed monsoon bash and Paneer Tulsi Kebab for vegetarians in the house. The kebabs can be ordered in Bandra, Khar, Santa Cruz and Juhu on Scootsy, Swiggy and Zomato.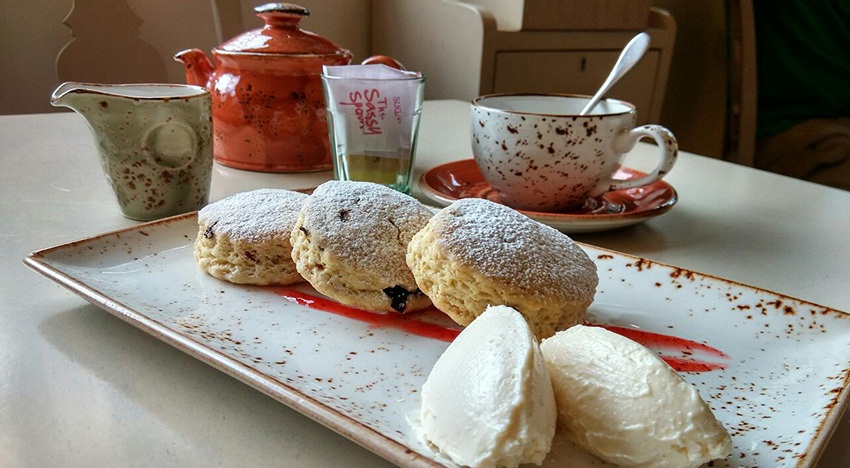 Say hello to the rains with a proper tea service at The Sassy Spoon
If you'd rather deal with the monsoons as the British would, get yourself a plate of scones and clotted cream at The Sassy Spoon in Bandra. If you want something more sinful, try the Cioccolata Caliente, a rich chocolate drink, which is definitely built like a freakshake, with salted caramel, a heap of vanilla cream and marshmallows.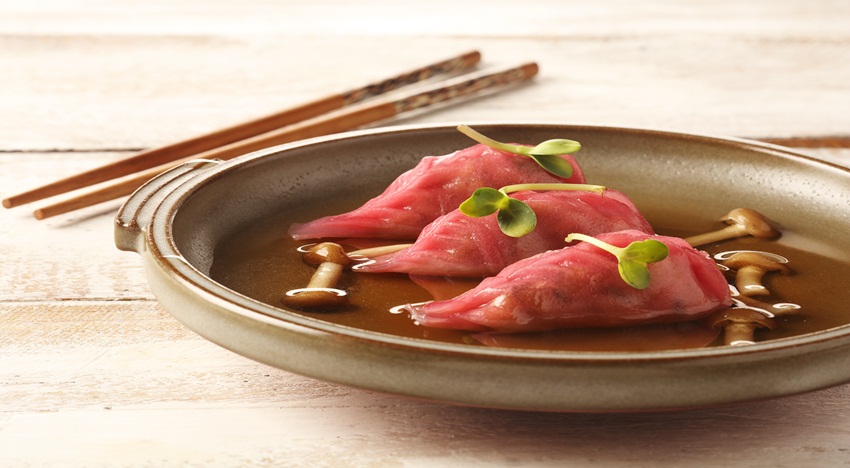 The mushroom and cream cheese dumpling with truffle broth at the dumpling festival at Shiro
A plate of steamed dumplings, a bowl of soup and some aromatic jasmine tea and you're ready for the grey skies out there again. Shiro in Worli has laid out an elaborate dumpling spread that includes Lobster and Truffle Oil Dumpling, Mushroom and Cream Cheese Dumpling with Truffle Broth and Chilean Seabass Dumpling. There is also a selection of baos such as the Pork Belly Bao and Teriyaki Tofu Gua Bao besides dessert baos such as the Chocolate Bao made with rich chocolate ganache and nuts. A special cocktail menu has also been designed for this festival, which includes drinks such as the Peach Thai Chilli Martini and Grapefruit & Elderflower Martini. The festival ends this weekend, so get your dumpling game on pronto.