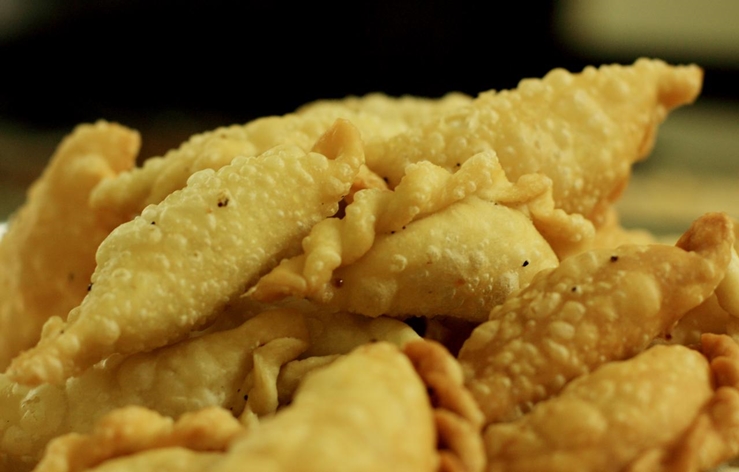 Bak namkeens instead of frying and you can enjoy the festivities guilt-free. Source: Sudhamshu Hebbar
The festive season is upon us and almost everyone is busy buying gifts and planning their outfits for the many parties and obligatory socialiasing associated with the festival of lights. And there's going to be food there, rich, calorie-laden food, mithai, and snacks that can send your diet plans in a tizzy. If you're worried about staying in shape during Diwali, here are a few easy tips to follow:
Before heading out for a dinner, or even when you are simply visiting friends and family, make sure you eat something healthy at home. A bowl of fibre-rich fruits like apples, pears (with skins intact, please), or a serving of tomato or spinach soup. It will fill you up a bit and prevent over-eating.
Watch how to make the tomato-spinach soup here:
You are in India, and most hosts really go overboard with their calorie-rich snacks. And it doesn't look good to say 'no, thanks' each time someone offers you something. So, make water your best ally. Start off with a glass of water and keep sipping it between bites – it will give you a feeling of fullness, thus preventing over-eating.
When snacking at parties, make sure you exercise portion control. A good way to trick yourself into eating less is by picking smaller plates and bowls and try to avoid refills as much as possible.
If you're hosting guests at home, pick as many healthy options as you can when it comes to meals. It will also offer some variety from the same regular food served in almost every home during the festivities. Think salads with fresh veggies and fruits to go along with all that food.
We've got three recipes to get you started:
When making desserts at home, use shot glasses. Not only does it lend a touch of finesse to the presentation, but it also helps with the portion control that we were talking about earlier.
Here's a recipe of a simple Nutella mousse that you can try:
Namkeens are indispensable to Diwali festivities but the amount of oil that goes into making them is really not good for your weight and cholesterol. Bake snacks instead of frying them at home, that way, you do not have to compromise on the food but do not have to worry too much about your diet.
Watch how to make baked samosas:
If you're making traditional sweets like gulab jamun, laddoos and barfis at home, try not to use mawa or khoya (thickened whole milk). Switch it up by using some fresh cottage cheese using low fat milk. It tastes just the same and packs in far lesser calories than the traditional version.
Watch how to make gulab jamuns with paneer:
Another way to make Diwali healthy for your family and guests is to serve nuts instead of sweets. For desserts, you can serve a simple fruit salad using fresh seasonal fruits and some light custard instead of the usual rasmalai.