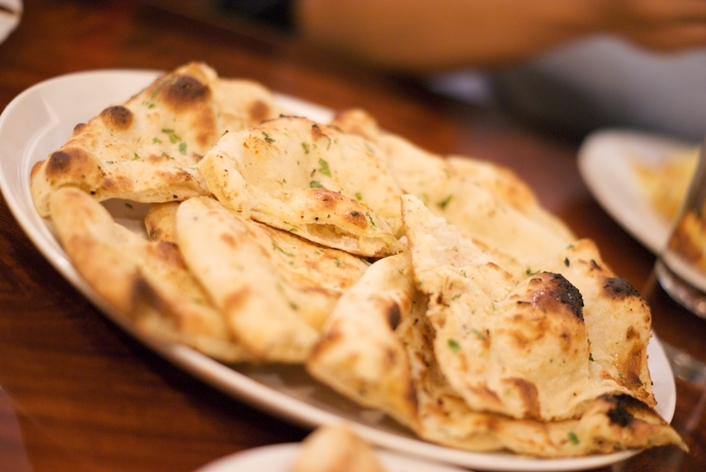 Naan is a leavened bread, extremely popular in North India. Image source: NukelarBurrito/Flickr
When it comes to accompaniments for Mughlai, North Indian or rich Indian dishes, there's nothing that seconds a naan. The soft leavened bread has a slightly chewy texture and is mostly prepared in a tandoor, which gives it the perfect char. All-purpose flour gives the naan its soft, bread-like texture and the dough is at times mixed with condiments like garlic, cumin seeds for added flavour. If you're looking to make naan at home and do not have a tandoor, the following recipe will come handy.
Ingredients:
3 cups all purpose flour
2 tbsp garlic paste
1 tbsp butter
1 cup water
½ cup milk
1 tbsp dry yeast
2 tbsp sugar
Salt to taste
Flour for dusting
2 tbsp melted butter or ghee
Method:
In a bowl, mix the milk with 1 cup lukewarm water, dry yeast and sugar. Stir well till yeast dissolves and set aside till the mixture has a frothy texture
In a separate bowl, mix the flour and salt. Add garlic into the yeast mixture. Make a well at the centre of the flour and pour in the garlic-yeast mixture along with 1 tbsp of butter or ghee. Knead well till it forms a sticky dough. Add more milk or water if needed
Set the dough aside for 1 ½ hour, covered with a moist cloth and allow the dough to rise. The dough should double in size
Knead this dough again, till it becomes stretchy. Portion the dough into medium sized balls
Roll the dough on a smooth, flat surface. Dust with flour if necessary. Ensure the thickness is no less than 2-3 centimetres and the shape is more or less oval
Heat a tava or a non-stick pan (with a slightly deep base) on medium flame. Apply a little water to one side of the rolled naan and transfer the naan to the tava with the water side down so that it sticks with ease
The naan will form bubbles once it starts getting cooked. Carefully turn the pan upside down to expose the upper surface of the naan to direct flames. Cook till the naan chars or till light brown patches form
When done, remove from heat and brush with butter or ghee. Serve hot with dal or curries.
Note:
Baking powder instead of yeast will cause the batter to rise much faster (approximately 15 minutes), but the texture may differ slightly
You can also use wheat flour to make naan slightly healthier – mix one part wheat flour with three parts all purpose flour.
Recipe source: food.onehowto.com