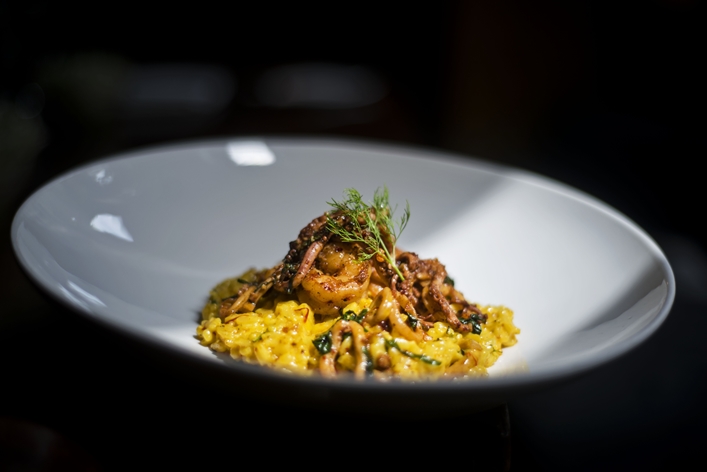 Seafood risotto by chef Jaydeep Mukherjee. Photograph by Anurag Banerjee
We're still reeling under the food high from the festivities of last week. So while we're doing our best to eat healthy, a bit of indulgence doesn't hurt. Especially if it is something as flavourful as a plateful of fragrant risotto. Instead of heading out to eat, we get from chef Jaydeep Mukherjee, Corporate Executive Chef, deGustibus Hospitality (Indigo, Indigo Deli, Neel, Tote on the Turf) to share his recipe of a creamy risotto with us. With prawns, calamari and clams, the dish packs in a lot of taste and goodness.
Ingredients:
Serves 4
400g rice – carnaroli or arborio
300ml white wine-dry/light bodied
100g butter
60ml olive oil
2tbsp onions – chopped
1 tbsp garlic – minced
2 cups cherry tomato puree or tomato sauce
1 cup stock – of sea food or vegetables
12 nos sweet basil leaves
100g prawns
100g calamari
60g clams
Sea salt, to taste
Pepper – to taste
Method:
Melt the butter in a heavy bottomed pan, large enough to cook the rice
In a separate pan, sear the seafood, over medium heat, taking care not to overcook the ingredients. Set aside
Add the chopped garlic and sauté for a few minutes. Add the onion and sauté till soft and fragrant
Add the seafood to the pan and sauté for a few minutes over high heat, remove from the pan and hold
Add the rice – straight out of the packet, and sauté well to toast the grains lightly. The grains should become translucent on the outside with a visible white core inside.
Add the white wine to the rice and stir well. The rice will absorb the wine and begin to swell.
Add a little of the tomato sauce to the rice and stir to mix well, add more sauce and stir well. Repeat the process till all of the tomato sauce has been added to the rice. The risotto, at this stage, may call for more liquid – add a little of the stock and mix well
The risotto should be really creamy and a bit runny; the grains should be almost cooked yet retain a tiny bite (al dente)
Add the seafood, seared earlier, to the risotto, tear the basil leaves and stir into the rice.
Drizzle some olive oil over the pan and serve immediately