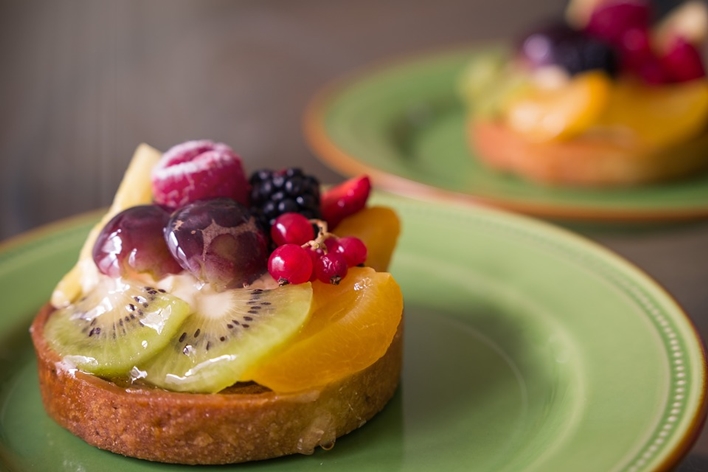 A pie base, some custard and a bit of fruit at the top, tarts are simple indulgence at its best
When it comes to desserts that look as good as they taste, tarts top our list. Traditional dessert tarts make use of custard filling but modern interpretations use variants like chocolate ganache, cream cheese, and even fruit-flavoured creams for added flavour and variety.
When they were first created for 16th century royalty in Medieval times, tarts were of the savoury kind. Fillings for savoury tarts included vegetables, eggs, meats and it was only much later that they were adapted as a dessert. Savoury tarts include the original range of fillings even today, which are also found in pies and quiches.  Tarts are similar to pies, in the sense that they have a shortcrust pastry base, but what distinguishes the two is the fact that the pie has a covering over the filling, while tarts usually are left uncovered, with a bit of garnishing at best.
Most often, fruits, light whipping cream or nuts are used to finish a tart and lend it that beautiful, eye-pleasing flourish. And those with delicate, yet simple decorations have a special place in our pie-loving hearts. But the bells and whistles alone haven't made us such big fans of this classic pastry.
It also helps that the decadent dessert is served in a portion that doesn't bring on a ton of guilt. And with patissiers getting creative, there are options that use low fat, diet versions of the usually calorie-heavy custard or cream cheese, basically, ingredients that don't shatter diet plans for those watching their weight. Of course, making a tart takes a lot of skill.  Our expertise lies in craving for it, then fawning over a delicate-looking creation, taking a picture or five and finally giving in to the absolute bliss of the first bite. Here's a look at some of the prettiest tarts on Pinterest:

With white chocolate cream and strawberries, this tart is the stuff dreams are made of

Decorated with berries and macaron, this tart is one hell of a dessert

We bet the mint and white chocolate combination tastes fab

This looks like it belongs at a fancy high tea do

Lemon tarts look like summer that you can eat

A classic tart, made prettier with the dollop of meringue

Absolutely adorable – and you thought tarts are the cutest dessert

We could stare at the pretty pattern all day

Who knew gluten-free desserts would be this pretty?

Because there isn't a fruit pairing more flavourful than a strawberry and kiwi mix