The Chasu Ramen, Char Siu Bao and Fatty Bao Pork Belly & Jam at Fatty Bao, Mumbai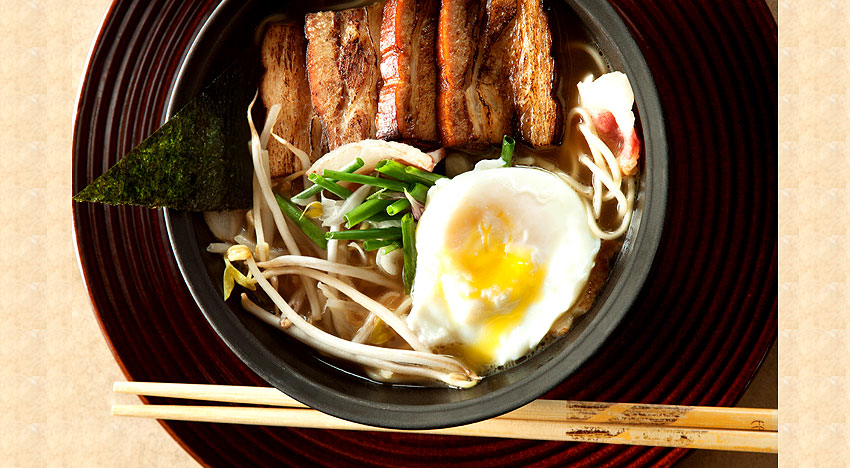 Photograph by Sanjay Ramachandran
It's a pork belly party, and the same belly cooked in three different avatars: Char Siu Bao, Fatty Bao Pork Belly & Jam and the Chasu Ramen. The meat, sourced from Belgium is first cooked for eight hours, braised in minimal flavours of soy and sake from Japan. Then it is pressed down into tight rectangles and chilled, ready to be portioned as per dish. In the bao it's served with some fresh flavours, notably a green apple kimchi. For the Pork Belly and Jam, it is portioned into four geometric slices and glazed in a pan with soy, honey and ginger. The second round of cooking keeps the meat soft and the fat and rind crisp. It's served on their version of jam – a sticky mustard and miso sauce. You'll want to order a second but keep some place for the belly's third incarnation in the ramen: a big bowl of noodles made in their kitchen and served in a broth of pork bones, konbu seaweed, rare mushrooms, lots of garlic, very smoky bacon and chicken feet. Yes, chicken feet, to give it a unique body that makes this comfort food super cosy. Don't worry, you'll never see them.  The crunch in the thin slices of meat submerged in the broth is the best surprise of the meal. Eat well and stagger out.
610,3rd Floor,12th A Main Road, off 80 feet Road, HAL 2nd Stage, Indira Nagar P: 080 4411 4499
Desi Tacos with Goan Pulled Pork Vindaloo & Tandoori Pork Ribs, Bombay Canteen, Mumbai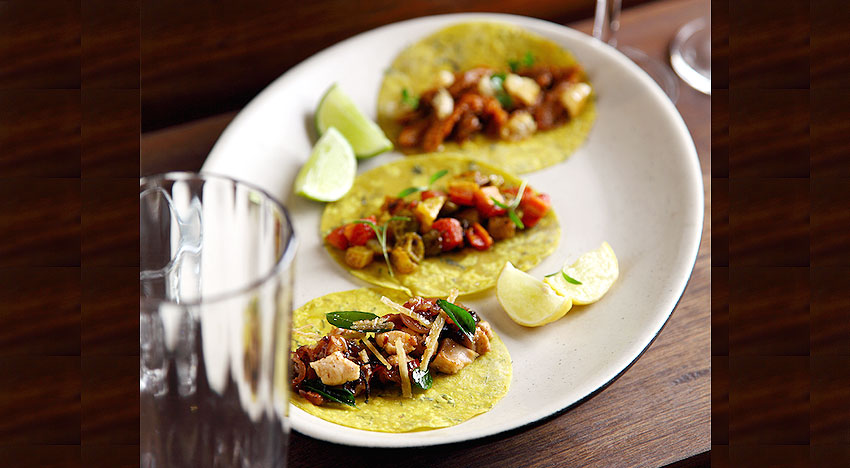 On a menu that blends Indian favourites with international ideas are a few pearls of the swine world. First is the Desi Taco with Goan Pulled Pork Vindaloo. This combines the form of the Mexican favourite and aapro Gujju flavours with Chef Floyd Cardoz's Goan roots. A methi thepla served with a vindaloo from the chef's family recipe book, topped with some crispy crackling. The creation is a mix of spicy, sour and sweet, from the chili, vinegar and jaggery. Roll them up and let this unique mix of flavours and textures transport you into another world. Next up are the Tandoori Pork Ribs. Yes, the traditional Punjabi oven has come a long way. Braised for five hours in a simple stock and then charred in a tandoor, the ribs are smoky and crunchy and yet retain the juicy goodness of stellar pork, which is sourced from in and around Mumbai. Also try the Assamese-inspired Green Masala Choriz Polau and the Choriz pe eedu of Parsi origin.
Unit-1, Process House, Kamala Mills, Near Radio Mirchi Office, S.B. Road, Lower Parel. P: 022 4966 6666
Choriz Pao, Valanka Fast Food, Goa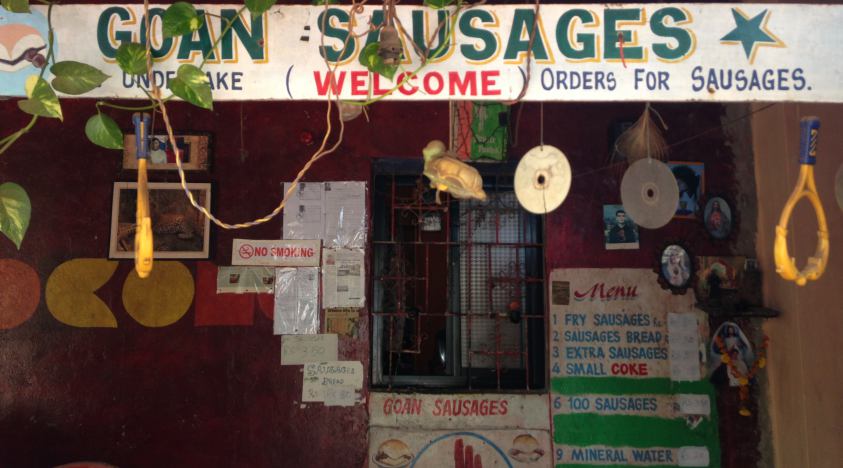 Caetano Tavares's choriz pao in legendary in its own right
This family-run house has been perfecting one product for over 25 years: Goa sausages and pao. Caetano Tavares began vending these delightful little sandwiches on the beach from his cycle cart. Now you can drive up to his eatery and order it through their living room window, wait in the eating area while reading some graffiti espousing moral living and be rewarded with some warm buns toasted crisp with the perfect masala choriz sausages in between. No onions, no potato, no distractions. The rosary sausages are spiced and cured on the premises. You can pick up some choriz paos and head to the beach, or pack a few hundred rosaries for a quick culinary escape to Goa anytime you wish.
Dabolim-Cavelosem Road, Goa
Pork Robu, Nagaland's Kitchen, New Delhi
The most famous item on the menu at this family-owned restaurant is the chops with Raja chilli dip, but there are other gems, too. Such as the pork in dried yam leaves. The smoky leaves give the meat a familiar aroma, and it imparts a lot of body to the gravy, which goes beautifully with rice. Wash it down with a Raja chilli Bloody Mary.
S-2, Ground Floor, Uphaar Cinema Complex, Near H.D.F.C.Bank, Sri Aurobindo Marg, Green Park Extension, Green Park. P: 011 4608 8968
Pandhi Curry 
Coorg
The Coorgi pandhi curry, with the distinct flavour of the local kachampulli vinegar, is slow-cooked for up to three hours on a wood fire, and can single-handedly justify a trip to those hills that rise high above Mangalore. The best versions of the dish are found at the many homestays in these hills. Each one will have its family's recipe. So find one, get comfortable and eat well.
Contact Faith Cinchona Estate (09448469659); Tamara (09880465323); or Robin and Malige Cariappa  at the Palacad Guest House (09446606066) 

Bespoke Masala Sausages, Chaman Bhai, Beckbagan, Kolkata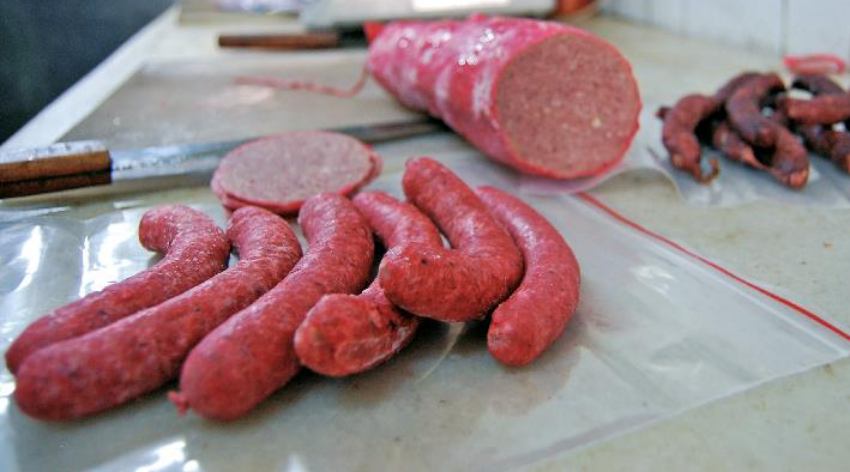 An ideal way to eat Chaman Bhai's masala sausages is to slow cook them, like Anglo-Indians do
Rahul and Dep Kumar, grandsons of the eponymous founder, have stayed true to their grandfather's recipe picked up from the kitchens of the Raj, in Uttar Pradesh. The sausages are made from meat from pigs from Orissa and mixed with home-ground spices, chopped onions, coriander and parsley. The proportions of the ingredients are tweaked according to your taste and mixed with as much fat as you like. You could slow-cook the sausages, like Anglo-Indians do, with minimal additions: a bay leaf and a few dried chilies, in a dash of mustard oil.
Beckbagan Market, Ballygunge, P: 03327801168