Indian street food has been vilified a lot. As a child, I was often reminded of it being unhygienic and unhealthy. And then came a barrage of burgers, red velvet cheesecakes and cake pops made of ingredients nobody could ever put a finger on. Since these cake pops were covered with shiny confetti and displayed on the counters and windows of high end eateries, we thought these foods were 'clean' to eat. And, thus, it became cool to favour, say, a cake pop over a gulab jamun. The khoya, sugar and ghee that go into the making of a gulab jamun started sounding like mean artery clogging agents as compared to cupcakes and the like that always felt fluffy and light.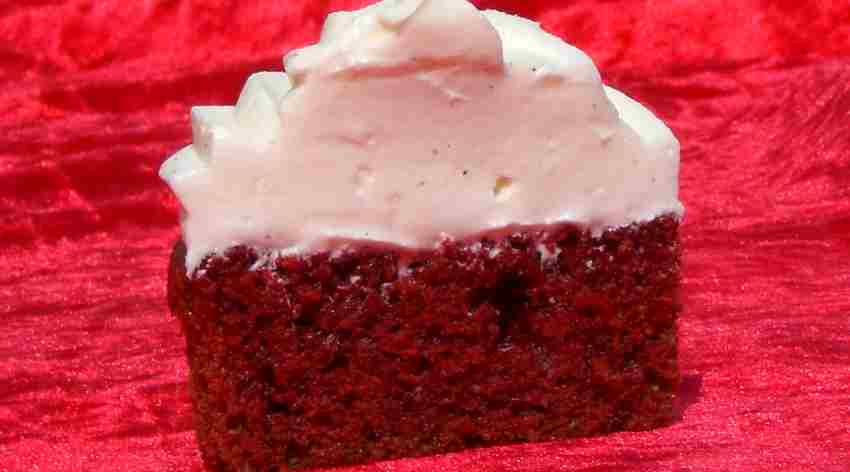 If the cake has a 'stable' frosting, it is laden with more transfats. F_A/Flickr
Please note we are talking about traditional Indian street food, and not the tandoori momos and cheese-stuffed kulchas that have proliferated to counter the fried chickens and cheese-burst pizzas. This is food we are all proud of: from samosas and kachoris, to vadas, gol gappas and sev puri. All these street foods evolved with regional influences, and have survived the test of time without being laced with the emulsifiers and chemical antioxidants that characterise industrially manufactured and packaged foods. I've often wondered how convenience/industrially-processed food will fare against Indian street food, and recently I decided to pit representative items from each group against the other. No, what appears below are not findings from a lab, but a few thoughts and inferences drawn from common sense.
Vada Pav vs. Burger
A vada pav is often described as a poor cousin of the burger but, despite the use of maida, the former would be healthier than the latter. The potato vada is made fresh using real ingredients, and, unlike the burger patty, it doesn't have emulsifying agents. The vada is accompanied by chutneys made with fresh, real ingredients, while a burger comes with vegetable oil-based mayonnaise and invert syrup-laced ketchup.
Samosa vs. Fried chicken
Today, a bucket of fried chicken gives people the kind of joy that the samosa used to deliver in its heyday. But the chicken is probably genetically modified, and farmed, and the humble samosa uses a fraction of the amount of maida you eat with fried chicken. (Still wondering what those layers of starchy coating are made of?). Of course, the oil is probably reused in both cases, but the local samosa seller can be motivated to use better oil unlike the multinational chains that mostly use oils from genetically modified seeds.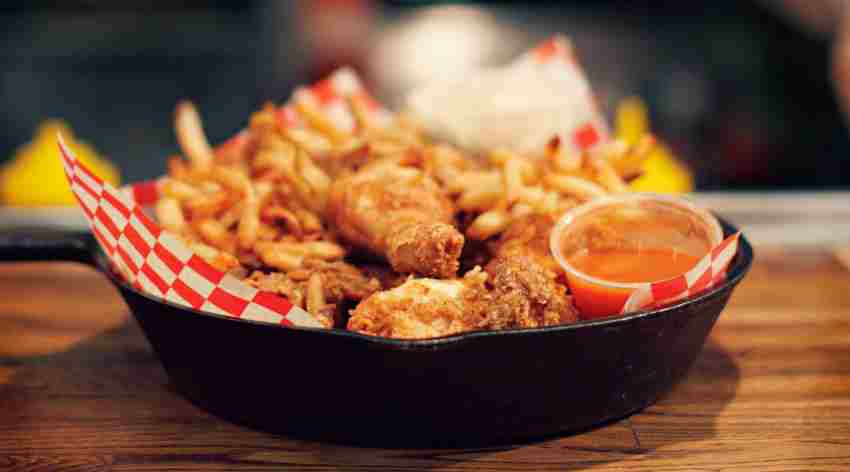 Both are fried, but a samosa uses a fraction of the amount of maida contained in fried chicken. Thy Khue Ly/Flickr
Club Sandwich vs. Kachori
Folks who favour a club sandwich over a kachori probably view the latter as outright junk. The club sandwich has thin slivers of vegetables, but the maida in the bread and vegetable oil in the mayonnaise exceeds the amount in a kachori which may be much more satiating and is mostly served in a pool of green chutney. Green chutney is highly underrated; it has the fresh real ingredients that are packed with vitamins and minerals. The combination of kachori and chutney balances the act.
Iced tea/Cold Coffee vs. Kulhad wali chai
The 'hazelnuts' in your coffee, and the 'mango' and 'blueberries' in your iced teas are obviously chemical flavours. Instead, have a nice chilled lassi malai maar ke, or masala doodh,  or even kulhad wali chai at any of the nukkad wali dukans, and be assured your body won't be manipulated by chemicals.
Red Velvet cake vs. Gulab Jamum
The calorie intake may be comparable here, but the damage is caused by the food colourings and hydrogenated fats, or refined vegetable oils found in such cakes. Plus, if the cake has a 'stable' frosting, it is laden with more transfats. Real frosting doesn't last on the shelves. Real gulab jamun does. It helps in knowing that the portion size of a slice of cake is almost thrice that of a gulab jamun. And, yes, gulab jamun is one of India's heaviest mithais, so you could probably opt for rasgullas, sandesh, shrikhand, or gajar ka halwa way more easily.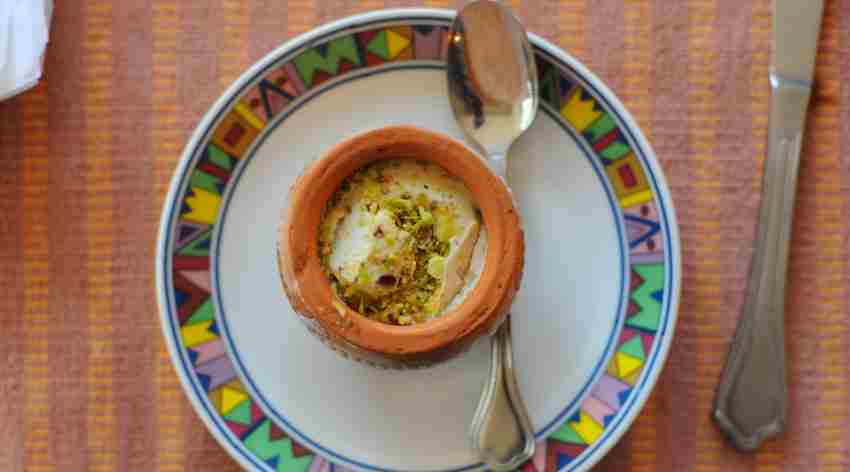 A kulfi is made from real ingredients, unlike industrial ice-cream. Bertram Ng/Flickr
Kulfi vs Ice-cream
Kulfi is as calorie-dense as ice-cream, but it is made from real ingredients. Commercial ice-cream, on the other hand, has carboxy methyl cellulose, which causes low-grade inflammation and harms gut bacteria.
Moral of the story? Street food is real and honest, and while it might mostly have as many calories as industrially processed food, you are sparing your body the assault of numerous chemicals and ingredients whose names no one will recognise. Plating the pastries nicely after dousing them with eye-catching synthetic colours doesn't help the cause. Occasional consumption of Indian street food is fun, and there are several Indian street foods that can even be consumed every day.