Garde Manger Cafe near Vile Parle's Hanuman road is a charming raw-wood accented health bar, with offerings that will soon become a favourite with meat-eaters who turn their noses at vegetarian fare. The decor exudes a non-pretentious yet chic appeal. Split into two sections, the outdoor area with its bicycle-with-a-flower-loaded-basket seems like the perfect spot to indulge in tea and gossip.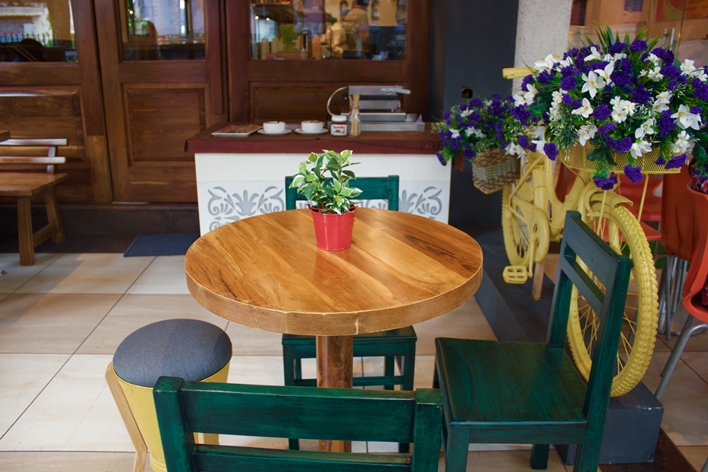 Outdoor seating at Garde Manger Cafe, Vile Parle East
The multi-cuisine menu is detailed, along with mentions of the nutritional markup of dishes (proteins, fibre, etc.). Spread across soup, salads and mains, the menu also allows a DIY option to make your own pasta and salad from a set of pre-selected ingredients. We started off with a delicately spiced but extremely hearty roasted tomato and basil soup and moved to the Mumbai Local. Served in a typical street-food style paper cone, this tangy bhel-inspired salad brings in a bit of theatrics from a fumey, citrusy syrup that's poured over right before serving. Tiny chunks of cottage cheese and arugula blend in with puffed rice and chickpea-laden mouthfuls that are dressed in tangy date-tamarind and mint chutneys. Chaat that's healthy? Most certainly.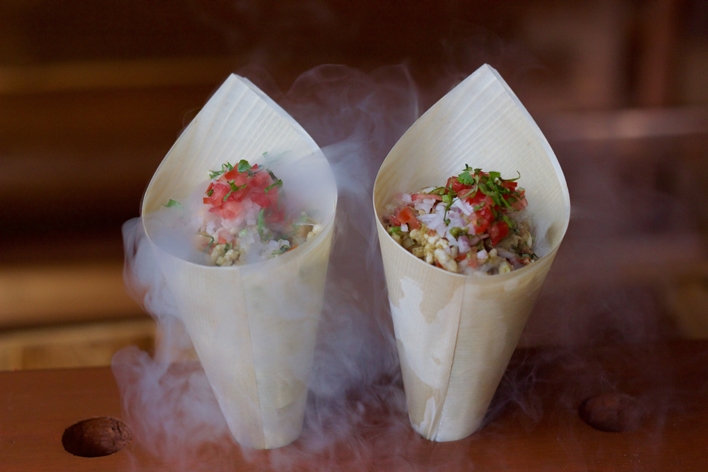 Bhel-inspired Mumbai Local salad with chickpeas and arugula was refreshing. A 7/10 for us
Super-food nuts ought to make a beeline for the Zesty Quinoa salad with cherry tomatoes, black beans, lettuce and punchy lemon vinaigrette. Mezze Platter has the usual suspects – hummus, cous cous, tabbouleh and tahini yoghurt served with whole wheat pita chips and grilled multigrain panini. Full marks to the smooth, creamy hummus that manages to hit the right spot with its garlic and citrus content. The Specials menu has a light Cous Cous Upma (made withIndian style spices yet clean, light flavours) as well as Multigrain Stuffed Parathas that reminded us of our mothers' ploys to get us to eat soya and veggies with a side of pickle and chutney. We also enjoyed the skewered take on the Italian Caprese with lush Bocconcini cheese, cherry tomatoes, basil and a delicious pesto sauce.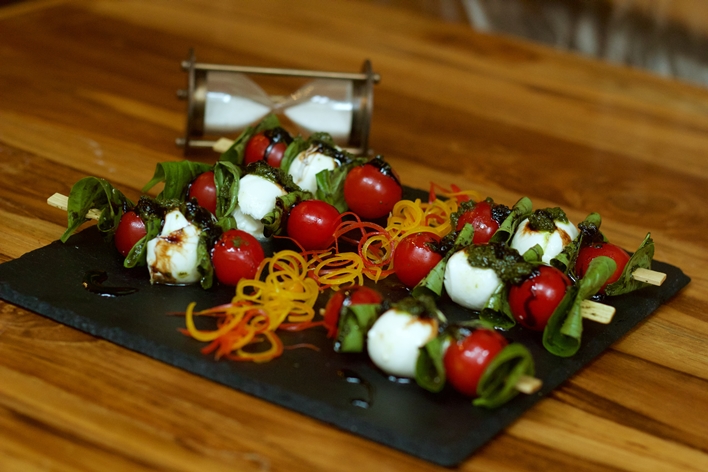 Italian Caprese with skewered Bocconcini cheese, cherry tomatoes, basil and pesto – highly recommended
The food is full of flavour and non-greasy leaving ample room for desserts and accompaniments. Quinoa Banana smoothie with soy milk is sweet without being cloying while the Muesli Peanut smoothie (peanut butter, muesli, digestive biscuit, honey and soy milk) tasted like drinking a bar of Snickers. For dessert, the Chickpeas Walnut Banana pie comes highly recommended – moist, nutty and heavy with the fragrance of banana and cinnamon, this decadent fibre-packed dessert gives no inkling of its chickpea flour base. The well-priced portions are generous and we're already planning on coming back for the multigrain waffles from their all-day breakfast offerings.
Where: Parmar CHS, Paranjape B Scheme, 1st Road Near Mahila Sangh School, Vile Parle East, Mumbai
When: 8am to 11pm
Call: 7045004488
Cost: Rs 1000 for two people (approx.)
Featured image: Mezze Platter at Garde Manger Cafe, Vile Parle East