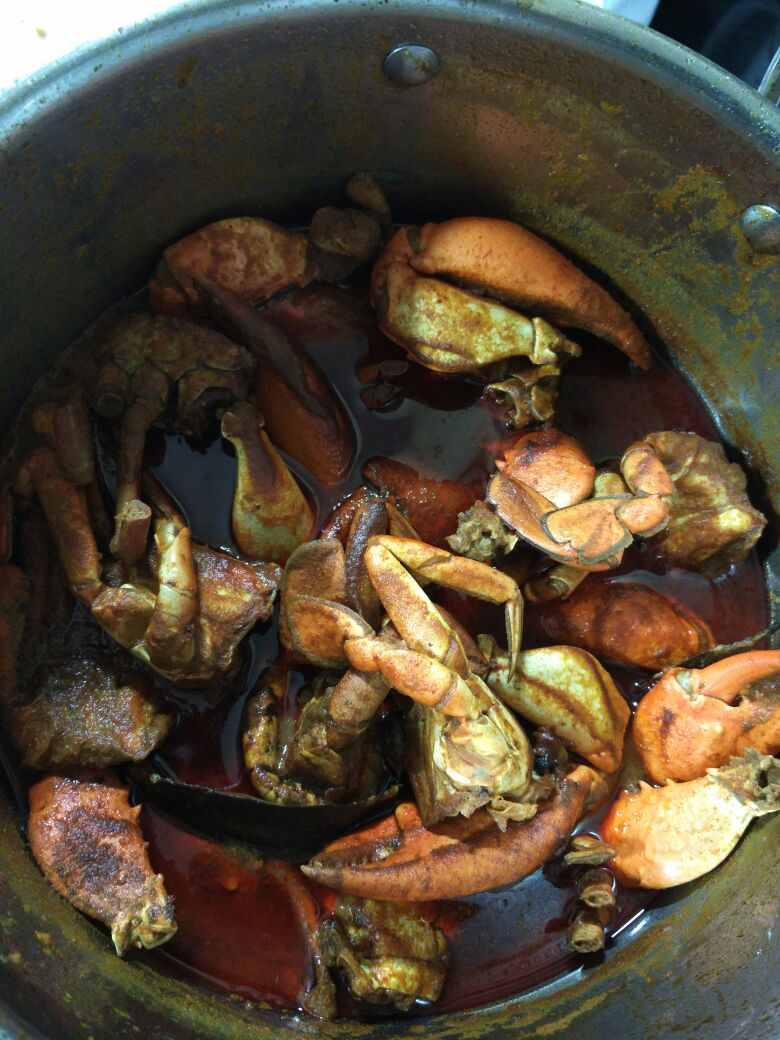 My father's mom, aka Manni, was an incredibly proud homemaker. But the part of her home she was proudest of was her kitchen. Loved ones still fondly recollect stories about how even if they'd drop by for a quick cup of tea, she would never let them leave without at least having one of her famed Mangsho'r Chops, sometimes even a full meal of Luchi-Mangsho. But the one dish of hers that everyone we know still swears by is Kakda'r Jhaal or Crab Curry.
Now, the reason Manni's Kakda was so damn unforgettable was not because she had a closely guarded recipe that she'd got from a matriarch, or bawarchi. Her only real trick was that she was really particular when it came it to her food – her vegetables and fish were bought fresh daily; she always chose her own cuts at the butcher's; all her masalas had to be ground by hand; and it was that same kind of obsessive detail that went into her kakda as well.
Manni always chose mangrove mud crabs over the deep-sea kind, as you could buy them alive and kicking, and with crabs that's the only way to go. They always had to have a hard shell and firm belly, as that meant they were fleshy. Also, she preferred female crabs (they have a larger flap under the belly) as their roe helped flavour the jhol (gravy/curry) and gave it a briny sweetness.  Most importantly, they always weighed anywhere between 300 to 500 grams. Never more, or less, as larger crabs didn't possess the sweetest of meat, and any smaller and you wouldn't be left with much flesh. If the local market couldn't meet any of these criteria then our cycle rickshaw would be ditched for a taxi, and we'd continue to hop around Kolkata until we found the right kind of crustacean.
Once back home, Bokul aka Pishi (my childhood nanny) would quickly clean and snap apart the pesky fellows by hand, while teasing me that one of them was going to get away and bite off my toes. Manni would then give her a measured quantity of onion, ginger- garlic that was ground by hand on the shilnora, and fried up in mustard oil with some whole spices and lots of lonka guro (red chilli). Once properly browned, Manni would instruct Pishi to add the kakda with some water and let them simmer. You knew they were ready to devour once the shells went from a murky black to a bright ruby-red. Manni would then announce that lunch was served; double-check everyone's hands were washed and we'd all spend the entire afternoon noisily cracking and slurping our way through an entire pot of kakda.
Auroni Mookerjee is the founder of Grandma Mookerjee's Kitchen and co-founder, The Curry Brothers, in Mumbai
Manni's Kakda'r Jhaal (Crab Curry)
Serves 4-6
Ingredients
2 kg  Mud Crabs (Must be live, broken down and cleaned)
500 gm Onions, grated (increase quantity depending on how thick a gravy you like)
1 tbsp ginger paste
1 tbsp garlic paste
4 nos clove
4 nos green elaichi
2 nos Bay Leaf
2 sticks (2-inch long) cinnamon
1/2 tbsp Jeera Powder
1 tbsp Dhania Powder
1 tbsp Laal Mirch Powder
1 tsp Haldi
50 ml Mustard Oil
1 tbsp Ghee
Salt
Method
Start by heating up a generous amounts of mustard oil (in Bengal we let the oil smoke) in a heavy bottomed vessel and add the whole spices.
A few seconds later, add the onion, ginger and garlic paste. Keep bhuno-ing this mix on a high flame patiently, de-glazing with water if need be so that nothing burns.
Tip – start by cooking the masala in a non-stick pan so that the usage of oil is relatively lower and so that the wash up job is easier later.
Once the onion paste is close to turning a deep brown colour, add the powdered spices and ghee along with the crab.
Give it all a good stir for a few minutes cooking out the rawness of the powdered spices. Also, feel free to change/adjust powdered masala quantities by taste, after all each household has its own preference for spice.
Then add a few cups of water and let everything simmer for about 15 minutes or so with a lid.
If you're still worried about the 'doneness' of the crabs after 15 minutes, just make sure that the crabs have turned a deep red and that the masalas don't taste raw when you take a spoonful of jhol.
Once ready, serve over some steaming hot bhaat.