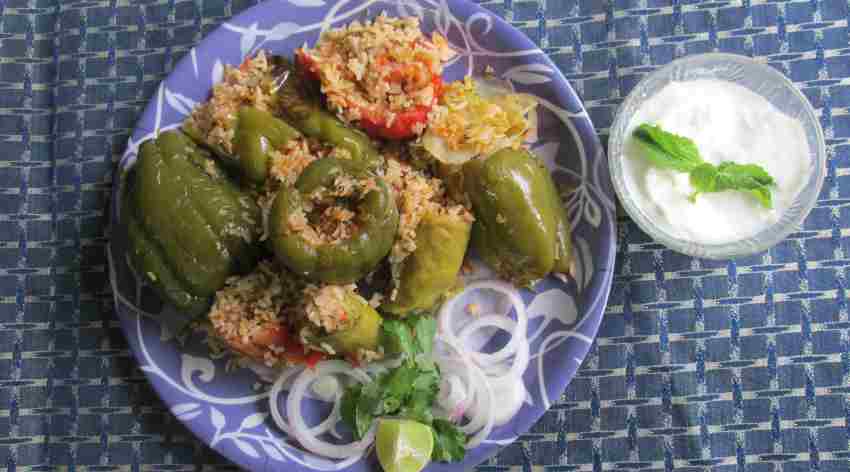 My mother Kamilia was born and raised in Cairo. She completed her Masters at the University of Mumbai, and life at the hostel came with its own set of adjustments. She missed home terribly during exams. Growing up, my grandmother would stock up a huge batch of vine mahshi (pronounced mah-shee), a popular Egyptian dish with spiced rice stuffed and rolled painstakingly into delicate vine leaves. Mahshi, says my mom, a self-confessed nerd, was what helped her burn the proverbial midnight oil as a teenager."You can have it cold or hot, it's just as tasty," she says fondly.
Recently, she made a different version of the mahshi. The rice was stuffed into zucchini, capsicum and tomatoes that had been carefully hollowed out and the remainder was rolled between boiled cabbage leaves, just like she would with my grandmother.
"Vine leaves in Egypt are a summer specialty and mahshi, being the versatile dish it is, lends itself perfectly to almost all vegetables, including aubergines, which we'd get in Cairo throughout the year," she said.
My mother mostly made mahshi in Cairo with my grandmother and her friends during festivals. For my grandmother, though, learning to make this dish was a means to integrate herself with her Egyptian neighbours. She went to Cairo as a young bride sometime in the 1960s with my grandfather, a silversmith, and they lived in El Mosky.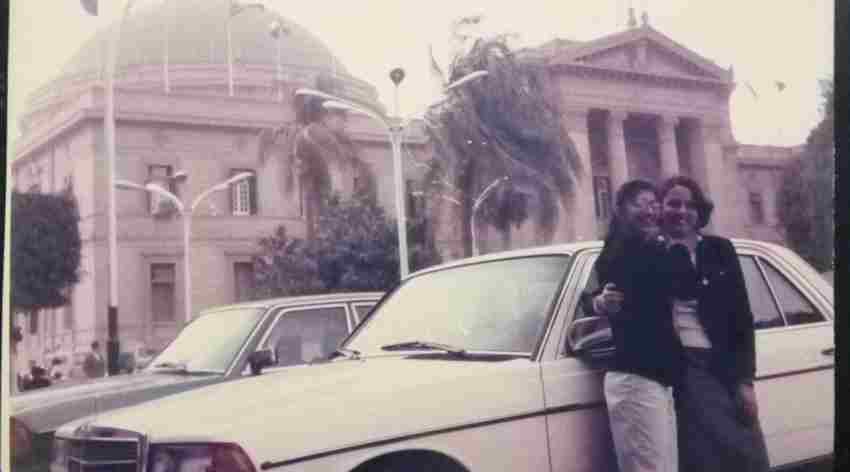 The author's mother (left) outside Cairo University in the early 1980s
The food I grew up eating was — and still is — a mixture of Egyptian, Parsi-style meats (my paternal grandmother's cooking was heavily influenced by a genteel Parsi woman who she grew up around) and finally coastal-style chicken and seafood curries from Daman where my paternal grandfather was originally from. As a child, I remember being a rather fussy eater and turning my nose up at the sight of the dill leaves and parsley used liberally in one of Egypt's most celebrated dishes. It wasn't until I became a teenager that I began to look forward to this fragrant dish. In fact, I feel a great sense of accomplishment when I brag to the Egyptian side of my family that mahshi (stuffed in veggies) was one of the first few Egyptian dishes I learnt when I began cooking about two years ago. Mahshi is a labour of love, and they have a saying in Egypt that loosely translates into "takes time to make, but is gone in a snap."
On most Sundays, we cheat our way around it, merely chopping up the vegetables and adding the rice and spices to the tomato salsa to rustle up a one pot wonder. What, however, remains constant is the comforting aroma of dill leaves and parsley that reminds my octogenarian grandmother and daughter of a home they talk most fondly about.
(Featured image courtesy: Emad Rauf/Flickr)
Mahshi
Egyptian rice dish stuffed in vegetables
Serves 4
Ingredients
4 peppers
2 medium sized zucchini
½ of a big cabbage, washed and par boiled with leaves intact
2 big red onions
8 tomatoes (5 roughly mashed, set remaining aside)
1 cup fresh, roughly chopped parsley
1 tablespoon of dill leaves
Salt to taste
2 tsp cumin powder
1 ½ tsp black pepper powder
2 tspns of ginger-garlic paste
2 chopped green chilies
3 ½ cups rice
Preparation
Wash remaining tomatoes, capsicum, peel and halve the zucchini. Hollow out the core of vegetables carefully. Set the pulp from tomatoes and zucchini aside.
Method
Add 3 tsps oil in a heavy bottom vessel, add onions, ginger garlic paste
Add the mashed tomatoes, salt, cumin and pepper powder, chopped green chilies and dil and chopped parsley. Also add in the pulp from the hollowed zucchini and tomatoes. Cook salsa on medium flame and set aside.
Wash the rice and add to the spiced salsa mixture.
Spoon out enough rice to fill the hollowed capsicum, tomatoes and zucchini. Roll some rice in a few boiled cabbage leaves.
In a heavy bottomed pan, lay out the stalks of the dill, parsley and remaining boiled cabbage leaves. Arrange stuffed vegetables carefully, add enough water till vegetables are soaked and pour some over the stuffed rice to moisten well. (You can also use chicken broth for added flavour)
Cook on medium flame for 15 minutes and check the rice periodically. Add more water (or chicken stock) if rice gets dry
Serve hot with curd or fresh salad.