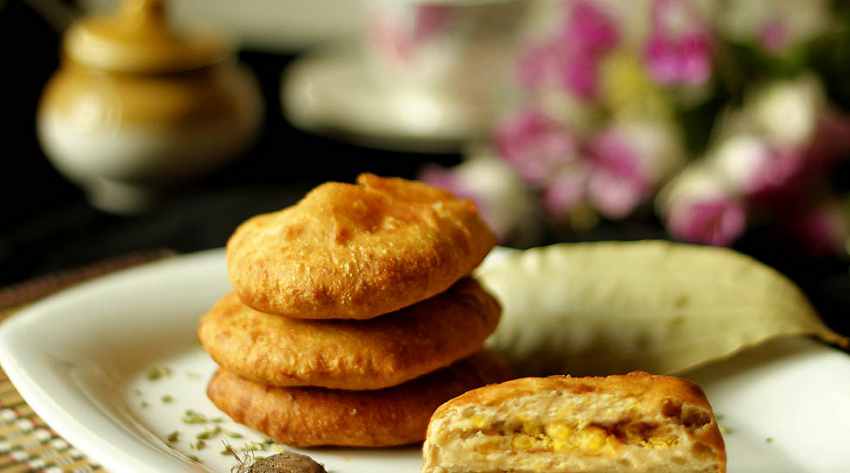 Photograph courtesy: Sindhirasoi.com
On bright winter afternoons, the narrow lanes of H Block, Vikaspuri, would seem busier than usual. With jute charpoys placed outside nearly every row-house, its residents would sit soaking in the sun. With the men away at work, women sat chit-chatting while the family elders snoozed under a blanket. Children, back from school and finished with lunch, would already be at play. I often spent the weekends during winters in this middle-class west Delhi neighbourhood, with Naani and Badepapa (my maternal grandparents). Maama and his family lived "abroad", and visiting naani meant spending afternoons sitting with her in their open car park with feet tucked under the blanket while we peeled roasted peanut shells. I was a shy child and I enjoyed the solitude.
The only exception to this winter-time routine was when the charpoys and blankets were employed for the preparation of doli. A flatbread unique to Multanis and Derawals – Punjabis from Dera Ghazi Khan and Dera Ismail Khan districts, presently in Pakistan – it used to be a wintertime feast in our family. It wasn't easy to prepare – I know no one else, not any family friend, or member of the extended family on either side, who can make doli. I don't mean that the recipe is largely unavailable, although that is true as well, but it takes certain skill and practice to get the dough right.
The strange name it borrows from its equally strange origin. Naani would say that at a time when the bride and groom belonged to different villages and the carriers of the bride's doli (palanquin) would have to travel for days, lugging it to the groom's home after the wedding, the flatbread served as a meal that could survive both the terrain and the weather.
Making doli is a three-step process, spread over two days. The first step is the preparation of the water, which is used for the dough. A few spices, including moti ilaichi and cinnamon, along with split chana daal and sugar, are added to water, which is allowed to boil for a while. The water is then left to cool and kept overnight in a warm place to ferment. Usually made in a large quantity, traditionally, the family would pass on a portion of the water to extended family, or neighbours, so that they, too, could prepare doli. The following day, the dough is prepared by adding this water to wheat flour. The dough would then be rolled out into poori-size pieces and laid out on the charpoy covered in a blanket so it could rise with the heat. Ideally, the dolis should be fried the following day but if the dough has risen within a few hours, there is no reason to wait.
Doli is best had with karela, prepared with a lot of onions, and a mixed daal of split black lentils and split gram made with ghee and jeera. For those who turned up their noses at the mention of this commonly detested vegetable, have it with kheema. Albeit a meat-eater, I preferred the former, for it added a touch of bitter to this thick flatbread with a delicious and unique sweetish-sour tinge.
Whenever Naani made doli, she made it in large numbers. It took so much hard work, she felt it wasn't worth it unless everyone in the family and his neighbour had had some. What worked to her advantage, which is also the USP of doli, is that it stays good for at least five to seven days. Every time Naani made doli, she would say it gets better as it stales, and I would nod smilingly. But that was to keep her heart. Nothing beats the memory of having doli just as Naani had scooped it out of the kadhai – enjoying it hot and fluffy with the bitter-sweet karela masala while I sat on the charpoy outside, soaking in the sun on a cold winter afternoon.
For more recipes and stories from Sindh and Multan, hit sindhirasoi.com