Whether you like them runny, hard boiled, perfectly poached or fried, there's no denying the fact that eggs are one of the most versatile foods around. And if, like us, you can have eggs any time of the day, then you need to eat your way through this list of some of Mumbai's tastiest egg dishes.
Chorizo + House Sausages Skillet Fried Eggs at Smoke House Deli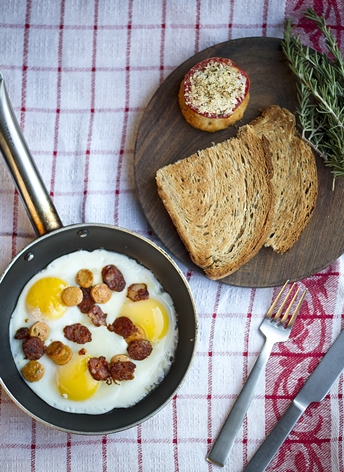 If your idea of comfort food is eggs and sausages, then Smoke House Deli has just what it takes to make you happy. Three skillet fried eggs are topped with house-made pork chorizo (spicy Portuguese style sausages) and chicken sausages. It's hearty, flavoursome and has just the right kind of spices to begin your day with. Oh, and there's a slice of multi-grain toast, hash brown and baked tomato as accompaniments that really tie this fragrant dish together.
Where: Smoke House Deli, Clove At 33rd Road, B. R. Ambedkar Road, Pali Hill, Bandra West
Cost: Rs 310
Eggs Benedict at Indigo Deli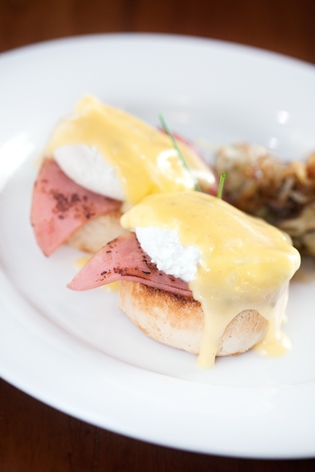 When it comes to breakfast foods, Indigo Deli hits the nail. Two perfectly poached eggs with ham are plated with hollandaise sauce and hash browns. The sauce is creamy, light and just so damn good! Much like the classic, the eggs are served on an English muffin that is just how an honest muffin should be – spongy with nooks and crannies to absorb the goodness of the toppings, ultimately making this dish a total winner.
Where: Indigo Deli, 5, Ground Floor, Pheroze Building, Chhatrapati Shivaji Maharashi Marg, Apollo Bunder, Colaba
Cost: Rs 545
Giant Jamjar Popeye at Jamjar Diner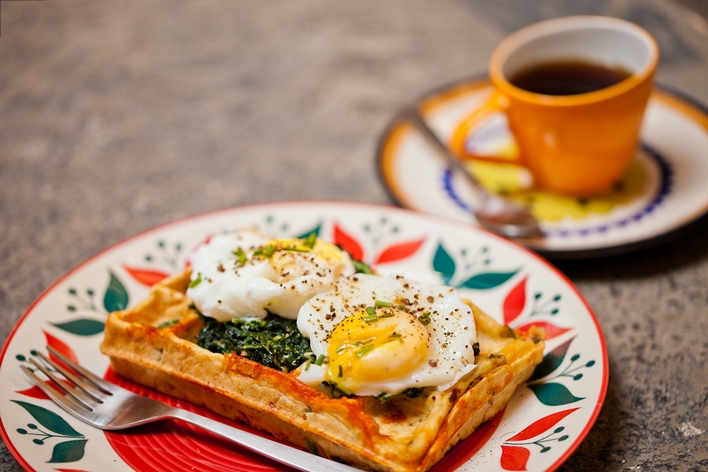 You read Popeye on the menu and you are immediately reminded of a brawny-armed cartoon character's antics. So it makes sense that the dish has spinach, and lots of it at that. The Giant Popeye at Jamjar Diner is waffles topped with creamy spinach and poached eggs. But, this charming Versova eatery has a neat little trick up its sleeve. Apart from the usual flour, eggs, sugar and yellow cheddar combo that makes waffles an absolute delight, there's also jalapeno which gives the dish a sweet and slightly tangy finish.
Where: Jamjar Diner, Plot No. 7A & B, Aram Nagar ll, Jai Prakash Road, Versova, Andheri West
Cost: Rs 327 plus taxes
Shakshuka at HITCHKI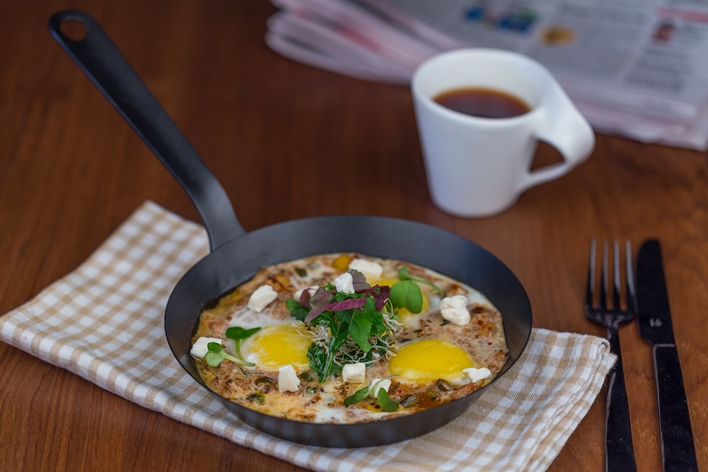 If you thought your favourites from Middle Eastern cuisine would stop at hummus, falafel, pita and shawarma, then it's time to add a new name to the list – shakshouka – a Middle Eastern dish of baked eggs. Traditionally, a meat and vegetable stew, the introduction of vegetables during the Ottoman Empire has shaped the modern version of the dish. Baked in lots of tomato sauce, the dish is tangy and slightly spicy from the use of spices like chilli, herbs, cumin – but really, you can add almost any spice or veggie combo to ace this one. We really like the version that Hitchki in Fort serves. Runny, yolky eggs baked in herbed tomato sauce with chilli peppers, onions and cumin; have it for breakfast, lunch, brunch, this dish sings of simple comfort.
Where: HITCHKI, National Indian Building 1, Kalaghoda Building Bhadekaru, Kalaghoda, Fort
Cost: Rs 200 plus taxes
Akuri at Ideal Corner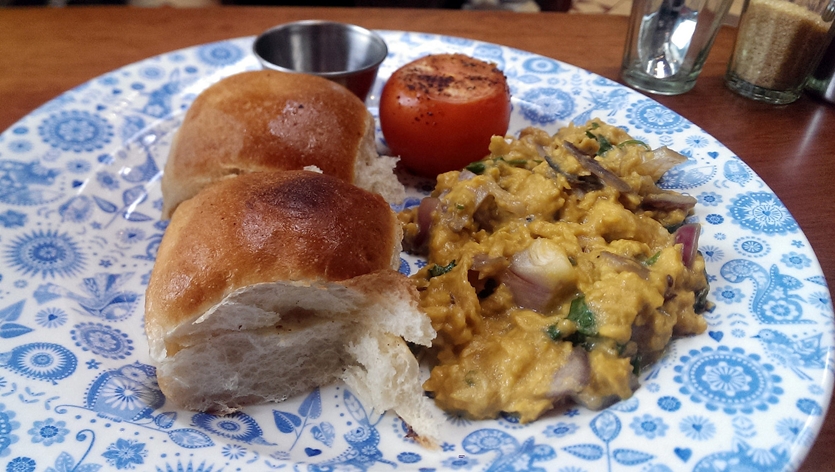 Representational image only Source: Ewan Munro, Flickr
Like most Parsi/Irani eateries dotting the city, Ideal Corner in Fort has a no-fuss decor but has that charming, homely feel to it. The menu serves a gamut of Parsi dishes that are as close to the real deal as they can get. Among everything served here, it is the eggs that stand out. Ask any blue-blooded Parsi about food and you'll know they take their eedu very seriously. It is the akuri – the king of all bawa egg dishes – scrambled eggs with Parsi masalas, ginger, garlic thrown in with chopped tomatoes and onions. While it does sound like a regular bhurji, what separates the two is the texture as it's slightly wetter and creamier (just like the kind served in Parsi households) and Ideal Corner knows how to make it right.
Where: Ideal Corner, 12 F/G, Hornby View, Gunbow Street, Fort, Mumbai
Cost: Rs 90
Egg Bhurji, near Santarcruz station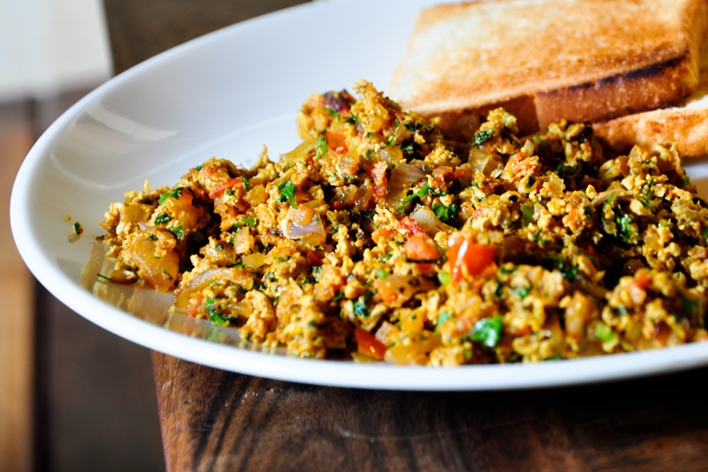 Representational image only. Source: Praveen, Flickr
Not fancy by any means, this one's on the list simply because of how good it is. The tiny thela outside Santacruz station makes eggs in all forms and variations, bhurji, omelette, half fry, you name it. As with all egg bhurji stalls in the city, this one is open to customisation and you can have yours spicy, with or without masala. The stall opens post 10 pm and stays open till the wee hours of the morning, as late as 3 to 4 am, making it an instant hit with party-goers in Khar, Bandra area or just about anyone who's really craving some bhurji and pao in the middle of the night.
Where: Santacruz West railway station, adjacent to Friendship Sarees
Cost: Rs 80