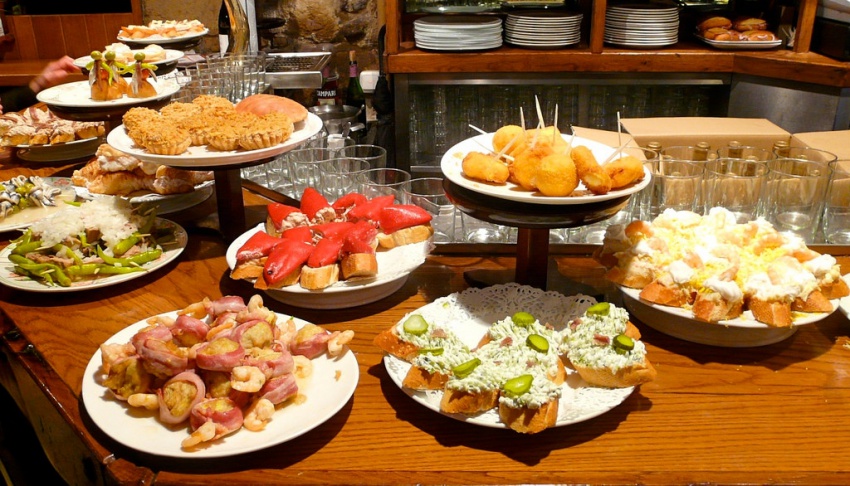 A typical Spanish tapas bar. Photograph by Sanfanmedia/Flickr
One of the best things about eating and drinking in Spain is being able to guzzle gallons of vino (it's cheaper than a glass of water). And watch a tower of tapas – small eats at the bar, which often include thin, crusty slices of bread topped with all kinds of meat – disappear before you blink. While wine remains expensive in India, there is a lot of tapas going around suddenly. Mumbai has particularly taken to these moreish bar eats.
Nico Ghogavala's Farmer and Sons have a bunch of interesting small plates and cocktails on their menu like the roast chicken clams and baked sea bream bravas, the braised lamb with smoked aubergines and the beef brisket bruschetta. My personal pick is the filet mignon of buffalo with shitake and chimichurri sauce. Also, the bar, which has to compliment a small plates menu, is quite innovative. Old fashioned with duck fat anyone? Chef Kelvin Cheung's One Street Over also favours small plates. Atul Kochhar's Lima has also launched in Mumbai as an exclusive Latin tapas bar. Glocal Junction, the North Mumbai pub, wraps up its main course post 6 PM to serve bite-sized eats.
Tapas has fast become the best menu option for restaurateurs because they are easy to create, allow quick service and go well with all kinds of booze. Practically anything goes when it comes to tapas – from almonds to an actual bite of a rabbit stew, olives and fried potatoes with some spicy sauce are favourites, cured Spanish cheese, chorizo sausages, fried sea food, rabbit stew…the list is endless.
Here's our guide to all the tapas that you can eat.
Jamon Iberico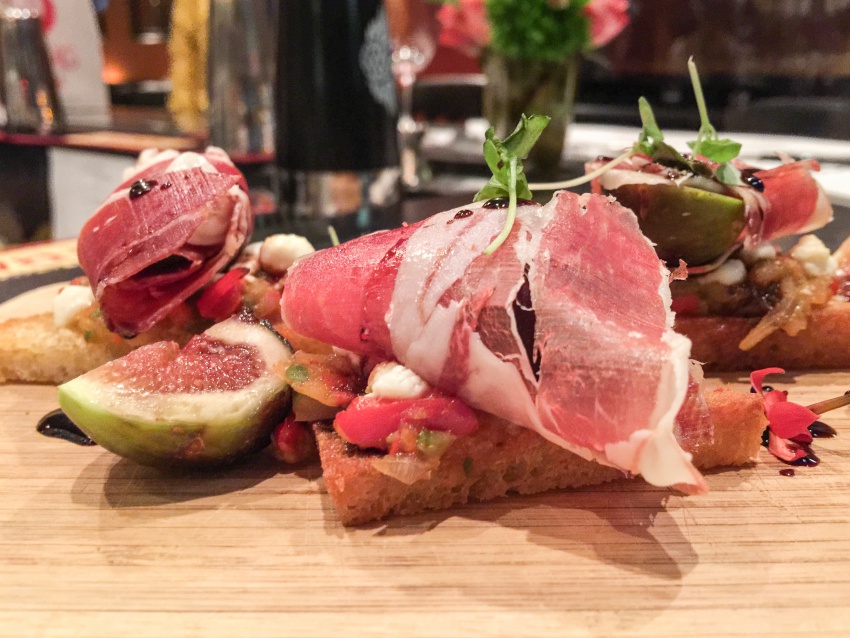 Jamon Iberico served with fig and cheese. Photograph by Dale Cruse/Flickr
This salted, cured and wind-dried Spanish ham is known worldwide for its complex flavour and rich taste and the Jamon Iberico tapas is a hot favourite at the tapas bars in Spain. Careful husbandry is what it takes to create distinctive ruby-red semi-translucent slices of meat with a nutty flavour, appetising fragrance and a buttery aftertaste. Various terms such as jamon de pata negra, jamon de bellota or jamon serrano are used to refer to the ham derived from acorn-fed black pigs of the Iberico breed. Slices of this mountain-cured ham are often served slightly smoked, drizzled with olive oil or with bread rubbed with tomatoes and a side of aioli.
Boquerones en vinagre 
Nothing goes as well with sangria as some fresh anchovy fillets lightly pickled in vinegar with salt and garlic. The small and oily fish generally has a very short shelf-life and hence the pickling adds to its longevity along with taste. It is served drained from the pickle, dressed with garlic and chopped parsley.
Croquetas
Nothing too fancy, these bite-sized croquettes  are often made with leftovers and stock such as milk, chopped ham, shrimp or cheese that is easily available in a restaurant kitchen. Rolled into little bolsters, the mixture is then dipped in egg, rolled in breadcrumbs and fried crisp.
Tortilla española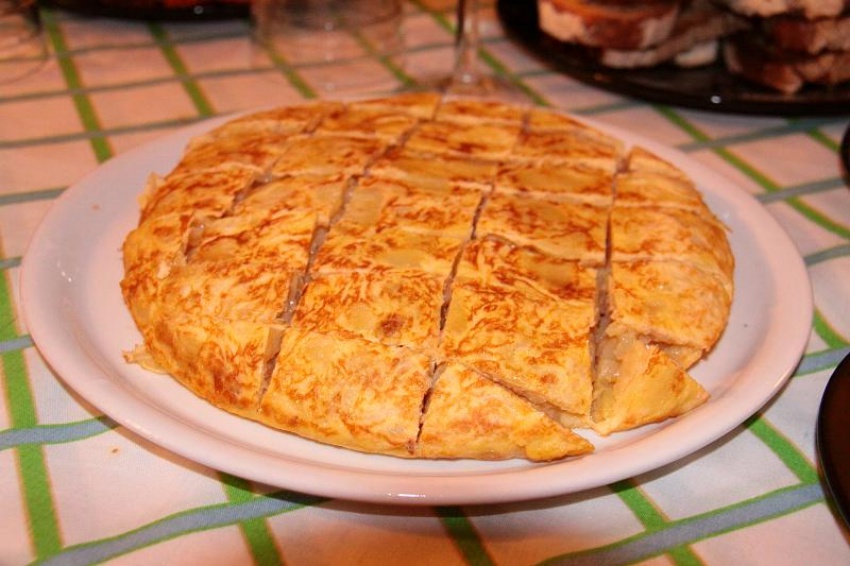 Photograph by Lothian Dincht/Flickr
Possibly the most easily available tapas, this thick egg-and-potato omelette is cooked like a pancake, chopped up and served like rough cubes. Some add slivered onion with the potatoes while others add asparagus, spicy botifarra sausage and even bits of brain.
Albondigas en salsa 
Delicious and flavoursome, these savoury little pork and beef meatballs are great party eats. They can be a tad complex and filling, but undeniably addictive. The meatballs are braised in a sauce of tomatoes, parsley, saffron and almonds. This tapas goes really well with a medium dry red wine.
Patatas bravas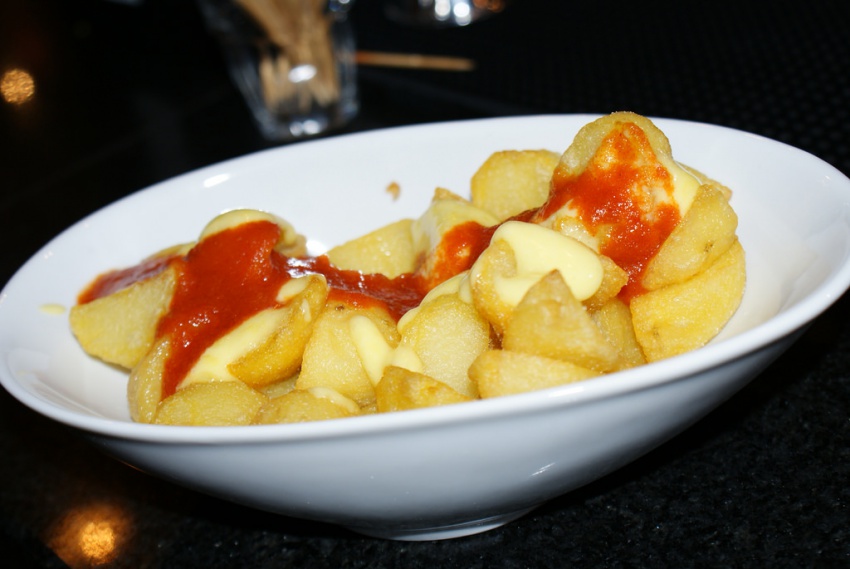 Chunks of fried potato or Patata Bravas, a favourite tapas of vegetarians. Photograph by Renata Rolim/Flickr
The most popular tapas option globally, these are small chunks of potato, deep-fried, boiled or sautéed, with tomato and garlic and an extra dash of hot chillies. They are mostly served with a garlic aioli and is tapas food at its simplest and most economical.
Pinchitos moruños 
A favourite in southern Spain, Pinchitos morunos are tiny pork chunks are marinated in oil, garlic and a special spice mix of cumin, coriander, turmeric and chilli, threaded on skewers and grilled. For most Indians this is a flavour that tastes like home.
Gambas al Ajillo 
Fresh prawns stir fried in olive oil with garlic and hot peppers makes for the quick and easy snack that is Gambas al Ajillo. These hot garlic prawns are dumped in hearty portions on tables at pubs and bars across Spain.
Espinacas con garbanzos 
A delicious (and healthy) vegetarian option is the spinach and chickpea salad of sorts, tossed with olive oil and garlic. Many places do throw in some stir fried pork, chicken or seafood if you ask them to, making Espinacas con garbanzos a big hit at tapas bars.
Revuelto 
Who said scrambled eggs were just ? Tapas bars dress scrambled eggs up with multiple options like spiced meats, sausages, prawns and fried potatoes. This works really well with hard liquor.