Headquartered in California, Sugarfina sells gummy bears, marshmallows
and chocolates. Photograph by Alina Din
There's just one thing to be said about gummy bears: we like them. And, the next time we go abroad, or have a friend/relative coming down from the US, we are going to ask him/her to get us some Sugarfina gummy bears. If you haven't heard of Sugarfina gummy bears, let us tell you that these bears are supposed to be, like, the last word in gummy bears. So much so that in late June, when they launched their rose-infused gummy bears, the said goods were sold out in a matter of hours, and the site crashed. Last heard, the wait-list for the Rose Gummy Bears is about 14,000-people long.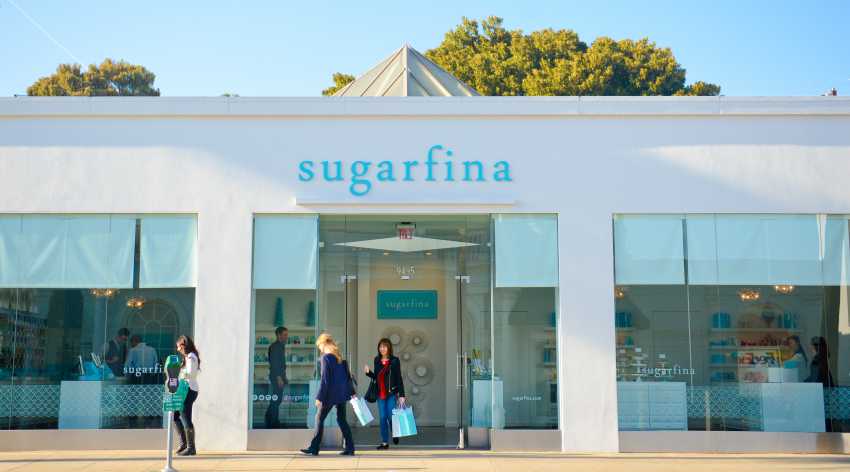 Sugarfina's Beverly Hills store. Photograph courtesy Sugarfina
But, just what is this company called Sugarfina and where is it based? Sugarfina, which sources artisanal candy from across the world besides making its own stuff, is headquartered in LA, and considers itself to be a candy store for "grown-ups". Founded by Rosie O' Neill and Josh Resnick in 2012, Sugarfina also makes Champagne Bears, with Dom Perignon, no less; Jamaican Rum Snowballs, infused with rum from the Caribbean, and, among others, chocolatey Single Malt Cordials. Their products are on the expensive side, and about 10 pieces of their Super Sour Hearts could set you back by about Rs 550, and some time back they even sold 24 K gold, champagne-infused marshmallows, which were actually dipped in gold.
On the website, Resnick and O'Neill say that "Every candy in our boutique is packaged with love, perfect for giving as a gift or treating yourself." Where have we heard that before? But, on the other hand, we will just keep our cynicism aside, and consider shopping their pre-sale for the Rose gummy bears.