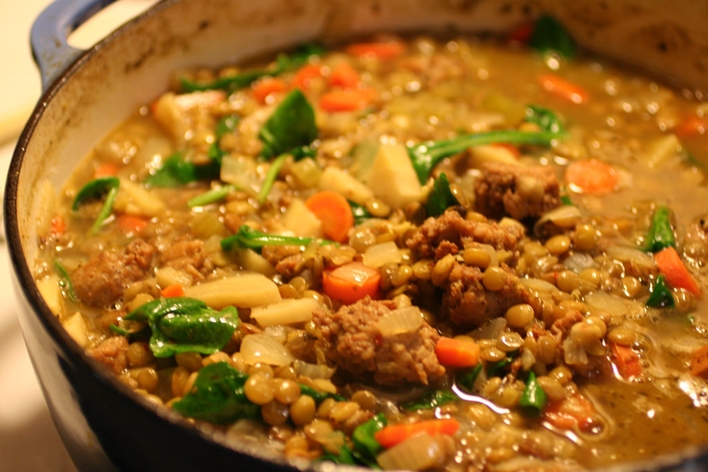 One-pot meals mean hassle-free recipes and make for great comfort foods. Source: Whitney/Flickr
If you're the kind who isn't inclined to cooking too often, one pot meals are a saviour. They're comforting, easy to put together and usually include a bunch of ingredients that are easily available, if not already sitting in your fridge. Most of these meals combine the goodness of condiments and veggies, making them a healthy alternative to say, calling for some takeout. They're also extremely easy to make and require little to no prep by way of chopping and assembling ingredients. And you can make them in bulk (and refrigerate) to last you for several meals, or just scale it down for a single serving. The fact that there's little clean-up and washing afterwards is another plus. Here are a few simple dishes to get you started.
Spicy vegetable khichdi
Nothing spells comfort more than a bowl of piping hot khichdi topped with a dollop of butter. A simple, wholesome dish, this khichdi combines veggies, lentils and condiments that promise a lot of flavour and goodness. With carrots, tomatoes, spinach, beans and green peas, the dish ranks high on nutrition and dietary fibre. Simply throw all the ingredients into a pressure cooker for a wonderfully simple meal to tuck into on cold nights.
Chicken fried rice
If you've got rice, a couple of veggies and some chicken sitting in your fridge, this fried rice is what you need to make. The recipe is also a great way to use leftovers in your fridge and you can add as many vegetables as you like to bulk it up. Make sure to use sesame oil as it enhances the flavour of the ingredients.
Mushroom pasta
For most of us, cooking pasta means making the sauce in a pan while the pasta boils on the side. This recipe brings it all together in one single pot, to yield a creamy, decadent dish. You don't need to be an ace at cooking to make this dish: Simply chop the mushrooms, and toss in raw pasta. The recipe uses mushroom broth but you may use chicken or vegetable stock instead. Finished with peas and spinach, this one pot wonder is perfect even when you're entertaining.
Chickpea pulav
Chickpeas are high in proteins, vitamins and essential minerals along with dietary fibre – so there's no reason to make just chhole using this ingredient. This chickpea pulav makes use of simple ingredients and vegetables like spinach, potatoes and bell peppers. Use basmati rice for this one-pot meal for a one-pot pulav that we'd like to call the lazy cook's biryani.