Photograph by Senorhorst Jahnsen
The dish that defined my childhood is my amma's fried pomfret. It is delicious and yet very simple. It was a Sunday ritual. Lunch was steamed rice, yellow dal and amma's amazing pan fried pomfret. Upon special request, my mother would feed me by hand and I can always remember how her fingers smelt of fish. All us sat to eat it including my fussy brother .
Sunday afternoons always had to be luxury food: Yummy biryanis, pepper lamb chops or my favorite fish. We would watch a Tamil movie or Mahabharat on TV and gorge until we could eat no more. My appa would get sleepy, and I would love laying by his feet and watch TV on our antique couch, which is possibly as old and comforting as my grandma.
Ever since I can remember, I would walk to the fish market in Govandi, in Mumbai, with my dad every Sunday at around 9 am or if we were feeling rich, we would take a ride to the larger market that had all the fancy seafood. We always haggled for what we wanted and although the lobsters, giant shrimp and the large fish kept me curious, dad would always look for a  particular fish monger because the pomfret or king fish that she sold were the best.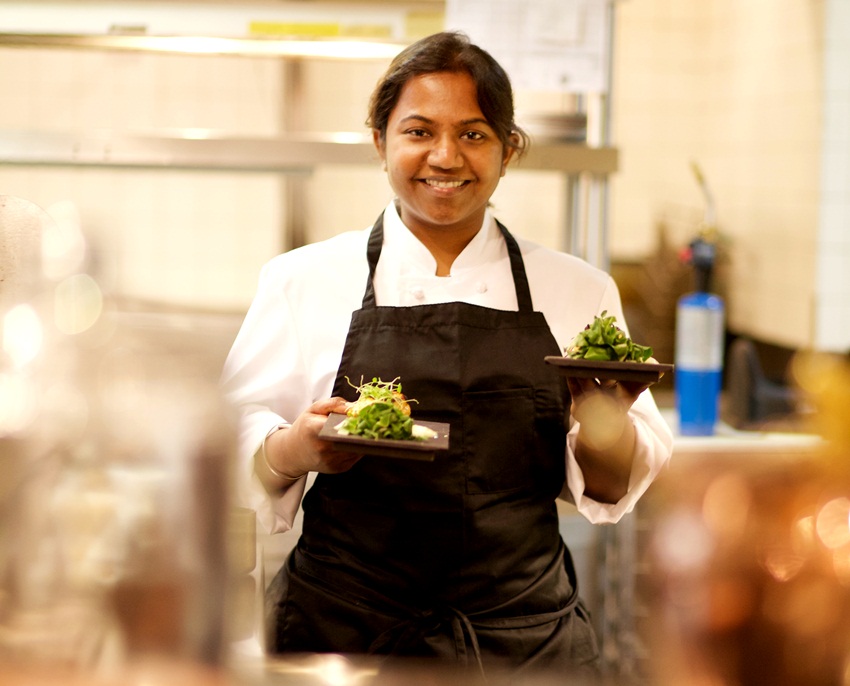 Aarthi Sampath
Amma disliked going to the fish market so it was such a dad and daughter thing. I think it deepened our bond – those simple trips. Amma always wanted the fish whole with a few slits on the flesh so that the masalas could seep in so that's how we got them. I remember that one of her secret ingredients was ketchup.
I took this fish for granted until I left home to study in Jaipur. There was barely any seafood, let alone pomfret . I would crave my mom's cooking all the time. I have a variation of the dish on Junoon's menu. It's made with black bass, which is a white flaky sweet fish but its not like our pomfret. I can never replicate the crust, the tang and the flavor.
Guests at the restaurant love it . It is served with a chayote squash puree. It is popular but if they were ever lucky enough to try the real deal, they would think differently.
Aarthi Sampath is the Chef de cuisine (head chef) at NYC-based restaurant, Junoon