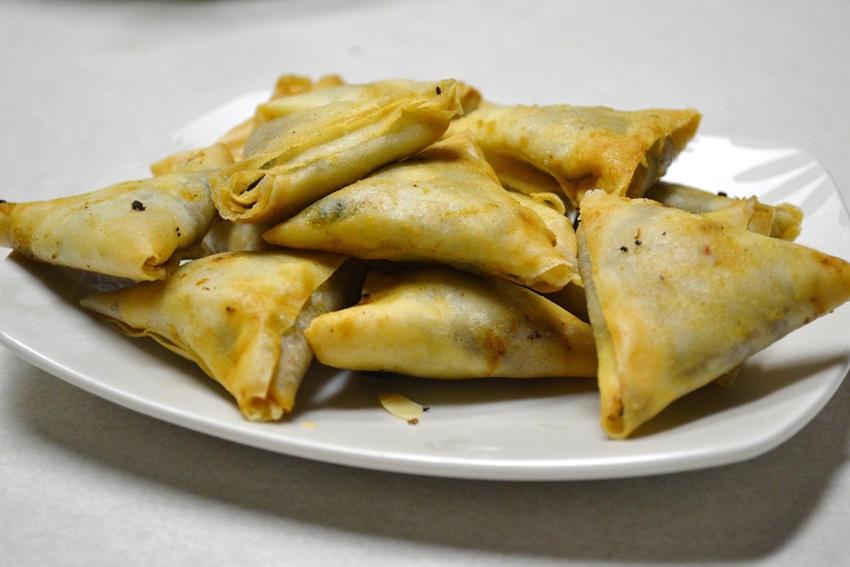 The Contractors made the samosa patti or casing at home, which ensured that every mouthful was a flaky mix of pastry and mutton. Photograph by orangefan_2011/Flickr
Kheema samosas used to be one of those things that I had to pester my dadi (Hilla Contractor) to make. They were one of my favourite snacks and I'd definitely want them on my birthday or if we hadn't eaten them in a long time. So they were made atleast once in every three months, but my grandmother had a condition: My brother and I would help out in the kitchen. Of course it  was under supervision, since I must have been around eight when I first made kheema samosas.
My role would be that of say, a junior helper, and I would do things like add masalas and mix the filling. But this was the time that I was introduced to an assembly line sort of cooking ritual. The filling was easy to make. The base for it was bhuna hua (roasted) onion, ginger and garlic and we then added the mutton. Next we added haldi powder, jeera powder, red chilli powder and garam masala. My grandmother used to add a lot of fresh mint to the filling so that even though the samosa was deep fried, there was a lovely freshness that the mint brought to it.
The ratio of meat to fat was also important. I still use 70 per cent meat and 30 per cent fat when I make these kheema samosas at Rustom's. Of course, now, the overall quality of mutton has gone down, but the samosas that my grandmother made were crisp on the outside and moist inside because it was good quality, juicy mutton.
We also used to make the samosa pattis (casing) at home and this was a time consuming process. It had to be paper thin and we had to fold it right after filling it. We usually made these on Sundays since they took so long. We'd start making these samosas in the morning and finish only by lunch time. Sometimes, we'd do the prep and make them as a snack for tea time.
The beauty of home made samosas pattis was that because we had to fold them multiple times, there were so many thin layers. So inadvertently, you got some flaky pastry with every bite and this you couldn't get with store bought pattis, which everyone uses now because it's convenient.
As told to Lalitha Suhasini