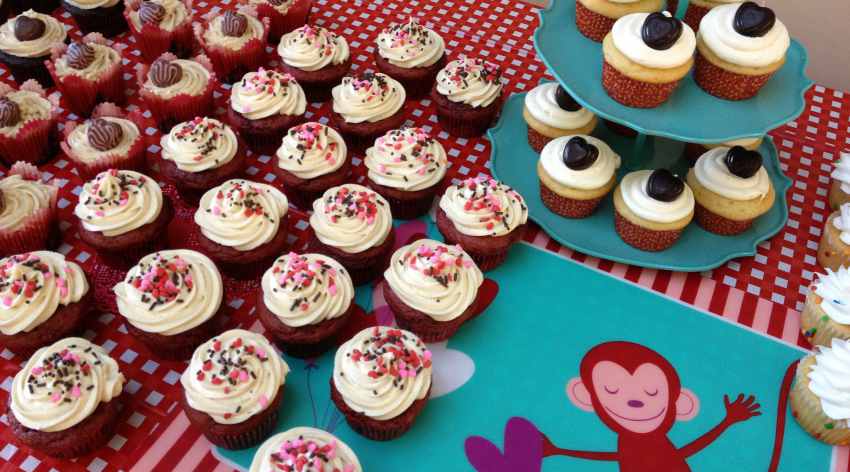 Kara/Flickr
Get your kids introduced to baking in Bangalore; get them to love veggies in Mumbai and teach them how to bake cupcakes in Delhi. Here are the deets.
Bangalore
Does Junior never miss episodes of Master Chef? Is he keen to get into the kitchen? Is he a foodie in the making? You could find out with SteppinOut Little Chef at the JW Marriott this weekend. The outfit's first ever masterclass for kids will also involve flea market stalls, so you are kept busy, but the focus really is on children who will be taken through an informative session on the art of cooking. Besides covering the basics, the recipes that will be taught to the kids will revolve around four sweet dishes and two savoury preparations. So, chocolate cookies, vanilla cookies, chocolate cupcake, blueberry cupcakes, Subs and nachos. Tickets on in.bookmyshow.com.
What: SteppinOut Little Chef – Kids Masterclass
Where: JW Marriott Hotel, 24/1,Vittal Mallya, Ashok Nagar
When: October 29
Time: 11am /12:30pm
Cost: Rs 1,500
Mumbai
Rajat Nagpal's Linkedin profile describes him as a graphic designer, filmmaker and culinary performer. This Thursday and Friday, he is going to put two of his skills to use at his workshop for parents and kids on vegetables. Yes, veggies — the stuff most kids don't like to eat, and the stuff that parents want their kid to eat. Nagpal, who was a Master Chef India finalist in 2011, plans to immerse children into the world of vegetables, introduce them to the sheer variety, encourage them to tell stories featuring veggies and getting them to understand them better. The workshop will be a combination of story-telling and cooking, and the kids will be taught to make wholesome delicious dishes with the same veggies that they stay away from. Head here for more info.
What: Vegetables I Hate workshop
Where: Clap, Solitaire II, 201 Unit, 2nd Floor, Link Road, Opp. Infinity Mall, Malad
When: October 27 and 28
Time: 10am
Delhi
Get your kids to learn to bake cupcakes at the Diwali themed cupcake and cookie baking class by the Culinary & Cake Decorating School at Okhla this Friday. The kids/teenagers (ages 12 and above) will be taught how to work with, among others, buttercream and piping rosettes, and will also be introduced to dedicated baking tools.
What: Diwali theme cupcake and cookie baking by CCDS
Where: CCDS, A-13, Okhla Phase II, DDA Shed, Near Crowne Plaza Hotel
When: October 27
Time: 2pm to 5pm
Contact: 011 46323679, or head to nowletslearn.com
Cost: Rs 3,500