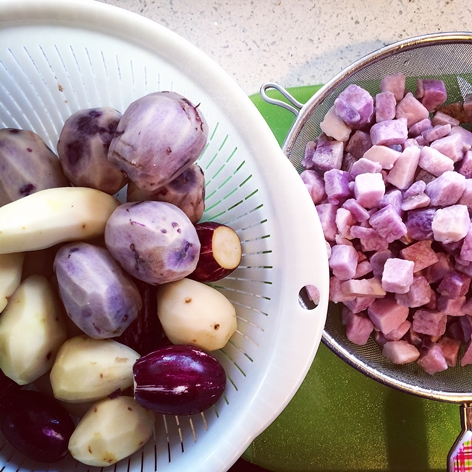 Prepping for the undhiyu. Photograph by Nikhil Merchant
My earliest memory of the undhiyu is from when I was 8-10 years old. The ladies of the house would get together along with the house-help and sit peeling the papdi (broad beans), chop the green garlic and other vegetables intrinsic to the dish. Since broad beans are a winter vegetable, the dish was something we'd look forward to every winter. The process would begin early in the morning since we were a joint family. The recipe traditionally uses an old-style coal fire and a big vat that would go on the chulha around lunch and was slow-cooked. It would be ready just in time for dinner.
This recipe is intrinsic to the Kutchi-Bhatia community, which I belong to, and my family has been making it for at least about 60 years. My great-grandmother was an excellent cook; she would sit in her 1,000 sq ft kitchen, shelling peas, shouting instructions to the two maharajs hired for cooking. The dish has been passed on to me by my mother, since between me and my brother, I'm the one who cooks. What makes this undhiyu special is the fact that it uses less oil; it is merely a medium to transfer the flavour. The vegetables are covered in a dum-style and are layered in a particular way, and the steam itself cooks the vegetables, more than the oil. There's also a special chutney that we use to marinate the veggies, made out of basic ingredients like fresh turmeric, ginger, green garlic, green chillies and coriander. It's also not sweet – there's no banana or sweet potato – and the only sweetness that may feature in the dish comes from the potatoes or yams and also from the muthiyas (fried balls of flour, fenugreek leaves and spices). The flavour can best be described as piquant, aromatic, savoury with a smokiness from the slow-cooking that enhances the flavour profile.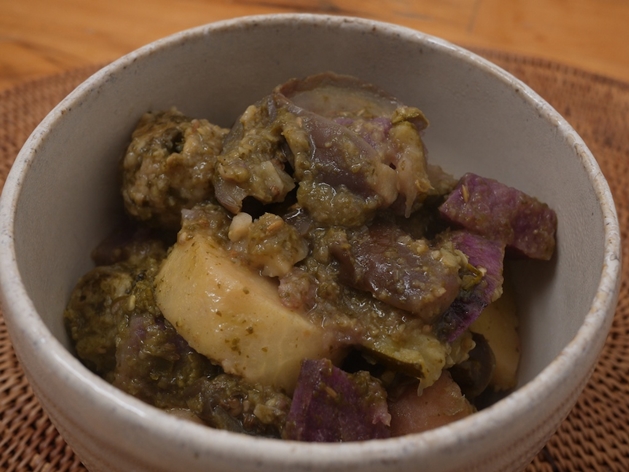 Representational image. Source: lulun & kame/Flickr
This Kutchi-Bhatia undhiyu is complete in every sense – there's crunch from the papdi, starchiness from the potatoes and yam, and the brinjal adds umame flavour that is balanced by the spicy chutney marinade. We still make it over a coal-fire, using the same big handi-style vessels that have been around forever. The dish is one of the most loved foods from my childhood, and I may just introduce it as a part of the seasonal, regional Indian menu at my restaurant Imli (in Los Angeles) at a later stage.
Nikhil Merchant blogs at nonchalantgourmand.com. He divides his time between Mumbai and Los Angeles, where he set up Imli in 2015. 
Traditional Bhatia style Undhiyu
Ingredients
Marinade:
1/2 cup green chillies chopped
1/2 cup fresh turmeric root chopped (amba harad)
1/2 cup fresh ginger chopped
1 cup green garlic chopped
Keep aside half a cup of chopped green garlic and churn the rest of the ingredients in a blender with a little water. Set aside 1/3 cup of this mix separately for use as the marinade.
Mix the remaining chopped green garlic with a small bunch of chopped coriander – this is your chutney to be served with the undhiyu.
Muthiya:
2 cups wheat flour
1/2 cup gram flour (chana aata)
1 bunch fresh methi leaves (soaked in salt water, squeezed and roughly chopped)
Red chilli powder to taste
1.5 tbsp powdered sugar
3 tsp coriander seeds powder
Salt to taste
2 tbsp fresh coriander
Mix all the ingredients for the muthiya, bind with a little water squeezing well, shape into small oblongs and deep fry in hot oil till golden brown.
Vegetables:
About 8 potatoes (full and slit on one side)
1/2 Kg purple yam (peeled & cut into chunks)
1/2 Kg Surti papdi (three bean variant, only available in winter)
About 8 small brinjals (full and slit on one side)
1 cup – muthias
1/2 cup – Vegetable oil
Salt to taste
Method:
Take a large pot and add the oil in it with the salt.
Slit the papdi and separate some beans from a few of them
Mix half the marinade (not chutney) with the potatoes and yams and spoon over the oil in the pot.
Cover and cook for about 1 hour or till potatoes are soft (if using a coal/wood fire, ensure that the fire isn't too large). Keep stirring gently in between.
Add the papdi and brinjals with the rest of the marinade and spoon over the simmering potatoes and yams.
Cover and cook and mix after ten minutes. Toss alternatively every 10 minutes till the brinjals are cooked (take care not to turn it around too much or you shall be left with a pav bhaji like mix). Add the muthias in the end, give it a good mix and you are ready to serve hot Undhiyu with chutney
Tip:
If cooking over a coal fire, place the pot on an indented tawa which contains a little water, this not only seeps in some moisture through the pot to cook the Undhiyu, but also allows it to slow cook.