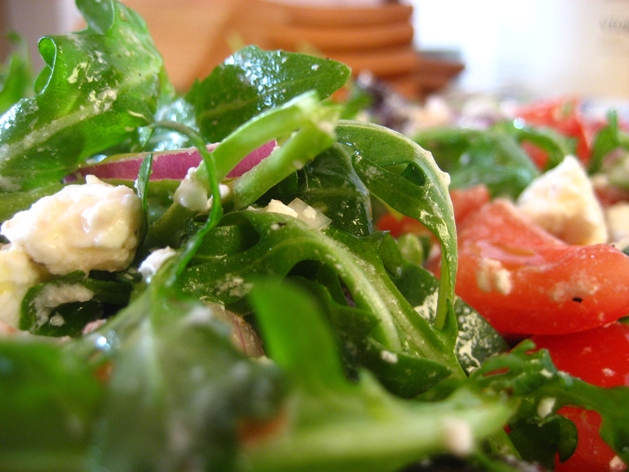 Salads are an ideal option if you're looking to eat light, balanced meals. Source: Jeremy Keith/Flickr
Diwali festivities are over and before the jalebi-motichoor laddoo-kachori withdrawal sets in, it's time to give your system a rest from all that feasting. A detox from rich foods and heavy cooking is in order. While staying hydrated is one of the cardinal rules, eating light and the right kind of foods is also essential.
Foods with high fibre content are a great way to eat light, since they provide high satiety and prevent you from snacking between meals. If you must snack, tuck into those Diwali hampers filled with dried fruit. A handful of snacks should be enough at a time, but do ensure these aren't the salted variety, as that will only do more harm than good.
For meal times, try to keep your food as balanced as possible and include as many veggies as you possibly can. If at all you must have meat, opting for lean meats will be far beneficial. Think salads, stir fries, healthy and hearty salads. We've picked a few easy-to-make dishes that you can try (before the big Christmas feasting begins).
Chicken salad
Salads that combine the goodness of veggies and lean meat are our favourite. There's flavour from the dressing, crunch and goodness from the veggies and the chicken provides the protein, making it a well-rounded meal. Since it barely takes a few minutes to prep and make the salad, we suggest you make a sizeable batch and pack some for lunch to work.
Korean spinach salad
For vegetarians or those wanting to skip meat altogether for a while, a spinach salad made using Korean seasonings seems like a nice idea. Simply blanch the spinach, add sesame oil, garlic, sesame seeds and some chili for added flavour. This makes for a great side dish with simple dal and roti meals. Watch how its done:
Stir fried veggies
Lightly seasoned, stir fried veggies usually make for a great side dish. But it can also double up as a great meal, when you want to have something healthy yet flavourful. Asian style stir fries use seasoning like oyster sauce, garlic, along with a lot of high fibre, leafy veggies, making them an ideal pick. Watch how to make garlic stir fry vegetables within minutes.
Lentil soup
As a rule, keep dinner as simple as possible. When you're eating healthy post the festivities, pick a soup with some whole-wheat bread or a simple wheat bhakri for dinner. Lentils are high in dietary fibre, lean proteins and are actually a powerhouse of nutrition. With potassium, zinc and niacin in the mix, there really couldn't be a better meal. This lentil soup is a simple, tasty meal idea and can be stored easily in the fridge for up to two days.