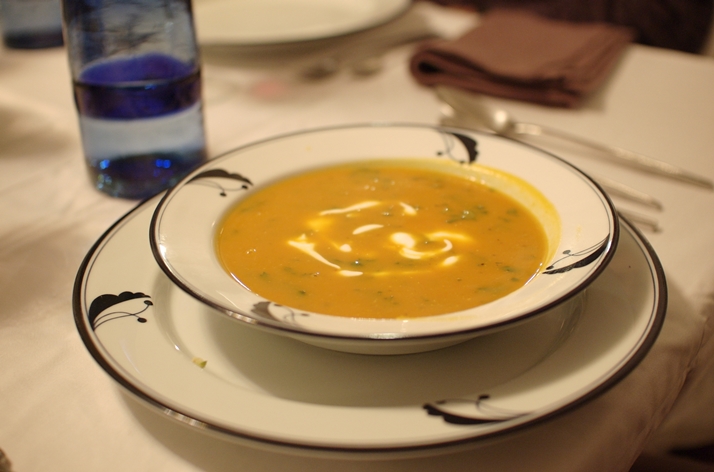 Looking for a quick-fix delicious meal? Make a pot of soup. Source: Joe/Flickr
We've all heard it a million times from nutritionists and doctors, dine like a pauper, keep it as light as possible. And yes, we all understand that we must eat healthy, since it's good for the heart and your waist, it does seem extremely convenient to dial up some takeout during or after a long day at work.
An easy way to beat this temptation and cook a decent and healthy meal despite your laziness is soup. And it ticks all the boxes for an ideal meal – light, healthy and loaded with flavour. Veggies provide a whole bunch of nutritional goodness to the dish, making soups a perfect pick, especially if you're trying to lose weight.
Instead of regular water, use chicken stock (or vegetable stock if you're a vegetarian), as it adds more flavour to the dish and also increases the overall nutritive value. While you can buy stock from stores, just make sure to opt for MSG-free variants. Another great thing about soups is that you can freeze most of them without any trouble for a couple of days. So cook in bulk, as it will help you plan your meals better. We've found simple, delicious recipes that take just a bit of chopping, some simmering and seasoning to yield a perfectly hassle-free meal.
Spinach soup
With spinach, oats and chicken broth, this soup is a fabulously simple recipe. It's got nutrients that are great for your heart, liver, and will also help keep cholesterol in check. Ensure that the spinach is extremely fresh and not something you pick from the fridge after days of neglect.
Broccoli soup
We don't know anyone who actually would opt for broccoli over other greens. It, however, is a powerhouse of nutrition and goodness, so we've found a simple, delicious way to sneak it into our diet. A one-pot wonder, this soup can be finished with almost anything, but we usually end up adding a little cheese, a dash of oregano and pepper to ours.
Lentil soup
For most Indians, lentils mean dals in various combinations. They, however, make for a great soup that's rich in fibre, lean protein and other nutrients including potassium, calcium, and vitamins. Lentil soups tend to get a bit thick, and you can add a little more water if you prefer soups runny. Pair this with wholewheat bread, and you're set for a tasty dinner within minutes.
Vegan mushroom soup
This vegan soup uses mushrooms and fibre-rich vegetables like carrots and leek. Mushrooms add a complex, rich flavour and we see no reason why non-vegans cannot give this a go. The prep time on this one may be slightly higher, but you really just need to chop your veggies, leave them on the stove, take a bath and have dinner ready by the time you're back.