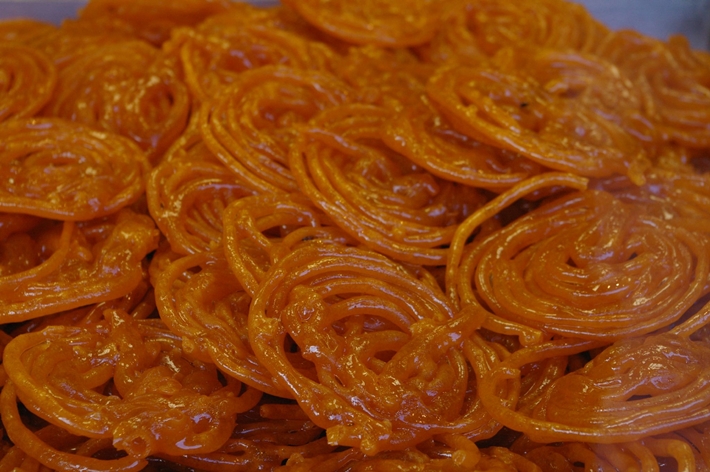 Jalebis remain one of India's favourite sweets for any festivity or special occasion. Source: Andrea Kirkbay/Flickr
Celebrated all over India, Dusshera, like all festivals in the country is synonymous with food. Different rituals and traditions are followed by different communities to mark the victory of good over evil. There aren't any set or defined dishes that form a part of a traditional Dusshera spread, and traditional sweets generally make it to the desserts menu. Here are five sweets that you ought to have on Dusshera: Jalebis remain one of India's favourite sweets for any festivity or special occasion. Source: Andrea Kirkbay/Flickr
Jalebi
One of the most loved and popular desserts all over the country, celebrations are sort of incomplete without a plateful of steaming hot jalebis. And Dusshera should be no exception. It is especially popular in North India, with sweetmeat shops churning out jalebis (made from all-purpose flour) by tens of kilos a day prior. And before you kick off Dusshera festivities, make sure you visit a halwai near you, there's something deeply satisfying when jalebis are being shaped and fried in the huge ghee-filled kadhaais.
Watch: How to make jalebis
Sandesh
One of the most popular Bengali sweets (after the roshogulla, of course), sandesh is a wonderfully light and flavourful preparation of milk and sugar. Most recipes call for the use of chenna or paneer, derived by curdling milk and separating whey). Sandesh in its simplest form is just hot, sweetened chenna that is shaped into pellets and served. Elaborate versions include drying and pressing the chenna and then infusing it with a host of flavourings like chocolate, kesar (saffron) as well as artificial fruit essences. Learn how to make chocolate truffle sandesh and take your Dusshera dessert game to another level.
Watch: How to make chocolate sandesh
Besan barfi
Popular in North India, besan barfi is known for its soft, melt-in-your mouth appeal. Made using gram flour, ghee, sugar and milk, the dish has a fudge-like consistency. Usually spiced with cardamom and topped with an assortment of nuts including almonds, pistachios, the dish makes for a wonderful dessert post Dusshera lunch with the family. Traditionally made on a stove, there are several versions that allow you to bake the besan barfi, thereby shearing a few of the calories that this dish is blessed abundantly with.
Watch: How to make Besan barfis
Coconut laddoo
As Indians, our mithai platter seems rather incomplete without any laddoos on board. While motichoor laddoos are not advisable for those watching their weight, coconut laddoos make for a fabulous alternative. Simple to make, these are also available easily at your neighbourhood sweetmeat shop. Dessicated coconut, milk and sugar form the main ingredients. Although, you can eliminate sugar and use jaggery instead. Like most Indian sweets, this too is flavoured with cardamon and can be stored in air-tight containers for a few weeks (since the milk content is low).
Watch: How to make coconut laddoos
Rabdi
Rabdi is made from condensed milk, spices and a whole lot of sugar and nuts. Best served chilled, the combination of rabdi with hot jalebi is best described as sublime and soul-satisfying. Since the dish is high on calories, a smart way to serve this at home as a part of the festive spread would be to employ portion control. Instead of serving in bowls, get creative and use shot glasses topped with a bit of nuts and a tiny sliver of the silver (silver foil) – it looks extremely dainty and will allow you to partake in the festivities without any additional guilt.
Watch: How to make rabdi