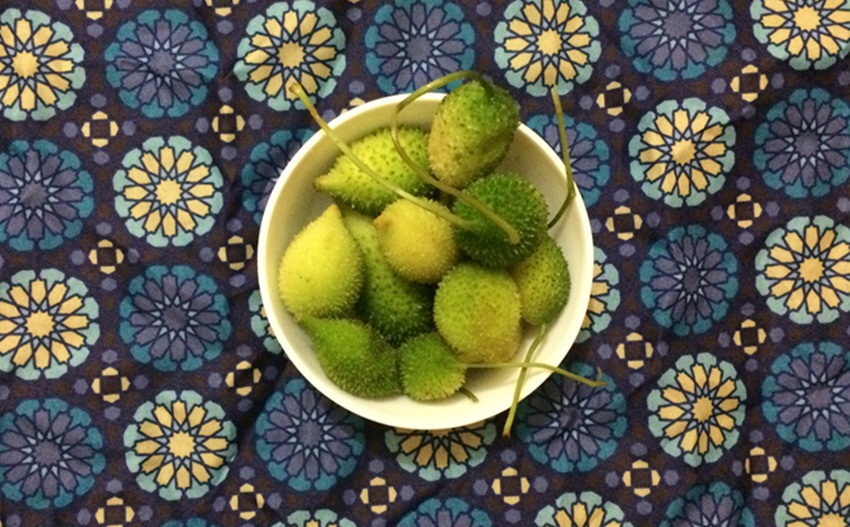 The spiny gourd or kantola as it is known in Hindi
There's a reason why we love shopping for vegetables at the local grocer, more than we do on online vegetable stores, which have made shopping for groceries easier no doubt, but all the fun stuff is in the market. Be it fresh catch from the sea or humble vegetables that you don't find even at your gourmet stores, your subji mandi down the lane has it all.
Right now, the teasel gourd or what is more commonly known as the spiny gourd is in season. These mini gourds, some smaller than walnuts, are known as kantola in Maharashtra and Gujarat, mada hagalakai in Karnataka, kankoda in Rajasthan and bhat korola in Bengal. Slightly bitter and tangy at once, but not as bitter as the karela, the kantola can be cooked pretty much in the same way you cook bitter gourd: Stir fry with spices as the Goud Saraswat Brahmins do or cook in a curry made of tamarind-shallots (ulli-theeyal) like the Keralites do or make a Gujarati shaak.
Just as you would with the bitter gourd, ensure you pick the gourds that are darker green instead of the bright green ones, which are usually riper. The teasel gourd is rich in Vitamin C so it's great to beat colds and other respiratory ailments. Much like the bitter gourd, it also helps to boost your immune system. But for those who are looking for vegetables that are available in plenty during the monsoons, the teasel gourd is your pick.
And don't bother looking for the vegetable at any of your supermarkets either. If you want the season's best, walk down to your subji mandi and look around for things that you haven't cooked before.