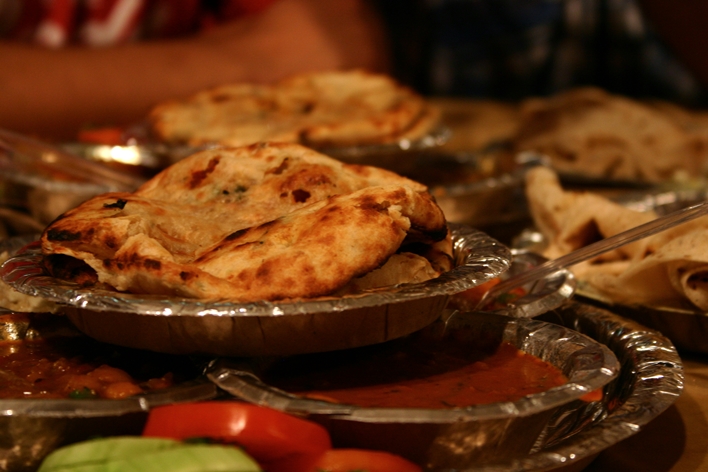 Kulchas taste great with chhole and kaali dal in North India. Source: Prateek Rungta/Flickr
After naans, it is kulchas that are the most sought after breads in north India. Cooked in a tandoor, kulchas are leavened flatbreads that are made using all purpose flour. Amritsari kulchas are known for their sumptuous fillings ranging from the simple spiced boiled potatoes to the indulgent versions with cheese, cottage cheese and a bevy of spices. Usually, baking soda is used to leaven the dough, but some recipes also make use of instant yeast to hasten the process. Kulchas served in dhabas and eateries in north India come straight from the tandoor and loaded with butter. But if you're making these at home, you can use an iron griddle to partially cook the flattened, rolled dough and finish it off on the flame directly for spongy, soft kulchas. Here are three easy recipes that you can try when you're feeling a bit adventurous and want more than just chapatis or rotis.
Plain kulcha
A simple, classic kulcha, this recipe takes a bit of work. Baking soda is used to leaven the batter to form a fluffy, soft batter. Warmer temperatures usually require a resting period of 3-4 hours while during winters, the dough needs to be set aside in a warm place for 12-14 hours (while covered). Chhole kulcha is a match made made in heaven, and you can serve yours with some cucumber raita for added flavour.
Onion kulcha
A quicker way of making kulchas is by using instant dry yeast. Simply activate the dry yeast (powder or granules) with warm water and sugar, and add to flour to make dough. This dough needs to rest for only 30 minutes, to puff up and get ready to roll out soft kulchas. Instead of roasting on an iron pan, this recipe is for baked kulchas. You may substitute plain paneer for stuffing by adding a mix of spices like turmeric powder, chilli powder, coriander, black pepper powder and some amchoor (dried raw mango powder) to it.
Aloo kulcha
Stuffed aloo kulchas are delightfully simple to make. The stuffing includes mashed boiled potatoes that are seasoned with red chilli powder, dried coriander powder, garam masala, ajwain (caraway seeds) and freshly chopped coriander for a burst of flavour. Serve with piping hot dals and a dollop of butter for an indulgent, hearty meal.