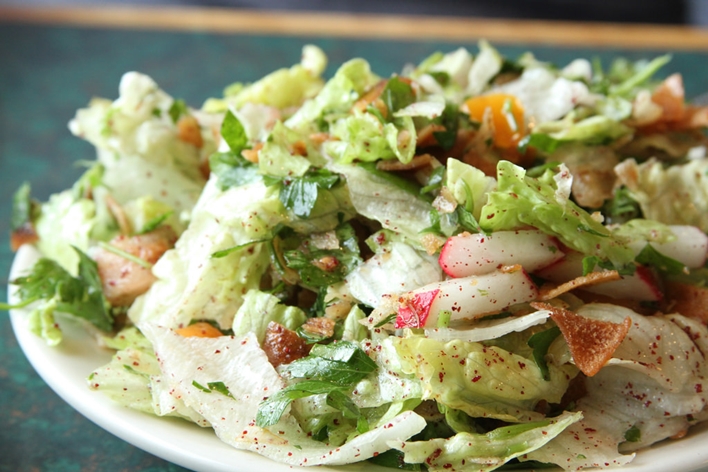 Fattoush salad with colourful greens is a common side dish in Lebanese cuisine. Source: Hungry Dudes/Flickr
Shawarma, hummus and falafel may be the most popular exports from Lebanese cuisine to the world, but there's more to food from the region than just these dishes. Lebanese food is a part of Levantine cuisine and the roots of several dishes can be traced back to the Roman civilisation. The culinary traditions have also borrowed from Turkish cuisine owing to the reign of the Ottoman Turks between the early 16th and 20th century.
The food from Lebanon commonly makes use of a lot of vegetables, whole grains, fruits, seafood, starch-rich foods and lean meats. Mostly sautéed, grilled or baked using olive oil, Lebanese cuisine is known to be extremely light. For flavouring, the dishes make liberal use of a few basic condiments like cumin, cinnamon, black pepper, nutmeg, thyme, garlic, parsely, mint, cilantro, chillies along with lemon for added flavour. The dishes are easy to make and we've got a few favourites that we'd like for you to try. They're healthy, tasty and are simple enough to rustle up during the week.
Fattoush salad
Colourful, refreshing and full of flavour, the fattoush salad is extremely simple to put together. Cucumber, cabbage, leafy greens, carrots, peppers, onion, mint and parsely are commonly used to make this salad. Sumac, a dried ground berry with a sharp acerbic taste gives the salad its characteristic tarty, refreshing flavour. While sumac can be found on online stores, you can substitute it with fresh lemon zest in olive oil. The salad is light and packs in a lot of fibre, heart-healthy foods and is ideal as a side with almost all grilled meats (chicken, mutton, lamb and fish) or as dinner with some light soup.
Vegetarian mousakka
An aubergine (eggplant) based dish, the mousakka is popular all over the Mediterranean, Middle Eastern and Levantine countries, albeit with slight regional variations. Some popular versions use ground meat, but the dish tastes just as good without it. A thick tomato based-gravy with chickpeas adds the flavour and is scooped over fried aubergine. Served with pita bread, the dish can be eaten hot or cold.
Lebanese lentil soup
Lentils are great for health – they're high in dietary fibre, contain a host of essential nutrients and vitamins that help with overall health and wellness. Lentil soups are a winter specialty, and are extremely hearty and comforting, making them a perfect pick for this time of the year. The Lebanese lentil soup recipe uses basic red lentils (or brown lentils), cumin, black pepper and onions for added flavour. Pair with some whole wheat toast and enjoy a simple, tasty meal that you can make in bulk and reheat as per requirement.
Baba ganoush 
A common feature in all Lebanese mezze platters, baba ganoush is an aubergine-based dip that's extremely easy to master. The dip has a wonderful smoky flavour that comes from roasted aubergine. Tahini (sesame paste) is an ingredient that is essential to the recipe. Serve with pita bread or lavash sticks and refrigerate excess in a clean, air-tight jar (keeps up to 4 days).