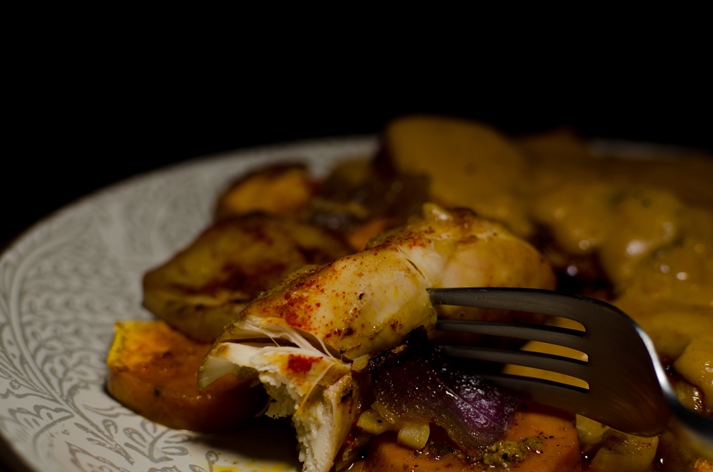 A rustic dish with lots of veggies makes for a hearty meal. Source: Michael W. May/Flickr
On weekends, we like to cook something wholesome, easy yet a tad bit fancy. Of course, we absolutely detetst slaving it out in the kitchen, which is why quick, hassle-free recipes are our favourite. This Italian chicken recipe is painfully simple and is super healthy too – there's a whole bunch of veggies to balance out the lean meat. Of course, the bonus is the fact that it's a rustic dish, which means prepping is painless without any worry of perfect chopping – just coarsely chop everything, throw it in the pan and enjoy a hearty, healthy dinner.
Ingredients:
Serves 4
1 tbspn olive oil
1 onion, cut into chunks
200g button mushrooms, sliced
2 large chicken breasts, cut into cubes
250ml chicken stock
4-6 tomatoes, medium sized, thinly sliced
500g kale, roughly chopped
60ml white wine
1 sprig of rosemary
1 tbsp flour
½ tsp red chilli flakes
Salt & pepper, to taste
Method:
Heat oil in a large non-stick pan over medium heat
Add the onions and cook till they begin to soften, about 2-3 minutes
Add in the mushrooms and cook for an additional 3 minutes. Remove onions and mushrooms from heat and set them asisde in a large bowl. To this bowl, add 1 tbsp flout and ¼ tsp salt, toss well to coat
If needed, add more oil to the pan. Add in the chicken breasts and season with salt, pepper and red chilli flakes. Cook on medium heat for 5-7 minutes. Cut a piece to check if cooked – the chicken should not be pink on the inside
Add white wine and rosemary and cook for a minute (the alcohol will evaporate as you cook). Add in the chicken stock, tomatoes. Add the onions and mushrooms from the bowl to the pan. Allow to cook for 3-4 minutes, stirring continuously. The sauce should begin to thicken a little at this point
Add the kale and stir until it wilts.
Serve hot with whole wheat bread to mop up all the gravy.
Note: In case you cannot find kale, substitute with baby spinach leaves
Recipe source: sweetpeasandsaffron.com/