This gluten-free cake topped with sunflower seeds for crunch is made using amaranth and almond floor. Photograph by Ovenderful
Born into a traditional Sikh family, Simran Oberoi Multani's early life followed a straightforward path. A BA in Economics and an MBA was followed by more than a decade of work as a human resources professional. Baking was not on the agenda. Or so she thought. "The two things that drove my interest in baking were my husband who has a massive sweet tooth and my voluntary baking classes for 12 village girls, at Search Years an NGO in Gurgaon," says Multani, 36. "These two factors helped me discover my interest in baking – the former enabled me to try the classic baking and the latter helped me to practice till I perfected it since I was to teach the skill to these girls who were learning this as a vocational skill, for better employment."
This newly discovered love for baking led her to start Ovenderful – first as a baking blog – in 2011 to chronicle her recipes and experiments. However, the blog soon started gaining momentum as she realised baking was something she was temperamentally suited to. "Ovenderful started growing beyond the regular circle of family and friends in a sudden way by word of mouth and that's when I started putting the basics in place – the pricing, marketing, positioning, packaging and delivery."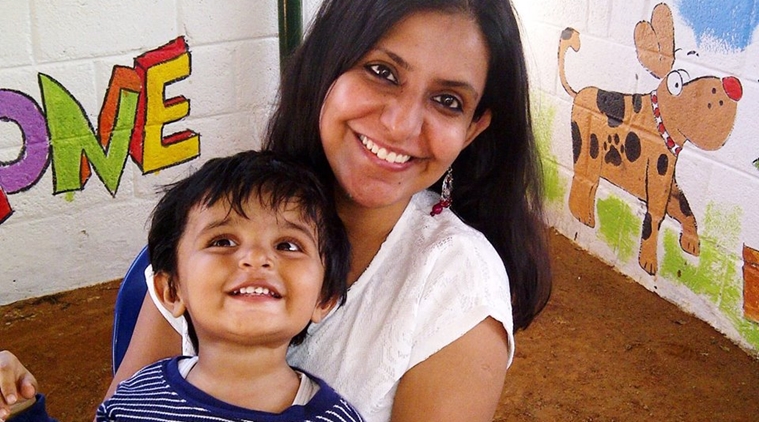 Simran Oberoi Multani of Ovenderful with her son. (Source: Ovenderful)
Bengaluru-based Ovenderful's baking philosophy focuses on healthy baking. Multani only bakes with alternative flours like wholewheat, ragi, jowar, semolina, oats, bajra, almond flour, etc., and natural sweeteners like jaggery, cane sugar, dates/figs purees, fruit purees and coconut sugar. He baking is also inclusive providing gluten free, nut-free, eggless, diabetic-friendly, lactation-friendly, vegan and dairy – free options too. She also enjoys baking with her three-year-old son and has conducted several baking workshops for children. "I started reading up about how baking with kids can help them learn so many things – for small children it helped enhance their motor skills to be able to sieve, mix with a spatula and so on. For an older child, it helped them understand the proportions, how to use weighing scales, how to understand what they eat and incorporate it into their lifestyles. With healthy baking, I realised that the potential to introduce healthy ingredients into traditional bakes that children love like biscuits and cakes, is huge if we can get them to understand that the flavours remain as delicious and yet, the bake is healthy for them."
To make your own treats at home, follow this recipe from Ovenderful.
GLUTEN-FREE AMARANTH FLOUR CAKE
This cake is filled with the goodness of nuts and topped with sunflower seeds with the shell (which contains a great deal of fibre), without the shell and the beautiful pomegranate seeds. Pomegranate seeds are known to be antioxidant rich, great for the heart and high on vitamins.
Ingredients
1 cup – Amaranth flour
1/2 cup – Almond flour
1 cup – Organic jaggery powder
1/2 cup – Oil
2 – Eggs
1 tbsp – Baking powder
1/4 cup – Milk
2 tbsp – Shelled sunflower seeds
2 tbsp – Sunflower seed (with shell)
A sprinkling of semi­dried pomegranate seeds.
Method
* Sieve the two flours and the baking powder together.
* Grease and dust a 6-inch diameter baking pan.
* Beat the eggs well for 2-3 minutes.
* Add the jaggery powder and the oil, slowly while continuing to beat.
* Add the milk slowly and beat well.
* Add the flour mix a little at a time.
* Fold in the sunflower seeds and sprinkle the pomegranate seeds.
* Bake for 30-­35 minutes in a pre­heated oven at 160-degrees celsius.