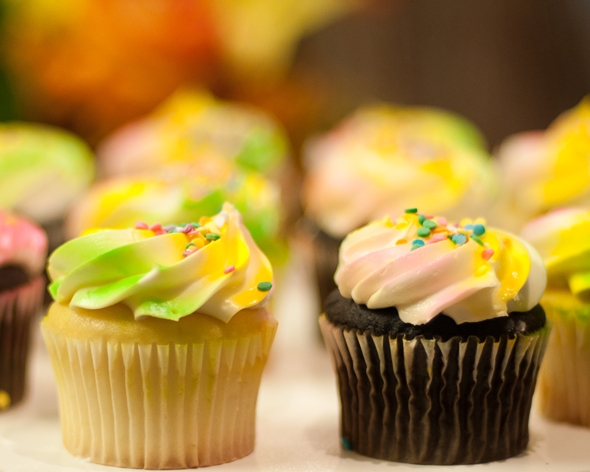 Image source: Joel Olives/ Flickr
A light cake baked in small cups, the cupcake gained popularity in the early 19th century. Before that, muffin tins, pottery cups, ramekins and moulds were used to bake, lending the name to the bite-sized cake pastry. Today, a cupcake stands for any small cake and usually is topped with an elaborate icing. Several dessert trends in recent times feature cupcakes – right from the simple Nutella mixed cakes to red velvet and the latest rainbow food fad.
Dainty and delicate, these diminutive cakes also make for fabulous gifts and can serve as an easy dessert option too when you're hosting a meal. The recipe for a cupcake is fairly standard and similar to making a cake with your choice of flavouring. Cupcakes however, get baked far quicker than a standard cake, owing to their proportion and size. Recipe and ease aside, it is the icing that truly enhances the appeal of the pastry. Simple whipped cream to fondant to buttercream, as well as elaborate decorations that are no less than works of art, the options for cupcake icing are truly limitless.
While baking a batch of cupcakes isn't all that difficult, the test of a true cupcake-baking enthusiast lies in the dexterity of the icing. Since the festive season is upon us and we feel like getting busy with our whisks, we've scoured Pinterest for a few simple, but delicious-looking cupcake decorations that you can try.

This one's for the caramel and KitKat lovers

The dainty cupcakes are sure to become the highlight of your spread during the festive season

Simple yet pretty, this would make for perfect gifts to family

You can also use strawberry halves to decorate these sinful treats

Coloured candy and buttercream frosting is all you need for these pretty Christmas trees that you can eat

A bit of food colouring and some fondant will help your cupcakes sport the perfect festive spirit