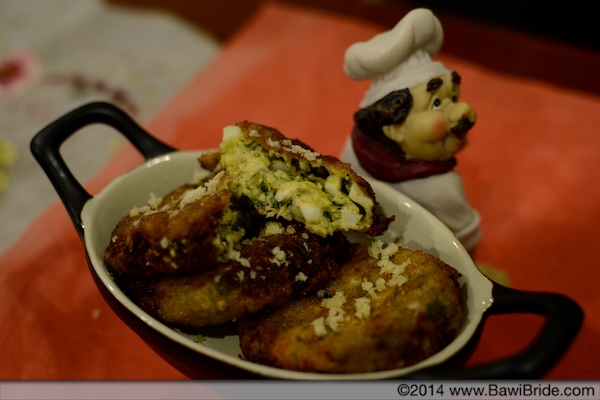 Shirinbai's cheese eeda cutlets. Image via Bawi Bride
I have fond memories of visits to my paternal grandmother Shirin-bai's place in Dahanu, in Gujarat. As a child, I'd go there for a few days during my summer vacations and like every grandmother, she'd make many dishes that hold a special place in my heart. But the one thing that I could not get enough of was the gorgeously delicious cheese eeda na cutlet. A simple, quick dish, my grandmother would mix boiled eggs and cheese with spices, shape them into patties, coat them with bread crumbs and deep-fry them. I remember feasting on these for breakfast, lunch and dinner for days at a stretch. I've been having this dish since I was seven or eight, and I remember clearly, my grandmother in her kitchen pounding the boiled eggs, mixing them with a lot of cheese and frying them. I'd stand right next to her by the kitchen counter, watch her fry and lay out my favourite cutlets on the paper to soak and cool. Impatient as ever, I'd pop them straight into my mouth and end up burning my tongue every single time.
I haven't come across this type of cutlet anywhere — neither in homes, nor at restaurants. In fact, this dish is so well-appreciated that a friend of mine, Perzen Patel, who has her own Parsi food delivery and catering service, decided to include these as part of her menu. Named after my grandmother, Shirinbai's Cheese Eeda Cutlets from Bawi Bride Kitchen is one of the most popular dishes on her menu. My grandmother is now extremely old and cannot cook anymore. Despite all this, every time I go to visit her in Dahanu, she instructs her house-help about the exact measure of ingredients and has them made for me. The last time I had it was about six months ago. Although I have the recipe, I don't make it as often at home since we are health-conscious, and the dish is high on calories. Besides, I prefer to have it in my grandmother's house just to preserve my childhood memories of going to Dahanu and gorging on the cutlets.
Zenia Irani, a Mumbai-based clinical audiologist, blogs as brandedbawi.com
Shirinbai's Cheese Eeda Cutlets

Ingredients
5 boiled eggs
2 raw eggs
30 gm butter
½ cup milk
2 tbsp all purpose flour
2 green chillies chopped finely
½ bunch coriander chopped finely
100 gm grated cheese
Salt to taste
Breadcrumbs or semolina for coating
Oil for frying
Method
Peel and finely chop the boiled eggs.
Mix the coriander, green chillies, and grated cheese with the boiled eggs in a mixing bowl.

In a saucepan melt the butter, and slowly add the flour to the butter folding it in. Add the milk to this mixture slowly and stirring continuously till a sauce-like consistency is formed.

Add this sauce to the egg and cheese mixture. Now make small patties out of this mixture, and coat them in the egg wash and bread crumbs.
Shallow fry them in a pan of hot oil.

Cool on a tissue paper to absorb the oil before serving.