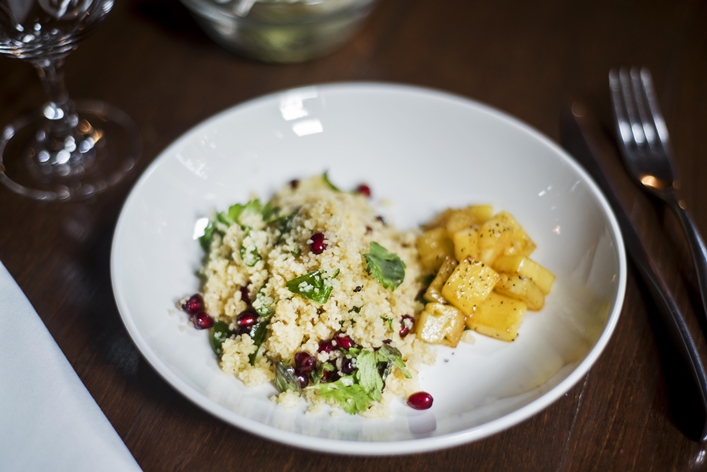 Couscous upma by chef Jaydeep Mukherjee. Photograph by Anurag Banerjee
When it comes to quick-fix breakfast options, upma ranks high on our list of go-to dishes. It is light, healthy and fills you enough to prevent munching till lunch time. Since we're the kind who love to play around with different ingredients, we decided to give the simple, wholesome upma a rather unique spin. This recipe from chef Jaydeep Mukherjee, Corporate Executive Chef, deGustibus Hospitality (Indigo, Indigo Deli, Neel, Tote on the Turf), comes with the comforting flavours of your favourite breakfast classic, but with a slightly different texture from the couscous and a whole lot of flavour from the aromatic pineapple compote.
Ingredients:
Serves 4
400g couscous
50g onion
5g curry leaves
10g mustard seeds
1nos pineapple (medium sized)
1 sprig rosemary
75g sugar
100g pomegranate
75ml butter
100g almonds
100g cashew nuts
100g coriander
2nos lemon
Salt, to taste
Pepper, to taste
Method:
Soak the couscous in warm water, enough to absorb and make it soft.
Toast the nuts. Peel the pineapple and cut into cubes of equal sizes.
Make a compote of diced pineapple, add sugar and rosemary – stirring lightly till sugar melts and the pineapple cubes soften.
In a non stick pan, take butter, sauté onion, add the curry leaves and mustard seeds. Let the mustard seeds crackle.
Add the soaked couscous. Moisten it with little vegetable stock or water.
Add the toasted nuts. Squeeze in the lemon, add the chopped coriander and pomegranate.
Garnish it with a coriander sprig & lemon wedge.
Serve with a dollop of pineapple compote.