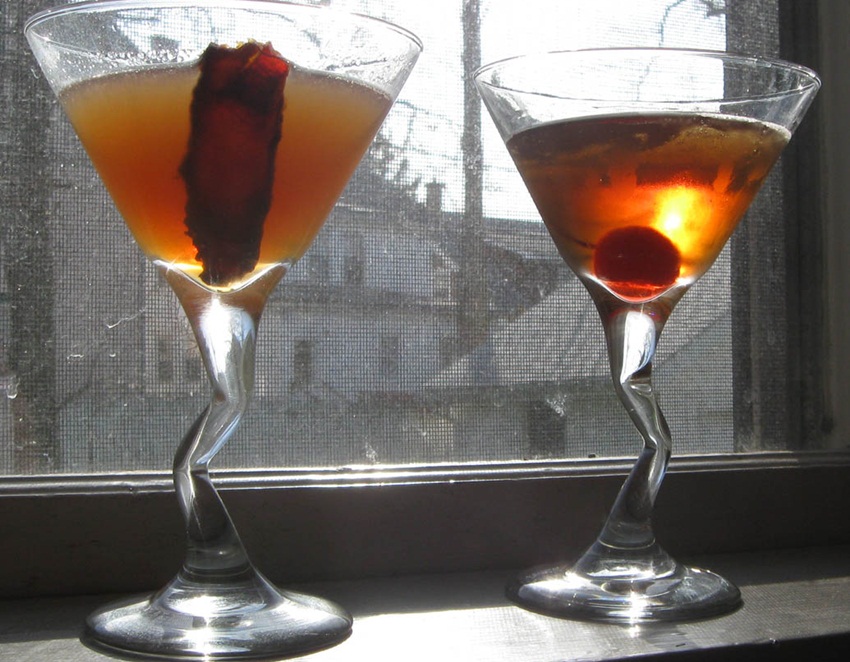 Bacon-infused Manhattans. Photograph by DoctorDWE/Flickr
There's more good news for bacon lovers. Meat cocktails have been one of the biggest trends of the year. "You'll find them in New York, Paris, Tokyo and London – everybody's drinking these meat-based cocktails," says Tobias Carvalho, mixologist at Dubai-based lounge, Tresind. In Dubai, Carvalho has been making these infusions with turkey bacon and says that with the number of brand ambassadors for various premium spirits in India, it won't be too long before these salty, meaty cocktails make it to bars here.
Usually, these cocktails are made using bourbon, whisky and scotch and rum is another recent favourite of bartenders when they want to make a bacon or sausage-infused drink. "Bacon is the best meat for making these drinks because of its smokiness and it's salty and also has more fat than any other meat," says Carvalho, "Most other meats don't work for a great mouth feel."
How does one make a bacon cocktail? It begins with what is known as a "fat wash".  "The fat is removed from the bacon and is added to the alcohol when it is still warm (preferably at room temperature)," says Carvalho, "After a couple of hours, you let the alcohol sit in the chiller so the flavour of the fat is retained." Sausages are also used to make these drinks, which are fast gaining popularity with entire bars, known as meat bars popping up across the world.
Aromatic drinks such as the Nigroni, which is made with Campari, gin and vermouth or the Boulevardier, which is made with whisky instead of gin alongwith Campari and vermouth, lend themselves well to these meat infusions. Other cocktails such as Margaritas and Mojitos don't work as meat cocktails. "The Margarita already has a lot of salt and a mojito is meant to be fresh so the meat would kill that flavour," says the bartender.