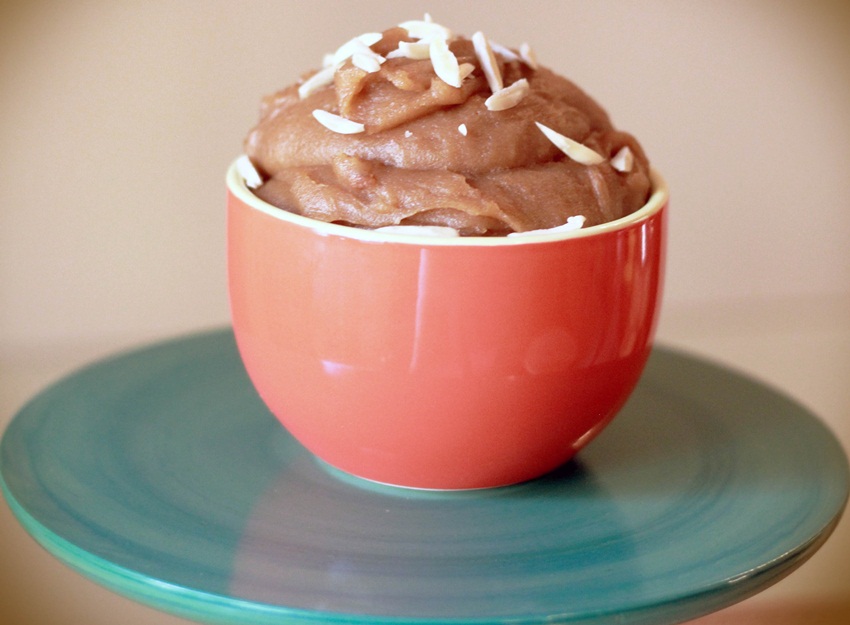 My mother is an excellent cook. All the cooking that I have learnt is from my mother and sister. But, the most cherished childhood memory of food that I have is that of a very simple dish prepared by my dad. It is the atte ka halwa made of wheat flour. He used to prepare it every Tuesday for prasad (an offering to god) and we used to eat it for the next five days. I remember how the house smelt with the aroma of the roasted atta.
I now associate that fragrance with festivals and celebrations. My dad's atte ka halwa is really dark in colour. I am getting bolder with each attempt of making my dad's halwa and still trying to achieve that perfectly dark roast for the wheat flour. Until a few years ago, my mother used to get the flour ground at a flour mill close to my maternal home in Hardoi in Uttar Pradesh.
These simple memories remain with you for a lifetime without you even realizing it. On every festive occasion, I make atte ka halwa since it has become a ritual of sorts now. It's a very simple recipe but some tricks make it perfect.
Upasana Shukla Maheswari is a homechef and baker, who blogs under the name Lady Macbake
Atte ka halwa
Recipe
1 cup – Atta (whole wheat flour)
1 cup  – Sugar (you can decrease it by 2 tablespoons if you want it less sweet)
½ cup – Ghee
3 cups – Water
½ cup – Milk
1/4th tsp – Cardamom powder
5-6 almonds – Peeled and slivered for garnishing
Method
Add 1/4th cup of ghee in a kadhai and let it melt.
Add the flour to it and roast it well, till you achieve a really dark brown colour and your house is filled with its delicious aroma
In a pan, add the sugar, water and milk and heat it until the sugar melts.
Add this sugar mixture to the roasted flour and mix well to avoid any lumps. I use a whisk to do that. Keep mixing it over a slow flame until the the halwa thickens.
Remember that the halwa get thicker as it cools. Add fresh cardamom powder and mix well.
Once the halwa has reached the desired consistency, add the remaining ghee to it and mix. Adding some amount of ghee at the end adds a brilliant shine to the dessert.
Serve hot garnished with almonds or nuts of your choice.
This halwa also tastes great cold, straight out of the fridge.