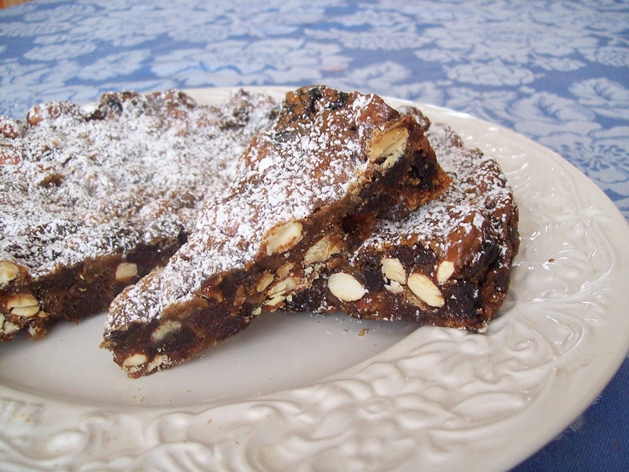 Panforte is an Italian toffee-like fruit cake, extremely popular as a Christmas treat. Image via: Vive Toscana/Flickr
Literally translated, panforte means "strong bread", a reference to the sharp, strong taste from spices like clove, cinnamon and black pepper used to flavour the sweet-treat. Originating in Tuscany, panforte is a popular Italian confection, and is mostly eaten around Christmas. The recipe for panforte is ancient and has several variations, simply because it is a closely guarded secret from the Tuscan confectioners from Siena. By and large, honey, spices, sugar syrup, nuts and dried fruits combine to create this toffee textured Italian dessert, which will make for a wonderful addition your platter of Christmas goodies this season.
Ingredients:
350gm mixed citrus peel, chopped
400gm almonds, toasted
150gm flour
2 ½ tbsp cinnamon powder
½ tsp black pepper powder
⅛ tsp clove powder
⅛ tsp nutmeg powder
280gms sugar
100ml honey
Icing sugar
Method:
Preheat oven to 200°C. Lightly grease a springform pan (22cm diameter, at least) with melted butter. Line the base and sides of the pan with baking paper, to prevent further sticking. Set aside.
In a bowl, mix the citrus peel, toasted almonds, cinnamon, flour, nutmeg powder, clove powder, black pepper powder and stir till all the ingredients combine well.
In a separate pot, mix honey and sugar and stir over medium-low heat. Allow sugar to dissolve. Bring the mixture to a boil. Turn the heat low and let the syrup simmer for another two minutes. To check consistency, drop a small amount of syrup from a spoon into a glass of cold water. The syrup should turn to a soft ball.
Add the almond and fruit mix and mix quickly, stirring until all the ingredients combine well.
Spoon the mixture into the pan and smoothen the surface, using the base of a wet glass to flatten it out evenly.
Bake in the pre-heated oven for 15 to 30 minutes. Allow to cool.
Dust the panforte with icing sugar cut into thin pieces to serve.