Helmed by the same bunch behind Radio Bar and Silver Beach Café, Estella is a modern Australian restaurant, that stands where Aurus used to be. The décor is clean with minimalistic details and gives off a futuristic feel with dark marble tabletops and warm wood accented slats. Dim lighting creates an intimate vibe, perfect for date nights, but may leave the older lot struggling to read the menu. An impressive island bar connects the inner seating area to the open deck, which offers a sweet view of sunsets and the Juhu beach shoreline.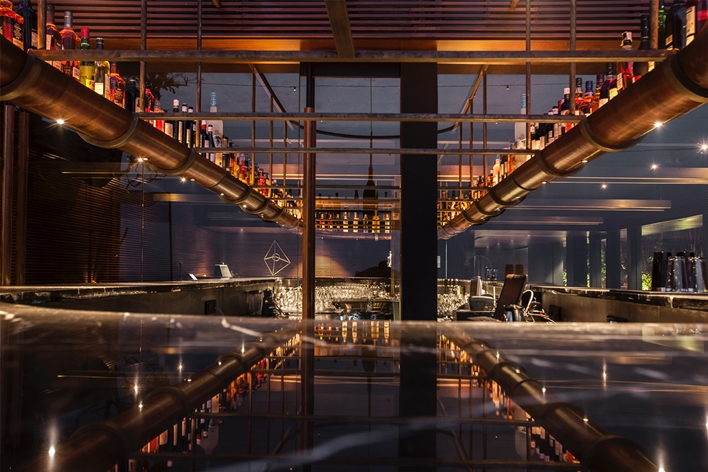 Island bar connecting the inner and outer seating areas
The menu combines Australian cuisine with Asian influences and is quite extensive in its offerings. Seared warm Australian lamb loin and free range egg salad with Parmesan crisps, bacon bits and anchovies is for those trying to eat healthy. The greens are crisp and the Caesar salad dressing though creamy, tasted rather flat, especially with the boiled egg added to the mix.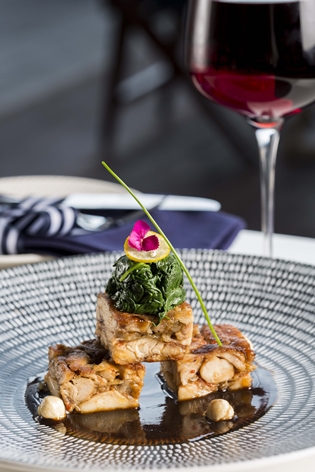 Chicken wings cake decompressed
Those who cannot stay away from their meat will enjoy the light, simple flavours of the decompressed chicken wing cake. Served with poached spinach and chicken bone broth bbq glaze, the starter replicates the joy of tucking into slightly-greasy chicken wings minus all the mess. Apart from premium spirits and wines, the bar has a wide selection of whiskey-based cocktails. The Yuzu sour is a sprightly version of the Japanese classic and makes for a refreshing pairing with the small plates.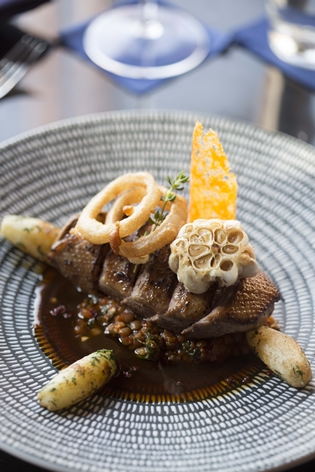 Paprika rub roast duck breast
For a fancy date night meal, call for the paprika rub roast duck breast, served medium rare by the kitchen, topped with crisp onion rings. We aren't fans of duck skin but will definitely recommend giving the dish a try – spinach and lentil with a fragrant thyme jus bring the whole thing together. Seafood lovers will enjoy the herby, sweet-tasting mud crab with ricotta. It is served on a bed of cheese-loaded risotto and tomato cream sauce with the crabmeat stuffed in an actual crab shell – looks as good as it tastes. For dessert, the plum and frangipane tart, served with a dollop of house churned vanilla ice cream is a sight for sore eyes and a treat for the palate.
Where: Ground Floor, Nichani Kutir Building, Opposite HDFC Bank, Juhu Tara Road, Juhu
When: 7pm to 12:30am, Monday to Sunday
Call: 7999998232 / 7999998212 (reservation recommended)
Cost: Rs 3500 for two (approx. without taxes)
Featured image: Plum and frangipane tart