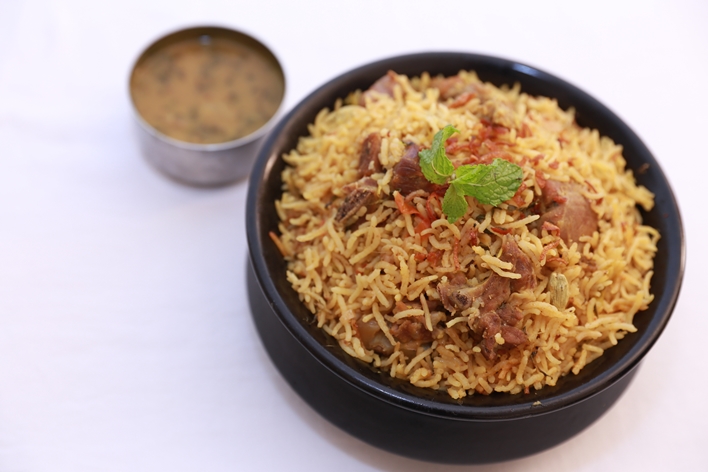 Guntur Bilal Biryani at Ulavacharu, Hyderabad
With Bakri Eid just around the corner (September 13th), we've drawn up a list of places that serve biryanis that you just don't want to miss.
Mumbai

Shalimar, Byculla
This restaurant in Bhendi Bazaar area packs a crowd on most days, so make sure you're well in time or you won't get a grain of their terrific raan biryani (sharing highly recommended). While Shalimar's chicken and mutton variants are scrumptious, for the raan biryani, an entire leg of lamb is marinated in spices and slow cooked for more than eight hours. It is then added to the biryani rice, resulting in a dish that's has just the right amount of spices and smoky flavour.
PS: They also make a mean bheja fry and khichda (mutton slow-cooked in lentils and spices)
Where: Shalimar, Vazir Building, Shalimar Corner, Bhendi Bazaar, Sandhurst Road, Byculla, Mumbai
When: 8am to 2am
Phone: 022 23456630/022 23456631
Cost: Rs 1500
Noor Mohammadi Hotel, Girgaum

Soaked in ghee and full of flavour, do not let the simple appearance of Noor Mohammadi's Chicken White Biryani fool you. Simpler in its preparation, the meat is marinated for a couple of hours in a paste of garam masala, with boiled onions and dry fruits. It is then simmered for an hour to create a biryani that's comforting, yet extremely indulgent. As a bonus, a plateful comes with a dollop of ghee, generous dash of beresta – crisp fried onions that add extra bite and flavour to every mouthful.
Where: Noor Mohammadi Hotel, 179, Wazir Building, Abdul Hakim Chowk, Bhendi Bazar, Near Girgaum, Mumbai
When: 6am to 1:30am
Phone: 022 23456008/022 23476188
Cost: Rs 90
Delhi
Babu Shahi Bawarchi or Matka Peer, Pragati Maidan

The fragrant yellow and white rice with juicy pieces of mutton or chicken, marinated in special masalas at Matka Peer will have you coming back for more. While they sell biryani by the plate, you can also place bulk orders (make sure to give at least 24 hours advance notice). Order for some salan (curry) on the side and eat like a king.
Where: Babu Shahi Bawarchi, 5, Darga Makta Peer, Pragati Maidan, New Delhi
When: 10:30am to 10:30pm
Phone: 011 23371454/9650674070
Cost: Rs 480/kg (chicken biryani), Rs 620/kg (mutton biryani)
Andhra Bhawan, New Delhi 

Known for its authentic Andhra cuisine, whether it is the sumptuous Andhra thali, Rasam-Wada, Mutton Fry or the classic Hyderabadi Dum Chicken Biryani, this no-frills eatery ticks all the right boxes. Despite what looks like a rather modest serving, a plateful of their biryani is quite filling.
Where: Andhra Bhawan, 1, Ashoka Road, Feroze Shah Road, New Delhi
When: 7:30am to 10:30am, 12pm to 3pm, 7:30pm to 10pm, Biryani available only on Sundays
Phone: 011 23382031
Cost: Rs 200
Bengaluru
Nagarjuna, Koramangala 5th Block
Established first on Residency Road in 1984, Nagarjuna has five outlets across Bengaluru today serving Andhra food that's as authentic as it can get. Their specialty is the Dum Biryani, available in Kodi, Mamsam and Tarkari (chicken, mutton and vegetarian) options. The meat-based biryani are served with raita and sherva – a spicy yogurt and tomato-based preparation as accompaniments.
Where: Nagarjuna, 138, 5th Block, 1st Cross, KHB Colony, Koramangala 5th Block, Bangalore
When: 12pm to 3:30pm and 7pm to 11pm
Phone: 080 49652741 (reservation recommended)
Cost: Rs. 320 (chicken biryani), Rs 260 (mutton biryani), Rs 190 (veg. biryani)
Meghana Foods, Residency Road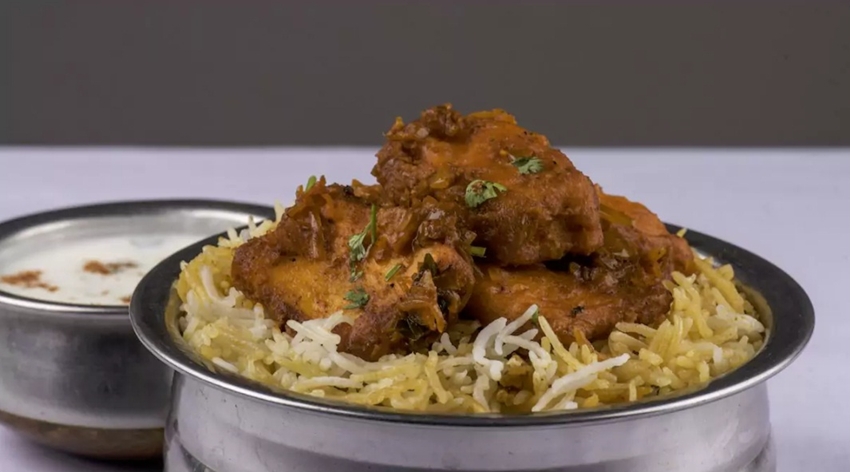 Chicken Biryani, Meghana Foods Photograph via Zomato
Another chain of restaurants in Bengaluru (five locations in the city), the Andhra style biryanis here are extremely popular for both lunch and dinner. The menu has about 10 different types of biryanis across vegetarian and non-vegetarian options but it's their Chicken Biryani, which is mildly spiced with succulent chicken pieces, that's a crowd puller.
Where: 57/1, 1st Floor, Jayalaxmi Chambers, Next to Old Galaxy Theatre, Residency Road, Bangalore
When: 12pm to 4pm and 7pm to 11pm
Phone: 080 49652118
Cost: Rs 215 onwards for (non-vegetarian options) and Rs. 170 onwards (vegetarian options)
 Kolkata
Aminia, Rajarhat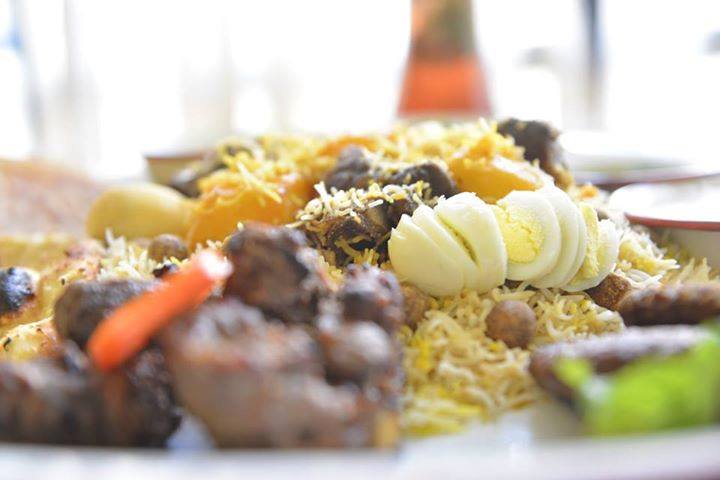 Mutton biryani in Aminia

Aminia, set up in 1929, is one of the oldest Mughlai restaurants in the city, which is extremely popular for its Awadhi food that has its origin in Lucknow. According to Firoz Molla, the Co-operative Manager, the Chicken Awadi Biryani and Mutton Awadhi Biryani are big hits. What distinguishes these biryanis are the koftis (meat balls), and a single serving of the biryani has fragrant rice and potatoes and six koftis. This year, for Bakri Eid, there's complimentary Sewai (vermicelli prepared in milk, spiced with cardamom, cashew nuts, raisins) and Sheer Khurma (vermicelli pudding made with dried dates, nuts and cardamom) to end the meal on a rather indulgent note.
Where: Aminia, 201/1, Rajarhat Road, Meena Tower Central Area, Chinar Park, Rajarhat New Town, Kolkata
When: 11am to 11pm
Phone: 033 30990579
Cost: Rs 265
Arsalan, Park Circus
With eight locations spread across Kolkata, Arsalan is another must-visit if you're looking for some great biryani in the city. A relaxed, casual eatery, the North Indian, Mughlai food here is highly sought after. Their mutton biryani is extremely popular. Aromatic, rich and full of flavour, the biryani can also be paired with some mutton rogan josh if you're really in the mood to celebrate.
PS: The kebabs here are succulent and well-spiced, save some space for those too.
Where: Arsalan, 28, Circus Avenue, Near A.J.C. Bose Road Flyover, Park Circus Area, Kolkata
When: 11am to 11pm
Phone: 033 30990526
Cost: Rs 175
Chennai
Asife & Brothers Biryani Centre, St Thomas Mount
Assife's chicken and mutton biryanis are extremely famous, with loyal patrons calling in for home delivery in the wee hours of the night. Although the quantity might seem less than sufficient for a thoroughbred biryani glutton.
Where: Asife & Brothers Biryani Centre, St Thomas Mount, 5/15, Mount Poonamalle Road, Butt Road, St. Thomas Mount, Chennai
When: 11 AM to 11 PM
Phone: 044 22320504/+91 9884350004
Cost: Rs 140 (half plate chicken biryani)
Kabul, Mylapore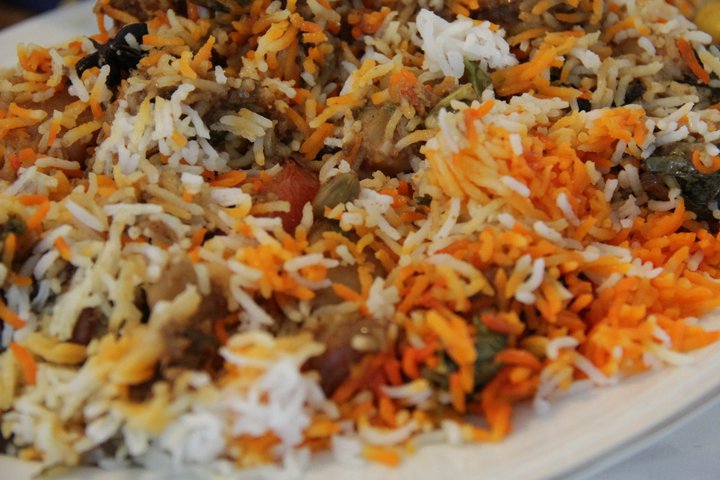 Representational image, Sarah Parvaiz/ Flickr
Kabul's Murgh Hyderabadi Dum Biryani is loaded with chunks of juicy chicken, aromatic rice and comes topped with fried onions. Flavoursome and packing in just the right amount of heat, the meat is slow-cooked and juicy.
Where: Kabul, 84, Kaaraikudi Complex, Mylapore, Chennai
When: 12pm to 4pm, 7pm to 11pm
Phone: 044 33011433
Cost: Rs 300
Hyderabad
Ulavacharu, Jubilee Hills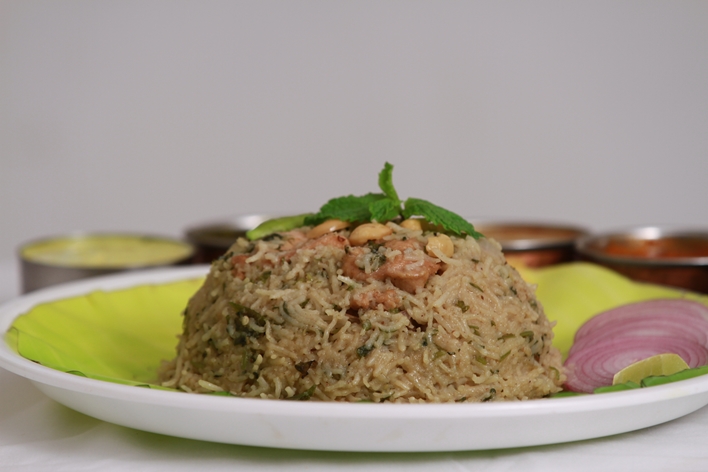 Raju Gari Kodi Pulao, Ulavacharu
Ulavacharu serves not one or two or three, but 18 types of biryanis. Their Raju Gari Kodi Pulao is a house specialty that's a combination of spicy meat, dry fruits and rice. Be warned though, it is quite spicy and it takes a few morsels to really feel all that flavour. Equally popular is the Guntur Bilal Biryani that has succulent chicken pieces and comes topped with crisp fried onions. Srinivas, the GM, let us in on a secret for Id this year – there's going to be a new selection of mutton kebabs and two new biryanis added to the menu.
Where: 1299/F, Road 68, Near Indian Oil Petrol Pump, Jubilee Hills, Hyderabad Bangalore
When: 12pm to 11pm
Phone: 040 33165263 (reservation recommended)
Cost: Rs 215 onwards for (non-vegetarian options) and Rs. 170 onwards (vegetarian options)
Meridian Café and Restaurant, Panjagutta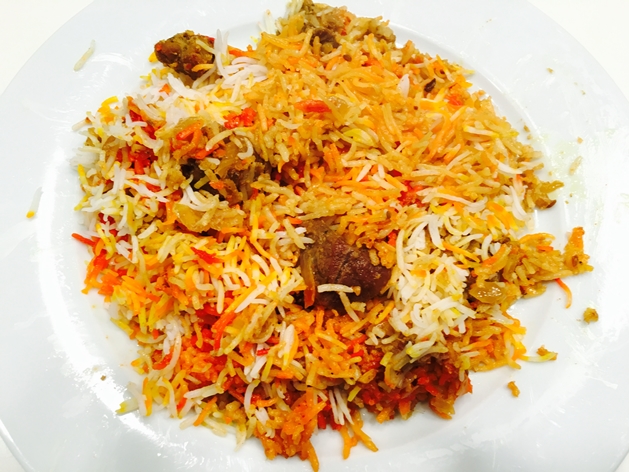 Photograph by Umair Abbasi/Flickr
Their menu has approximately 16 Hyderabadi dum biryanis but the most famous is the Mutton Biryani that comes with a generous serving of masala rice and tender slow-cooked meat. Biryani here is served with raita and the famous Hyderabadi mirchi ka salan that pairs perfectly well with the spiced rice. If you run out of the raita or the salan, you can order an extra serving at a nominal price of Rs 20.
Where: Meridian Cafe and Restaurant, 6-3-697/1, Panjagutta Cross Road, Panjagutta, Hyderabad
When: 11am to 11pm
Phone: 9032730504
Cost: Rs 180 onwards
Bawarchi, Nallakunta 

Bawarchi's biryanis are served in generous proportions, so bring a humungous appetite or friends along. Bay leaves, cinnamon and jeera are ground together, instead of using whole, and mixed with the rice for enhanced flavour. They also use tangy tomato-based gravy to add that extra dash of flavour to the meat. Spicy and thick, this gravy single-handedly transforms Bawarchi's offerings.
Where: Bawarchi, beside Astoria Hotel, RTC Cross Road, Chikkadpally, Nallakunta, Hyderabad
When: 11:30am to 11:30pm
Phone: 040 27605308/040 27634494
Cost: Rs 230