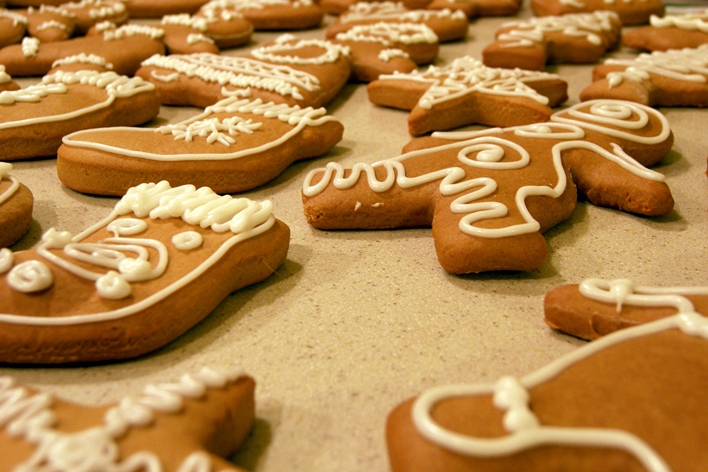 Gingerbread cookies are usually shaped using cookie cutters and decorated with icing. Source: Deborah Lee Solstesz/Flickr
For most of us in India, gingerbread man or gingerbread house were something we grew up reading about in books and fairy tales. Commonly made during Christmas in the West, gingerbread refers to any class of baked goods flavoured with ginger and spices (nutmeg, cinnamon, clove) and can be in the form of soft bread loaves, biscuits or cookies. Gingerbread cookies can now be found during this time of the year at bakeries, patisseries and boulangeries in bigger cities. These usually use all purpose flour, sugar and eggs – a combination which may not be the healthiest given all the calorie-rich feasting that already entices the palate during Christmas.
Making gingerbread cookies at home isn't all that a task, and you only need basic baking skills to make yourself a fragrant batch or two. The recipe is eggless, uses jaggery in place of sugar (and the traditional molasses) along with whole wheat flour – it's healthy, delicious and makes for a perfect snack with your tea or coffee.
Ingredients
100g jaggery
100g softened butter (salted or unsalted)
250g whole wheat flour + 2 to 3 tbsp if required
½ tspn baking soda
3 tspn fresh ginger paste (grated finely)
¼ tspn cinnamon powder
¼ tspn clove powder
1 pinch nutmeg powder
1 pinch salt – skip if using salted butter
¼ cup hot water
Method
Grease a baking tray with some butter and set aside.
In a small bowl, add jaggery – cut into smaller pieces. Add 3 to 4 tbsp hot water. Mix well till all the jaggery melts. In case there are impurities floating in the mixture, strain the liquid.
In a mixing bowl, combine the softened butter and add in the melted jaggery paste. Mix well and beat the mixture lightly using a hand-held whisk or an electric beater. Add in the freshly grated ginger. Set aside.
In another bowl, sift the whole wheat flour, baking soda, cinnamon powder, clove and a tiny amount of nutmeg powder for added aroma.
Combine the dry ingredients with the butter, jaggery and ginger mixture. Mix lightly.
Add ¼ cup hot water and mix all ingredients well and form a dough. Do not knead, simply fold in the mixture.
In case the mixture is loose, add 2 to 3 tbsp extra flour, folding it in lightly to combine with the dough. The consistency must resemble modelling clay – neither too hard but not sticky either. Cover the dough and refrigerate for 30 to 45 minutes.
In case the dough looks dry after refrigeration, add 1 to 3 tbsp of hot water and mix again.
Pinch tiny portions from the cookie dough. Lightly press and flatten. Place cookies on the baking tray within an inch of each other.
Preheat oven to 180C, approximately 15 minutes before you begin to bake the cookies.
For regular ovens, bake at 180C for 20-25 minutes, just till tops turn golden brown. Take care prevent over-baking, as the cookies may burn. Bake in batches in case of a smaller oven. For microwave convection combination ovens, set combination (micro-convection) heat settings to 540C and bake for 6-7 minutes (just till the cookies turn golden brown).
Cool cookies on a wire rack. Dust a small amount of confectioner's sugar on the cookies as they cool.
Recipe adapted from vegrecipesofindia.com