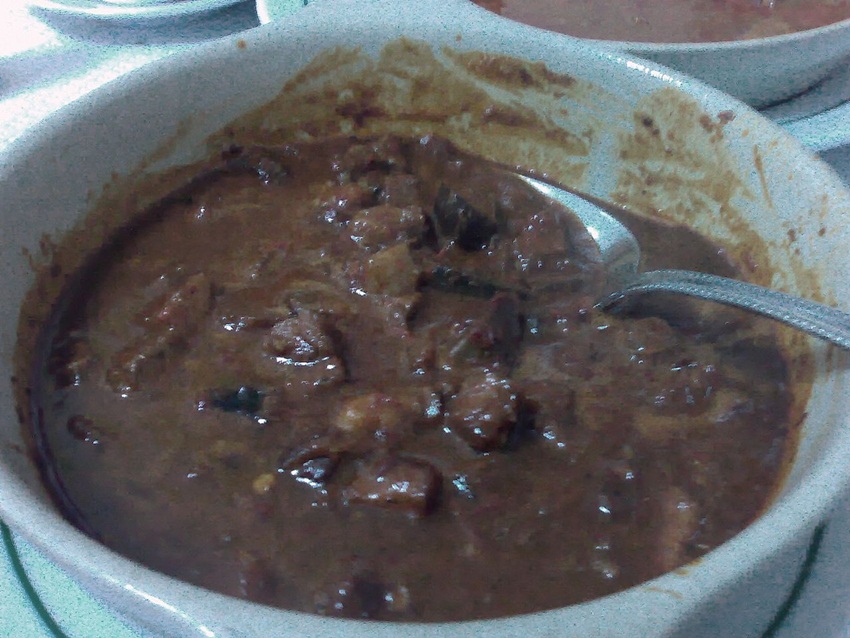 Sorpotel is best served with sannas. Photograph via Wikimedia Commons Images
Sorpotel is the culinary yardstick by which Goans measure the merit of a cook or a restaurant. "My father is very particular about how the meat is cut," says Sharon Fernandes, founder and chef at Custodio's Goan Home Cooked Food, which is named after her father, "So when we'd visit someone's house and sorpotel was served, he'd always be quite the critic." And also very discreet about it recalls Fernandes, but they'd have a good laugh if the pieces of offal and liver were cut too big or it didn't meet the Custodian benchmark in other ways.
Good meat is key to making a vat of fine sorpotel. "Good liver, other parts of offal and the right bits of fat is what give sorpotel its flavour because it is fried in its own fat." The meat is first boiled and then fried. And using garam masala or a spice powder out of a packet is sacrilege. Fernandes makes her own spice powders that go into her sorpotel, an item that is much in demand at her home-cooked Goan food service. Kashmiri dried red chillies, whole peppercorns, cumin seeds, roasted coriander seeds and turmeric is all ground to a fine paste. "But never add water. The paste is always ground in vinegar like recheado masala is," says Fernandes, letting us in on another kitchen rule for making sorpotel.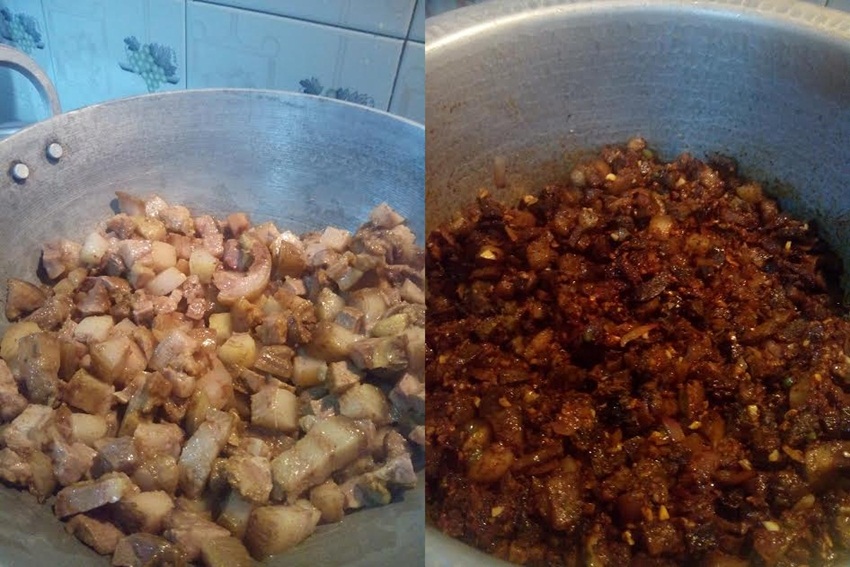 A well-made sorpotel is a thick brown dish and not the fiery red, watery gravy with hunks of pork offal floating in it. Photograph via Custodio's Goan Home Cooked Food
The ginger and garlic used is always chopped really fine, but is never ground to a paste. "Never use a paste bought off the shelves because it releases water and you have to remember that we want absolutely no water in this recipe." There are no fresh cut onions used to make sorpotel either, so if you've eaten this version at a restaurant anywhere in Goa or outside, you now know that it wasn't the real thing on your plate. "Basically, you've eaten a non-vegetarian pav bhaji instead of sorpotel," says Fernandes, "It's as bad as eating nalli nihari with tomato in it."
A well-made sorpotel is a thick brown dish and not the fiery red, watery gravy with hunks of pork offal floating in it. It is a dish that takes time and effort. "The pork needs to be boiled for a good one and half hours." In fact, the dish tastes better the next day, says the Delhi-based home chef. "Sorpotel always reminds me of festivals. So Christmas to me smells of sorportel." To make a magnificent meal of sorpotel, you always need sannas, the fluffy rice cakes that are another Goan staple. "Sannas made of toddy." As the lines from a poem titled Sorpotel from The Best of Goan Cooking by Gilda Mendonsa go: "We could, as they have in Goa/A bottle of cajel/And toddy leavened sannas/To go with the sorpotel."