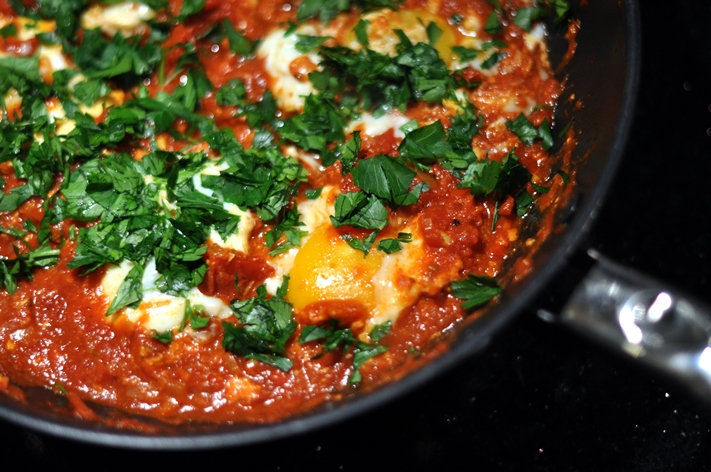 The shakshuka-like recipe with spinach is made fragrant and spicy with curry powder. Source: cyclonebill/Flickr
If it's a quick, hearty meal that you desire, nothing beats eggs. Whilst you may like yours slightly runny, well beaten or scrambled, there's always room to learn a thing or two about this fabulously versatile ingredient. Shakshuka is a Middle Eastern classic, made using tomato puree, eggs basic spices, and the occasional hodgepodge of veggies. This recipe builds on the shakshuka and makes the final version extremely fragrant, thanks to the addition of curry powder. The addition of iron and fibre-heavy spinach adds body and healthful goodness to the dish. For those looking to up the nutritive value, toss in a handful of millet (bajra) grains into the tomato base. A quick, healthy meal with minimal prep-time, this dish is also ideal for a leisurely brunch or a heavy breakfast.
Ingredients
Serves: 2
2 tsps olive oil
80g onion, minced
1 clove garlic, minced
2 -3 tbsp mild curry powder
400g tomatoes roughly diced and minced
200g spinach, roughly shredded
3 to 4 large eggs
Salt, to taste
Coriander for serving
Lemon wedges for serving
Method:
Heat a medium sized skillet on medium heat. Add in olive oil and onion. Sauté for roughly 5 to 7 minutes till onions become translucent and fragrant. Add garlic and cook for another minute.
Add in the curry powder and diced tomatoes, along with the pulp. Allow to boil and reduce heat to low. Add spinach in batches, a handful at a time. Fold the leaves gently and let them wilt.
Once the tomatoes thicken, crack the eggs one by one on top of the mixture carefully. For this, it's best to make wells into the tomato sauce base to hold the eggs in place.
Cover and cook until the egg whites are well done, approximately 10 to 15 minutes. Begin checking around 5 minutes to gauge exact cooking time.
Once done, remove skillet from heat. Garnish with coriander. Serve hot with whole-wheat toast, pita bread or cooked grains.
Recipe source: naturallyella.com