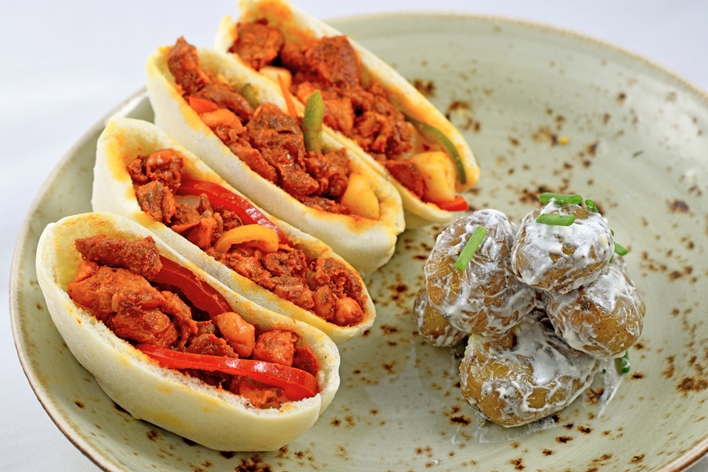 Choriz Poi at The Sassy Spoon is Chef Ifran Pabaney's take on two Goan classics – choriz sausage and poi bread
When the Portuguese first came to India around 400 years ago, they brought with them, among others, chilli, cashew and potato (or batata as they called it). While they soon adapted their food with the local cuisine, they missed their pão (bread). But the devil lay in the details, for sourcing the right kind of yeast to ferment the dough was an uphill task. As an alternative, the European settlers decided to skip the yeast and use toddy (local palm liquor) for leavening. Towards the end of the Portuguese rule, every Goan town had their own bakery and the pao was a must-have at the breakfast table. Today, however, a handful of bakers use toddy to make the bread, especially because yeast is far easier to source and is more stable than toddy.
Equally popular is the poi (or poee), which is a chewy, slightly husked bread made out of wheat and white flour. Butterfly shaped, it resembles pita bread and it takes all of two minutes in a scorching hot oven for the poi to brown and fluff. It is this fluffiness that makes the poi the perfect bread to mop up curries and gravies with. Regulars in Goa, including a few adventurous firangs, swear by the combination of poi and Chicken Cafreal (spicy, pungent green gravy) at Florentine Bar & Restaurant, in Saligao.
Watch how to make the poi below
Back in Mumbai though, pois are a hard find, unless you head to The Sassy Spoon. It was co-owner and chef Irfan Pabaney's love for Goa and its cuisine that led to poi being sold at the restaurant store. "Initially, we had decided to just sell the poi but later opted to bring it on the menu with the Choriz Poi – Goa sausage stuffed between poi," says Pabaney. His version of the poi bread is slightly different – it is not as thick as the Goan version, and the recipe uses less whole wheat. The Choriz Poi soon became a crowd-favourite and they decided to introduce a whole range of poi dishes on the menu. The Grilled Chicken poi seems like an adaptation of the Goan Cafreal with its coriander and mint. Pabaney, however, is quick to clarify, "The Cafreal typically uses a paste of the green masalas; our Grilled Chicken is an adaptation of sorts. The pan-seared chicken is tossed with fresh jalapenos, mint, lots of lemon, coriander which gives a refreshing, lemony flavour." It is packed between poi and the chef says it works perfectly with lunch. Newer additions include the Crumbed cottage cheese with Sriracha mayo that we're sure would find favour with vegetarians. Or, just pick up a pack of pois, served hot and fresh at all The Sassy Spoon outlets in the city and DIY your way through breakfast with some low-fat cheese spread.