There's no missing the fact that Raasta, in Khar, is all about the Rastafarian culture courtesy the classic red-yellow-green pattern on the signage. Spread over floors 4 and 5 in the same building that also houses Khar Social, the vibe at Raasta is more 'laidback lounge' as compared to the shady-chic interiors at its mothership outpost in Hauz Khas Village. The playlist yo-yos between reggae, dubstep and recent hits for a relaxed vibe, the lighting, and the overall ambience lives up to the name.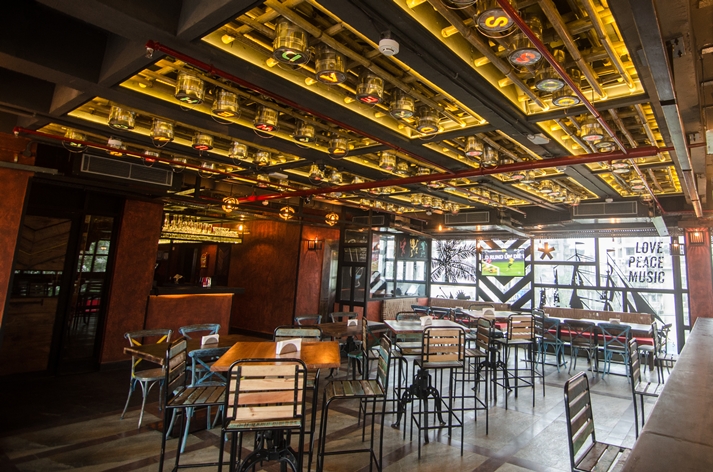 Inverted paint cans in the ceiling add a bit of quirk to the decor
The bar is well-stocked, and we particularly liked the White Rhino bongtail (vodka, white rum, gin, tequila, whiskey and peach syrup topped with beer, Rs 450) that is, on first sip, pretty beery but settles down eventually to reveal flavours of the other ingredients. Apparently, the menu at the Mumbai outpost is almost similar to the one in Delhi, but the flavours have been tweaked to suit the palate of Bombaywallas. The Shish Taouk (Rs 350) is a wholesome, simple Middle Eastern-style chicken kebab that we think would pair perfectly with most of their cocktails.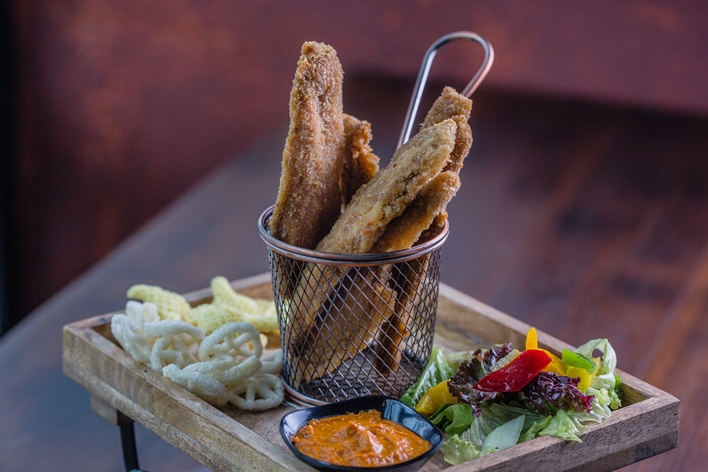 Carribean Chicken Strips with panko crumbs and harissa dip
There's Hummus Pita (Rs 245) too, but we are on the fence about the paper thin house-made pita slices. Seafood lovers, do yourself a favour and call for the Carribean Shrimps (Rs 445) – they're spicy and sweet, and that hint of nutmeg in the marinade had us smiling. If chicken is your protein of choice, we'd recommend the Carribean Chicken Strips (Rs 355) because the spice rub, panko crumb and fresh harissa dip does it for us.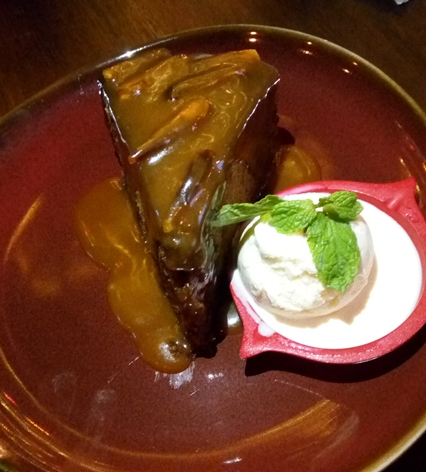 Sticky Toffee Pudding is a must-have
For mains, you could call for the Jambalaya (Rs 425 for veg and Rs 475 for chorizo-chicken version), which is comfort food, with lots of tangy rice, fragrant spices and a hint of coconut. The Jambalaya should work great as a main course, but if you are off rice, we'd recommend the Jamaican Jerk Chicken (Rs 475). As far as desserts go, the Sticky Toffee Pudding (Rs 245) is a must-try. The cake is moist and soft and the toffee sauce is decadent — we'd come back just for this.
Where: 4/5 Floor, Rohan Plaza, Ram Krishan Nagar, Road no. 5, Khar
Timings: 12noon to 1am
Price: Rs 2,000 for two people (approx.)
Call: 33126123