The Chicken 65 was invented at the iconic Buhari Hotel on Mount Road (Anna Salai), in Chennai. Buhari is over half a century old. It was founded by AM Buhari, who came to Chennai from Sri Lanka. Buhari runs a chain of restaurants today, but it all started on Mount Road.
Buhari is famous for its eponymous biryani, and it is said that AM Buhari cycled through over 200 versions before arriving at a dish that pleased him. The practice of embedding an egg into the rice was started in Chennai by AM Buhari, and it then caught on gloriously.  The Buhari biryani was famous way before biryanis from Ambur and Dindigul served notice. But, while the biryani at Buhari is top notch and a classic in its own right, it is the Chicken 65 that has a bigger recall. And, its popularity is among the reasons why the menu at Buhari also features Chicken 78 and Chicken 90.
The Chicken 65 is a deep-fried dish. Pieces of chicken are coated with a marinade that includes vinegar, red chilli and ginger, and then deep fried for about half an hour. Nobody, apart from the folks who own Buhari, know exactly what goes into the mix, but the result is a crunchy sensation. But, important question: why is the Chicken 65 called the Chicken 65?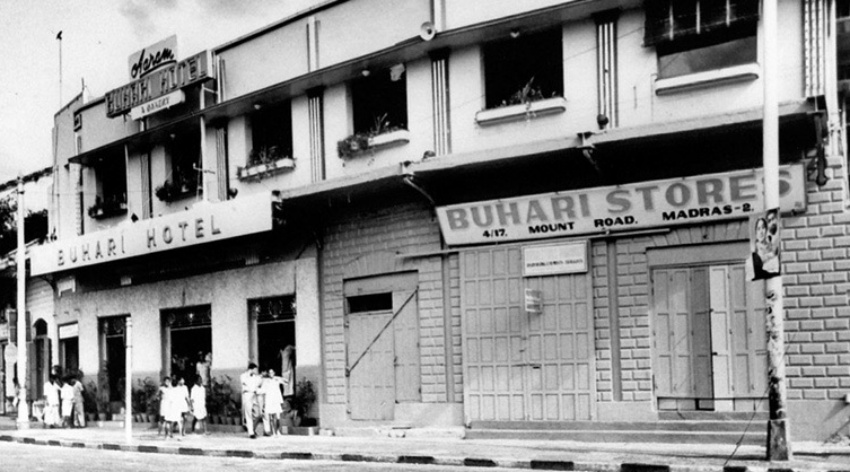 Buhari Hotel was set up on Mount Road, in then Madras, in 1962. Photograph courtesy: Buhari Hotel
There are many theories about how the dish got its name, or was named. One of the more far fetched ones is about how the dish is made only with 65-day-old chicken, and hence… Other theories revolve around the marinade — it apparently takes 65 days to prepare — and the number of ingredients that go into the making of the dish (65, of course). And then, there's this one that credits the invention to a London-based Indian chef with an intriguing name — DK 65.
The real story behind the name is a lot more prosaic, says Nawaz Buhari, AM Buhari's grandson. According to him, the dish was so named because it was invented in 1965. That's all there is to it? Yes, we suppose so, but we would like to believe in this theory about the name of the dish, and it goes like this: AM Buhari was entertaining some guests on New Year's Day in 1965, and one of his chefs had prepared a new chicken dish. When his guests quizzed him about the name of the dish, AM Buhari called it Chicken 65 and the name stuck.