Let me begin with a question: why have we started calling pakodas fritters, especially when we are describing them to folks unfamiliar with Indian food? I once made pakodas for a Thai friend of mine. He noted the recipe down diligently, and made it a point to pronounce 'pakoda' correctly. But he couldn't comprehend the sheer variety of pakodas that are made, or were once made, just in the Hindi heartland. Each of these pakodas has a distinct identity. Pakodas were often made using local lentils and not just chickpea flour.
Each city in India has its own pakoda: Hyderabad's mirchi bajji, Jaipur's mirchi vade, Bombay's batata vada, Delhi's palak patte ka pakoda served like chaat, and Ram laddu, Gujarat's numerous bhajias and gotas…
Unlike multinational companies that conduct extensive surveys to find out the obvious — that 'spicy, crunchy and tasty' foods are the most popular snacks in India — and then bomb their products with chemical flavours and conditioners, pakodas have been sold on our streets for centuries. And everyone from our gods to our forefathers loves pakodas.
Pakodas are made as part of the proverbial Chappan bhog for Annakoot festival right after Diwali, and yet more are made for Pirtrapaksh when food is offered to our forefathers. Now, you might love pakodas as much as your neighbour, especially when it is raining and there is adrak-chai at hand, but if you think a pakoda is a fritter, you couldn't be more wrong. Here, in no particular order, are some distinctive pakodas from the Hindi heartland.
Bajka: Bajkas are pakodas made with slices of either bottle gourd, aubergines or pumpkin dipped in thick, mildly spiced batter and deep-fried. Bajka has a crisp exterior and a buttery-soft inside, because the vegetables used are the kind that get mushy when cooked.
Lachha: Lachha pakodas are so called because they usually feature thinly sliced or shredded vegetables coated with chickpea flour mixed with rice flour and spices. A handful of the mix is deep-fried to make crisp pakodas that look like birds' nests. Popular lachhas include pyaz ka lachha and aloo ka lachha, but cabbage and wild purslane are also used.
Sana pakoda: Pakodas made with assorted chopped vegetables mixed with a besan batter and deep-fried in small bite-sized portions. Sana pakodas can be made with chopped greens such as spinach, or amaranth leaves, mixed vegetables, or just diced onions.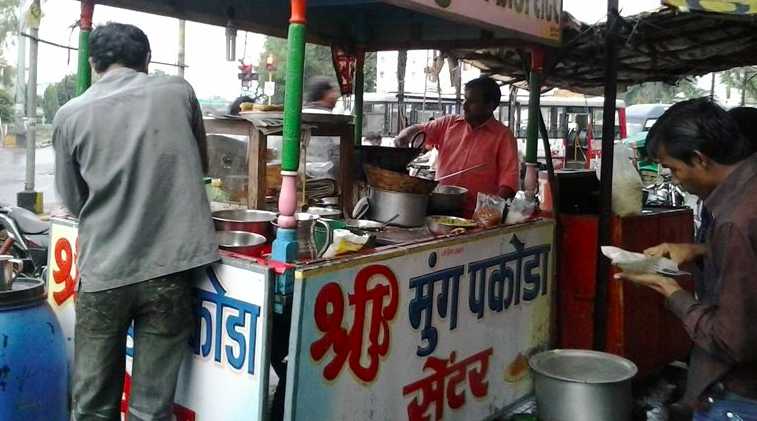 Pakodas are an integral part of the country's street food repertoire. Ganesh Dhamodkar/Flickr
Patta pakoda: A whole leaf is coated with a very thin besan batter and deep-fried till crisp inside out. Spinach is the most common choice, but leaves of Kankaua (Commelina benghalensis) make puffed up patta pakodas that are a lot like a golgappa. Sweet potato leaves, tender pumpkin leaves, or tender chickpea shoots are also used for patta pakodas.
Phoolon ke pakode: Made using a variety of flowers. Pumpkin flowers, Agasti flowers, jute flowers, drumstick flowers and Kachnar (Bauhinia) flowers etc are popular choices.
Rikwachh: Another pakoda made with bigger leaves such as Colocasia's. The leaves are coated with spiced besan paste, and many layers of leaves are stacked and rolled tight. This roll is then steamed and sliced, before being either deep- or shallow-fried.
Bada: Bada or Badi or Bari is made during wedding rituals and some festivals. Basically a flat urad dal fritter that is different from the South Indian urad vadas. The eastern UP version is generously sprinkled with whole peppercorns, pounded fresh ginger and lashings of heeng. The UP Bada is smaller in size and made really crisp. Smaller badas are usually made to be soaked in kanji.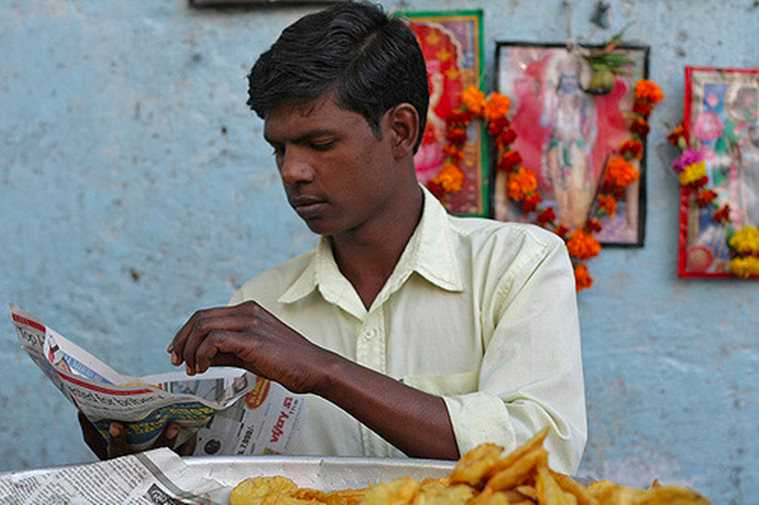 Pakodas are a common feature across the country. Meena Kadri/Flickr
Fulouri or Phulouri: A variant of the bari. Bari and fulouri were often part of one sentence when instructions were passed onto cooks during religious rituals. Fulouri is the fritter that gets spongy as it doubles up when being deep-fried. The batter is whipped vigorously to aerate it, and the resulting fritters are as light as air. Fulouri was made with besan, or soaked chana dal paste. It was served dry as snack and was added to the kadhi, too. The same fritters were known as phulki in Muslim homes, and it was part of the dahi-phulki besides being served as a pakoda with chutneys. One encounters it rarely these days, because aerating the batter takes a bit of effort (it is hand-whipped). Boondi is the Fulouri's miniature version which is made in savoury and sweet versions.
Mungodi: A close cousin of Fulouri, but always made of soaked and ground mung dal. Mungodi is preferred by older people as it is considered easily digestible. The use of Cumin, Ginger and Heeng makes it easily digestible, while Mung is inherently light on the stomach. Mungodi was often added to plain lauki subzi as common leftover management practice.
Kalmi Bade: Were always made of a mix of Chana and Urad dal, and were very different from the Bada. A soaked mix of lentils was made into a thick paste, mixed with spices and shaped into large balls. These large balls were either poached in boiling water, or deep-fried. Then the cooked balls of lentils were cut into cubes or fingers and deep-fried again. Kalmi bade were either made with plain lentil paste, or some greens were added to it. Kalmi bada is often served with a watery tamarind chutney that soaks up the Badas.
Bhabra: This pakoda is studded with green chickpeas. The chickpeas are mixed with a thick besan batter and are deep-fried just like Badas, but Bhabra has a different texture due to the use of green chickpeas.
Mungphali pakoda: Crunchy peanut pakodas that were deep-fried until they were completely dehydrated. This is the only pakoda that keeps well for couple of weeks and can be served as a ready-to-eat snack. Since each peanut is coated evenly with besan batter and deep-fried, this one needs a higher skill level. Mungphali pakodas gave way to packaged nut crackers.
Joori: A shallow-fried pakoda, this one was made with coarse lentil paste that was mixed with chopped greens or onions, and then made into flat tikkis and shallow-fried. It is an interesting crusty pakoda that has a spongy texture inside.
Besan ki katli: Lentil paste is cooked along with spices and little oil till it gets lumpy and sticky like halwa. The mixture is then spread over a greased tray and is left till it sets. It is then cut into diamond-shaped katlis and either deep-fried or shallow-fried before being served as a snack. Katlis are also used in mock fish curries for vegetarians.