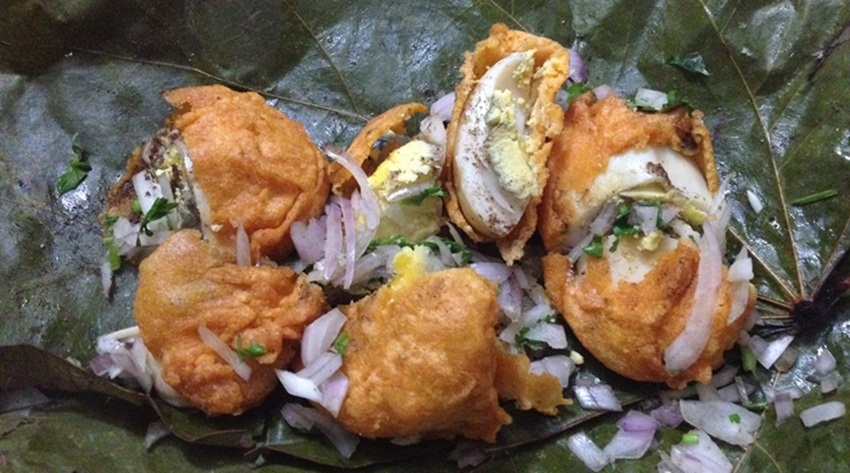 While the non-vegetarian options are usually few and far between, the egg bonda is the most popular, usually found in the bajji shops that begin business late evening
My favourite bajji shop in Bengaluru is a tiny makeshift eatery that materialises every evening in Gandhi Bazar, in Basavanagudi. Apparently, it is over four decades old. When I first started visiting it around a decade ago, the bajji guy Ranganath and his assistants sat on the footpath with a kadhai, dishing out their delectables wares. Two rupees fetched you three bajjis back then.
Today Ranganath sits on a concrete block near a grocery store, just a few feet from where, he tells me, his father first started selling bajjis. A blue tarpaulin propped on bamboos bravely battles Bengaluru's rains. Two kadhais sizzle and bubble with oil right through the evening, as Ranganath and co. ladle in batter-covered orbs of deliciousness that emerge a few minutes later, bedecked in varying hues of gold. They taste just like they did over a decade ago, but now three bajjis cost Rs 10. According to Ranganath, there are usually six to seven variations of these bajjis and bondas that are a common fixture in street-side shops. Here are some of the bajjis/bondas I look forward to in the city.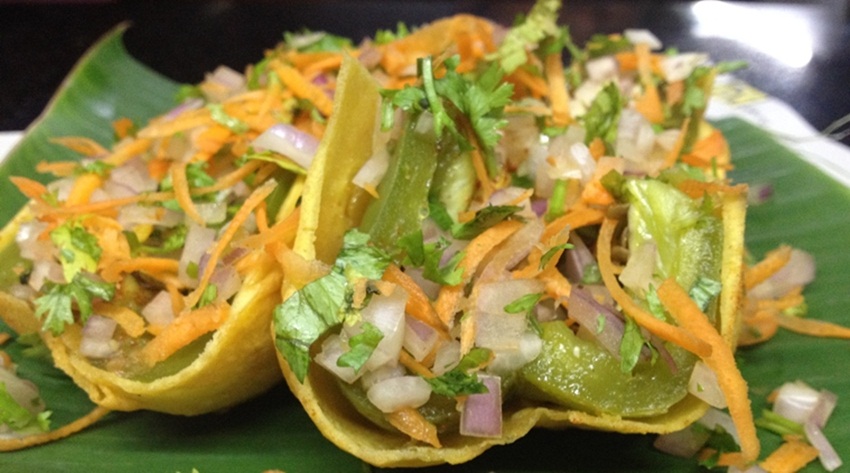 Capsicum bajjis are usually served with a garnish of grated carrot, chopped onions and coriander, and salt and pepper seasoning – a filling snack in itself.
Ambade/masala vade: A personal favourite, this is perhaps the most elaborate of the bajjis on offer. A coarse paste of Bengal gram, mint leaves, sabakki (sabudana), chopped onion, green chillies, curry leaves, coriander leaves and seasoning is shaped into small flattish vadas and fried. It is delightfully crunchy and crisp all through and if you had to eat only and only one bajji, don't miss this!
Maddur vade: This vada derives its name from the town of Maddur, which lies between Bangalore and Mysore. A coarse, thick batter, made largely of rava, rice flour and maida, and seasoned with onions, curry leaves, coriander leaves, green chillies and salt, is shaped like a flattish vada, and deep-fried.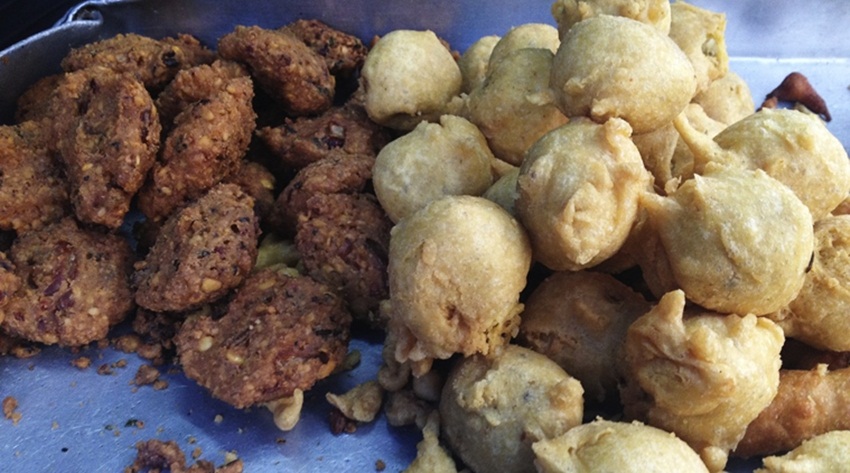 Ambades/Masala vades (left) and bondas (right) are the usually the fastest selling items at most of the bajji shops.
Chilly bajji: These are available in two varieties. Some, like Ranganath, use the regular green chillies. These chillies are soaked in salt and lime to slash the spice quotient. After the juice is drained out, the chillies are dipped in a batter made of kadle bele (chana dal) that is spiced with turmeric, salt red chilli powder and asafoetida and fried. Some shops use the larger variety of green chillies that are dipped whole in the batter and fried. They are served as is, or are cut into half, garnished with a mixture of carrots, onions, coriander leaves and sometimes, a dressing of tamarind or green chilli chutney.
Balekai bajji: Raw banana is peeled, sliced and dipped in the chana dal batter and fried.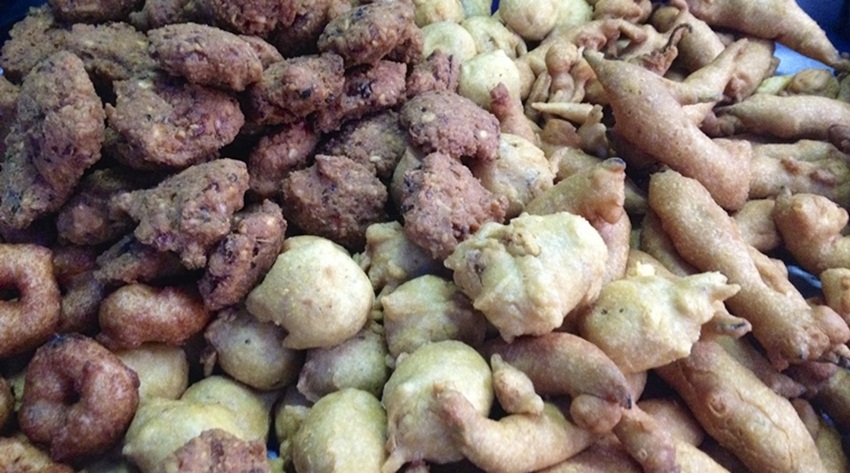 Confused about which one to eat? For Rs. 20 you can get six different kinds to savour and enjoy.
Capsicum bajji: Again, like the chilly bajjis, these are available in two varieties. The capsicum is either chopped into biggish pieces and fried in the chana dal batter, or, more often than not, fried whole. Some eateries cut the bajji into four pieces after it is fried and then garnish it with a mixture of carrots, onions, coriander leaves.
Egg bonda: Step away from the traditional bastions of the city and you will be able to enjoy an egg bonda. Boiled eggs are dipped in chana dal batter – either whole or cut in half – that has been spiced with salt, pepper and chilly powder and then deep fried. The fried bonda is then sliced into half or four quarters. It is served with a garnish of chopped onion and coriander.